Under the Trump administration we've seen increased restrictions on travel to Cuba. Well, the US Department of Transportation has just issued a notice that adds yet another major restriction.
US airlines are now banned from operating scheduled flights to any destination in Cuba other than Havana. This new restriction is in place for flights as of December 10, 2019, which is 45 days from today, and will remain in effect until further notice.
The Department of Transportation notes that they're making this decision at the request of the US Department of State. Secretary of State Mike Pompeo wrote a letter to the DOT making the following request:
To further the Administration's policy of strengthening the economic consequences to the Cuban regime for its ongoing repression of the Cuban people and its support for Nicolas Maduro in Venezuela, in the foreign policy interests of the United States, I respectfully request that the Department of Transportation suspend until further notice all scheduled US carrier flights between the United States and all airports in Cuba, except Jose Marti International Airport (HAV) in Havana.
While this technically prohibits US airlines from flying to any of the nine airports in Cuba other than Havana, in reality US airlines have only flown to five other airports.
American Airlines is by far the biggest US carrier to Cuba, and they also operate the most flights to non-Havana airports, though JetBlue has some flights as well.
With this change, we can expect the following eight routes to be canceled:
Camagüey — American flies from Miami, JetBlue flies from Fort Lauderdale

Holguín — American flies from Miami, JetBlue flies from Fort Lauderdale

Santa Clara — American flies from Miami, JetBlue flies from Fort Lauderdale

Santiago — American flies from Miami

Varadero — American flies from Miami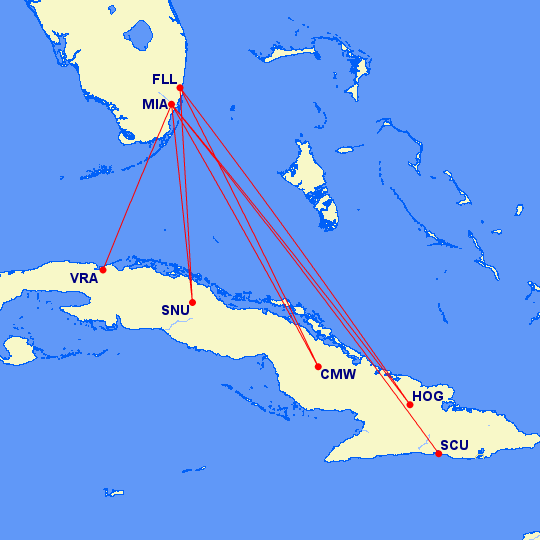 Bottom Line
I'm not sure I fully understand the logic of how this policy change is being implemented. I understand the political decision to send a message to Cuba, but why specifically target non-Havana flights? Why not ban all non-charter flights to Cuba? Why not cut the number of available slots to Havana in half? This just seems like an odd way to go about it.
Furthermore, why make this decision now? Cuba repressing people and supporting Maduro in Venezuela is nothing new…