I don't rent cars all that often, but when I do, I like do earn shiploads of miles. Like enough miles that the car rental ends up being practically free.
As crazy as it sounds, this is actually possible thanks to a partnership between United and Hertz and a promotion that they've been running for a while now. It's actually so good — at least for high status United flyers — that I don't know why it doesn't get talked about more.
This offer has been slated to end several times in the past, but always seems to get a reprieve for a few more months. This time it was extended until May 31, 2017.

Earn United miles renting from Hertz
The United offer with Hertz started back in 2015 and has been running ever since.

United offers for Hertz rental cars
The way it works is that you book your Hertz rental car via the United website and earn 1,500 United miles. Then, depending on your United status, you earn bonus miles according to the table below.
Through May 31, 2017, you can earn 1,500 bonus United miles for booking a Hertz rental car via the United website.

Award miles earned for each Hertz rental, in addition to the 1,500 mile booking bonus
As a United 1K, that means you can earn 2,750 miles for a one-day rental. And 2,500 miles for Silver or Gold members is nearly as good.
To earn the bonus, you need to book the car via the United website using the following codes:
If you follow the banner links on the United website, these codes should be pre-populated.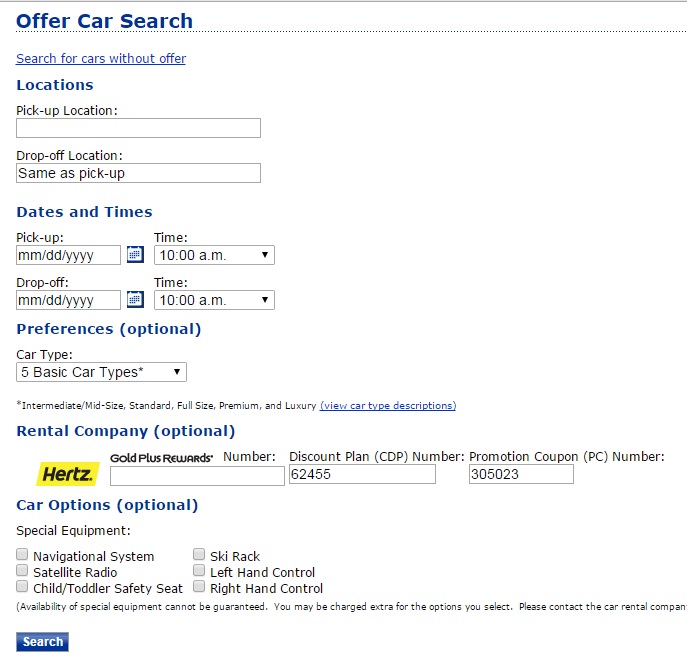 The booking page for the Hertz offer on united.com
Interestingly, the car rental reservation shows up with your airline tickets in the My Reservations section of your united.com account.
Get Hertz status
But this isn't just about earning lots and lots of miles. If you have United status, you can also apply for status in the Hertz Gold Rewards program. It's not the greatest, but any status is better than nothing. Here's how the tiers align:
United Premier Silver and Gold members get Hertz Five Star status
United Premier Platinum, 1K, and Global Service members get Hertz President's Circle status
To enroll, you just need to visit the dedicated website. I received my matched status in about a week, which was just in time for my rental.

United-Hertz status match tiers
My experience
My preferred car rental company is National as I absolutely love choosing my vehicle from the executive aisle. I frequently get minivans or SUVs which are perfect for my family of five. But for short rentals, or when National has crappy rates, I'll rent from Hertz to pick up the miles even if somebody has to ride with their knees to their chest.
I've rented cars in Dallas for about $35 / day, all-in. That gets me 2,750 miles, which is like buying miles at 1.3 cents each and getting a rental car for free!
Here's how the miles posted from that trip.

United miles for renting from Hertz as a 1K
Bottom line
I'm not the biggest fan of Hertz as I don't get that great of upgrades even as a Gold Circle member. But I do love earning lots of miles on short rentals.
If you have United status or even just the credit card, this is probably the best car rental deal out there. The miles you earn may be worth more than you paid for the car.
Have you taken advantage of this promotion?