My preferred car rental company is National. As an Executive member, I get to choose from a special aisle where more often than not I'm able to find a minivan, SUV, or some other monstrous vehicle for our family. And as I've said before, the key to traveling as a family — be it on the plane, in the hotel, or in the rental car — is space.
But there's currently a very attractive promotion running between Hertz and United that is causing me to at least momentarily rethink my loyalty. The promotion has been running for several months now, but I don't think we've covered it here on the blog, and I was only able to take advantage recently.

The United/Hertz promotion
Through July 31, 2016, you can earn 1500 bonus United miles for booking a Hertz rental car via the United website.
These are bonus miles, meaning you get them in addition to whatever miles you would have earned anyway. The standard number of miles you earn are based on your United status:

Award miles earned for each Hertz rental, not including the 1500 mile booking bonus
As a United 1K, you can earn 2750 miles for a one-day rental. And 2500 miles for Silver or Gold members is nearly as good.
To earn the bonus, you need to book the car via the United website using the following codes:
If you follow the banner links on the United website, these codes should be pre-populated. The new United website is a bit insanely glitchy, so at the time I was making my Hertz rental reservation everything was displaying in Portuguese. Not even joking.
But the miles still posted. It seems to be back to normal today.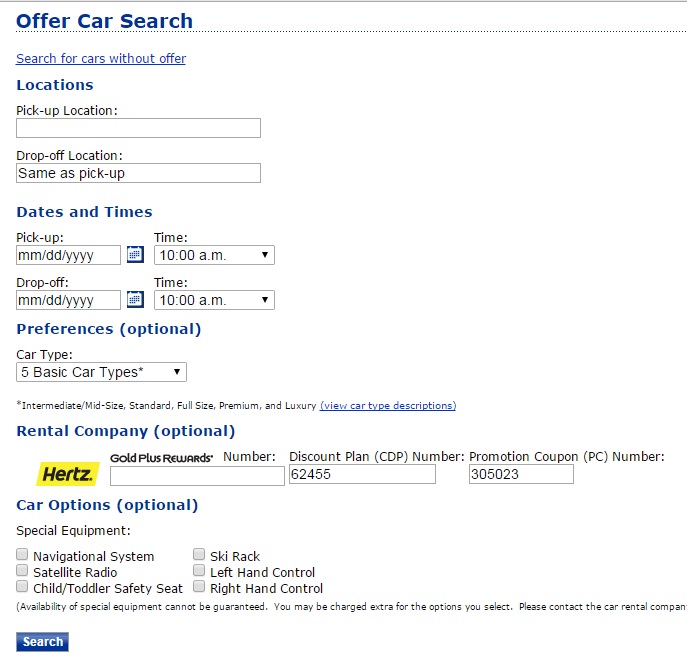 The booking page for the Hertz offer on united.com
Interestingly, the car rental reservation shows up with your airline tickets in the My Reservations section of your united.com account.
United/Hertz reciprocal status
United and Hertz have a partnership where United Premiers are granted status in the Hertz Gold Rewards program:
United Premier Silver and Gold members get Hertz Five Star status
United Premier Platinum, 1K, and Global Service members get Hertz President's Circle status
To enroll, you just need to visit the dedicated website. I received my matched status in about a week, which was just in time for my rental.

United-Hertz status match tiers
I'm not an expert on the Hertz program, but it's of course better to have status than to not have status.
My experience with Hertz and United
I recently needed a car for a day in Dallas. National's rates were rather outrageous and since it was just a one-day rental, I figured we could survive in a regular sedan. So I turned to Hertz.
The United website quoted a Hertz rate of about $35 all-in for a weekend day so I booked it.
I was recognized as a Hertz President's Circle member when I picked up the car. I was also told that I received an upgrade, though it was still just a completely uninteresting sedan. I'm not complaining of course since that's what I booked, but it's also not likely to pry me away from National — at least not without throwing piles of miles at me!
About a week or so later I received 2750 miles in my United account. Even ignoring the fact that I actually needed the car, that's like buying United miles at 1.2 cents each.

The miles post in three tranches
Bottom line
If you need a one-day car rental, this may well be the best deal out there. If you have any status with United, or even just the United credit card, the miles you earn from a one-day rental may be worth as much as you paid for the car.
Has anyone taken advantage of this promotion? Any better deals out there for earning miles through car rentals?