In the interest of full disclosure, One Mile at a Time earns a referral bonus for purchases made through some of the below links. These are products and services we use ourselves, and are the best offers we know of. Check out our Advertising Policy for further details. Thanks for your support!
Update: Get at least $125 in gift cards when booking with Upside & using promo code OMAAT1
I've written previously about Upside, a new travel tool that aims to disrupt the business travel market by incentivizing travelers to choose options that save their companies money.
Now that the public version is live, I figured I'd test a few itineraries and see what kind of deals Upside can offer. My husband has a couple of work trips coming up, and since his trips fit the more "typical" style of business travel than mine, it seemed like a great real-life test.
As a reminder, OMAAT readers will get a guaranteed $200 in gift cards on all purchases until February 28th of this year, which is a pretty fantastic deal. You don't have to travel by then, but the 28th will be the last day to book with the $200 guarantee. Just use the promo code "OMAAT" when making your booking.
What is Upside?
To recap, the idea behind Upside is that business travelers might be willing to take a connecting flight, or stay a block away from the conference if there was something in it for them.
Of course, that connecting flight is likely less expensive, and Upside might have been able to negotiate a great rate with that other hotel, so they're able to offer competitive pricing on their packages, while still rewarding travelers with gift cards.
Overall, the idea is that businesses will save money because business travelers are incentivized to make more economical choices. You can see our other posts about Upside here, for more details on the concept:
There's a decent variety of gift cards available, with Amazon being the obvious choice for many of us:
Interestingly, airbnb gift cards are also an option, so while you won't earn hotel points on Upside bookings (though you do earn airline miles!), you could still leverage your business travel into leisure travel.
With that out of the way, let's look at some examples!
Trip # 1: Portland, Oregon
The first step is to follow the special link, and enter the OMAAT promo code:
This ensures you'll get at least $200 in gift cards for your Upside package, so you want to enter the code before you do anything else. There doesn't seem to be an opportunity to enter it at checkout otherwise.
From there, enter your city pairs, dates, and class of service, just like you would on any OTA:
Upside defaults to giving six options for round-trip flights. A great improvement from the beta testing is that they also show you the airline's published price for the tickets.
Once you've chosen your flights, you can then select your hotel. Upside defaults to showing the "city center" closest to your destination airport, but you can choose a more specific location, and adjust the star level as well.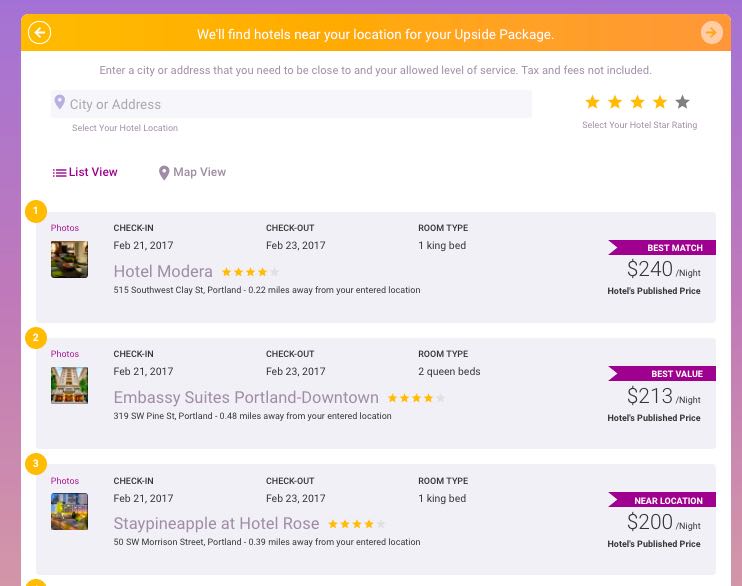 In this case, my husband is actually going to meetings south of Portland, near Lake Oswego. The conference hotel was even one of the options!
Once you've selected your preferred flight and hotel, Upside then presents alternatives based on your flexibility.
In this case, two nearby hotels were cheaper, and offered a few dollars more in gift cards:
Or he could have kept the hotel, but changed from the nonstop Alaska flights to a United option, though the United flights are truly horrible from a schedule perspective.
In this case there's no real benefit to the more flexible options, but the prices of the packages themselves are competitive with the cost of buying direct, even before you factor in the gift cards:
So that's a pretty good deal, and as he wouldn't get any elite perks at a Crowne Plaza anyway, is worth sacrificing the potential points earned.
Trip #2: Las Vegas, NV
For the second trip, I looked at a quick, one-day conference in Las Vegas. It doesn't matter where he stays for this one, so there should be more flexibility.
In terms of flights, Upside doesn't work with Southwest (or Southwest doesn't work with OTAs, more accurately), and they have the bulk of the direct flights. Delta also offers a direct flight, but basic economy fares dominate the route, and the non-BE fares aren't competitive.
Upside doesn't show basic economy fares or flights on Spirit/Southwest, so all the flight options offered are connections:
For the hotel, there's a lot of flexibility. Out of curiosity, I went ahead and chose a Days Inn, given that it was the cheapest default option.
The package shows the the total cost for the flights and hotel of $167, along with $167 in gift cards, because the value of the gift cards can't exceed the package value: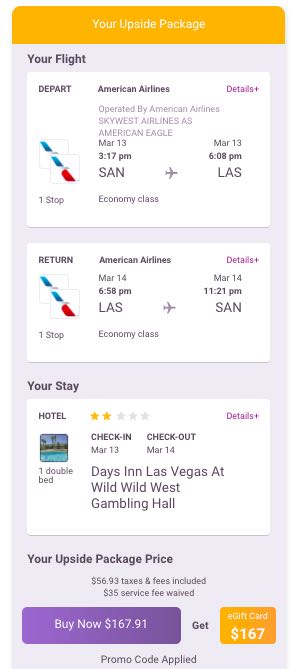 Given that it's a Monday night in Vegas, there are obviously better options than a Days Inn though. A variety of mid-range hotels on the Strip were available in map view, but I saw the Aria, which is an all-suite property for ~$200 a night:
With the Upside bundle, the package price would be $315, with $200 back in gift cards:
The flexibility packages were interesting too, offering the Signature at MGM Grand (another all-suite property) at a lower price, but with $10 more in gift cards:
Or if you wanted to pay the same price as the Signature for a standard room at the Trump Hotel, you can do that for a few dollars less in gift cards:
The various resort fees and taxes are already bundled in to Upside's pricing, making this a pretty compelling option for destinations like Las Vegas.
The downside in this particular case would be the connecting flights — that's realistically not an option for a short one-day business trip under these circumstances, so he'll probably end up booking directly with the airline and hotels.
Overall though, I think there's quite a bit of potential here.
What about when the OMAAT promo code expires?
As a comparison, I also wanted to see what the gift card situation looked like without the guaranteed minimum of $200 from using our link. So I replicated the Portland trip exactly, but without entering the promo code.
I chose the same flights, and the same hotel, which meant the Upside bundle was the same price, but with $75 in gift cards:
The alternative packages offered higher amounts of gift cards, as you'd expect, but the difference between the base offer and the flexible offer was greater without the promo code:
Obviously you want to use the OMAAT promo code to get a guaranteed $200 in gift cards on all purchases until February 28th of this year, but it looks like the value is still going to be quite good after that.
Bottom line
I like the concept of Upside, and in general Upside seems to be delivering both the traveler incentives and the savings that they've promised.
The packages I've priced have all been competitive, and with the $200 gift card minimum it's really a no-brainer as long as the bundles suit your plans otherwise. You can use the OMAAT promo codes as many times as you'd like through the end of February, so it's definitely worth checking out!
Have you booked a trip through Upside yet? How did it go?
Link: Get $200 in gift cards when booking with Upside & using promo code OMAAT