Qatar Airways offers global fare sales as often as JoS. A. Bank offers "the spectacular semi-weekly buy one get seven suits free" sale."
Qatar Airways' latest global fare sale is valid for bookings made through March 13, 2015, and for travel through July 10, 2015.
I've written in the past about how airlines publish some great premium cabin fares out of Colombo, Sri Lanka and Cairo, Egypt, though I think this Qatar Airways fare sale may just have the best value premium cabin tickets I've ever seen.
In particular, Qatar Airways has some amazing fares published out of Cairo, Egypt. Ordinarily Qatar Airways charges ~$2,000 for roundtrip business class between Cairo and the US, though now it's even cheaper.

Qatar Airways 777 business class
Take a look at this Cairo to Miami roundtrip business class ticket for 9,874EGP (~$1295):
Roundtrip that's ~18,000 "butt in seat" miles.
Since it's paid business class you'd earn 50% bonus elite qualifying points (EQPs) if crediting to American AAdvantage, meaning you'd earn 27,000 EQPs for the roundtrip. That's under five cents per elite qualifying point in paid business class.
That means four of these roundtrips would earn you more than enough miles for Executive Platinum status. That's right, ~$5,000 for Executive Platinum in paid business class the whole way.
Everyone earns 27,000 elite qualifying points, but if you're a Platinum or Executive Platinum member you'd earn a total of ~41,000 redeemable miles for this roundtrip ticket, thanks to the 100% class of service mileage bonus.
Also keep in mind that for the flight between Cairo and Doha you'd be seated in first class, which is how Qatar Airways markets their business class within the Middle East.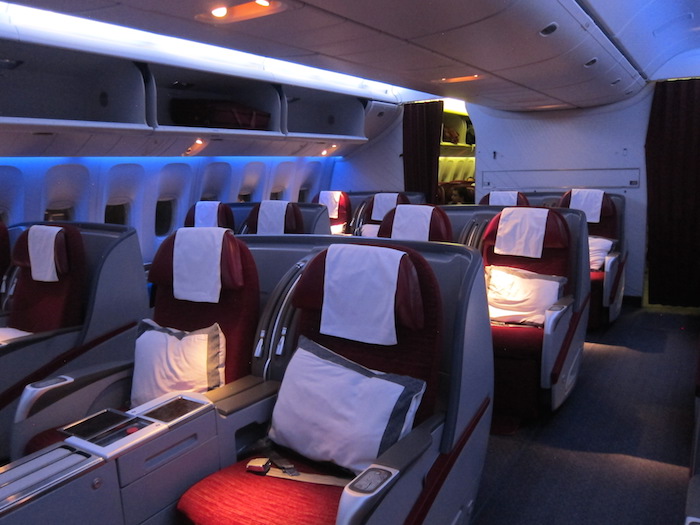 Qatar Airways 777 business class
That means you'd be served Krug, and have access to their new Al Safwa First Class Lounge in Doha, which is scheduled to open in late April.
For what it's worth, a similar fare is available to most other Qatar Airways US gateway cities as well. While flying to Philadelphia isn't quite as many miles, it's a lot more practical in terms of connecting, given that the longhaul flight is a redeye westbound, which means the connections to/from Cairo are a lot quicker.
Now, there are a few things I should point out:
This fare isn't valid if originating in the US — in other words, it's a lot more expensive to fly from the US to Cairo than it is to fly from Cairo to the US
Assuming you don't live in Cairo, there's a big cost to positioning — what I usually do is nest a few of these tickets; in other words, it probably makes the most sense to take advantage of this if you're going to book a few, and then you can space them out a bit and only need one positioning flight in each direction
There are other great business class fares published from markets like Colombo, Marrakesh, etc., so in general I think it makes sense to keep in mind which markets have cheap business class fares.
These kind of fares also get very close to the limit of where you have to wonder whether it's a mistake fare or not. In this case I don't think it is, but where do you draw the line? If it were $1,000 would we assume it's a mistake fare? $750? $500?
Bottom line
If nothing else, hopefully it's at least interesting for you guys to see just how cheap business class fares can be from outside the US. Crazy, eh?