Sunwing Airlines is a Canadian low cost carrier with a fleet of 737s. They fly to destinations within Canada, and also to the Caribbean, Mexico, etc.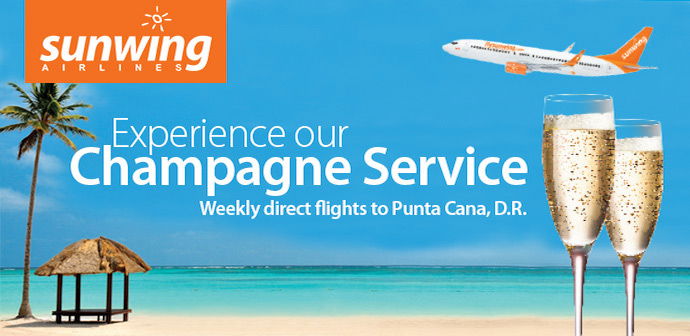 While they're a low cost carrier, they're not an ultra low cost carrier, and make a point of trying to differentiate themselves a bit when it comes to service. They've called their service "Champagne Service," and in many of their marketing materials have used pictures of sparkling wine to go along with that. Furthermore, they've advertised a "welcome glass of champagne" as one of their features.
Unfortunately one man from Quebec isn't too happy with this, and is suing the airline for serving sparkling wine rather than champagne, as he calls it misleading. According to BBC:
Daniel Macduff booked a holiday to Cuba through Sunwing that advertised a complimentary on-board champagne toast.

Mr Macduff, from Quebec, said he received a cheaper bubbly instead – and only on the outgoing flight.

"It's not about the pettiness of champagne versus sparkling wine," said Montreal-based lawyer Sébastien Paquette.

"It's the consumer message behind it."
The class action lawsuit is seeking compensation for the monetary difference between the wine served and a glass of champagne, along with punitive damages. There are some really cheap champagnes out there, so I wonder how much of a difference that really is.
Sunwings says the lawsuit is frivolous and without merit, and explains what they mean by the term "champagne service:"
In an emailed statement, Sunwing said the terms "champagne vacations" and "champagne service" were used "to denote a level of service in reference to the entire hospitality package" and not to describe the in-flight beverages.
I'm not sure that's entirely true. While I can see them arguing that the concept of "champagne service" could describe the overall package, they did specifically list "welcome glass of champagne" as an amenity. The airline has now updated their website, and calls their service "award-winning inflight service" rather than "champagne service," and now also promises a "welcome glass of sparkling wine."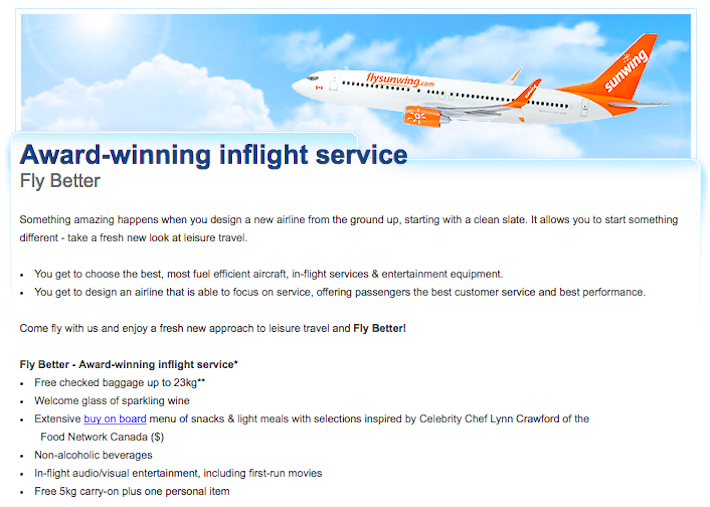 Am I the only one who feels like this lawsuit might just be great PR for Sunwing Airlines? While I had heard of this airline before, I didn't realize they actually tried to differentiate themselves on service. Most people would be thrilled with any kind of free sparkling alcoholic beverage!
(Tip of the hat to @JonoH)