The integration of Marriott and Starwood is taking place this weekend, and short term this opens up lots of opportunities when it comes to redeeming points. That's because Marriott isn't introducing Category 8, as well as peak and off-peak pricing, until next year.
So many of us have been wanting to lock in reservations now. You can get the current pricing as long as you book by the end of 2018, even if you're actually traveling in 2019.
Marriott is making updates to their website throughout the weekend, so it could be that we see their site and mobile app go down a few more times over the coming hours and days.
So, what's the general status of redeeming Marriott points for hotel stays?
Most hotels are bookable at new award costs
There are some incredible opportunities to redeem at Starwood's top properties. These used to cost up to 35,000 Starpoints per night, which is the equivalent of 105,000 Marriott points (given the 1:3 transfer ratio). Now they're bookable for 60,000 Marriott points per night, with the possibility of a fifth night free.
Want to lock in the St. Regis Aspen, St. Regis Deer Valley, St. Regis New York, etc.? Book now, as 48,000 points per night (after factoring in the fifth night free) is an exceptional deal.

These hotels largely seem to be bookable directly through the Marriott website as of now.
Some hotels only show points available through mobile app
While most hotels are bookable through Marriott's website, some only display points availability through the mobile app (but even the apps have issues with confirming these bookings).
For example, the St. Regis Maldives shows as being available for 48,000 points per night (when factoring in the fifth night free) when you go to the website, but when you click through you won't actually see any award availability.
I imagine this is a website glitch, because the Marriott and SPG mobile apps do show awards. Just select that you want to make a points redemption.
Then you should see the St. Regis Maldives displayed for an average of only 48,000 points per night when staying in increments of five nights.
In this case you'd get a Garden Villa with a private pool.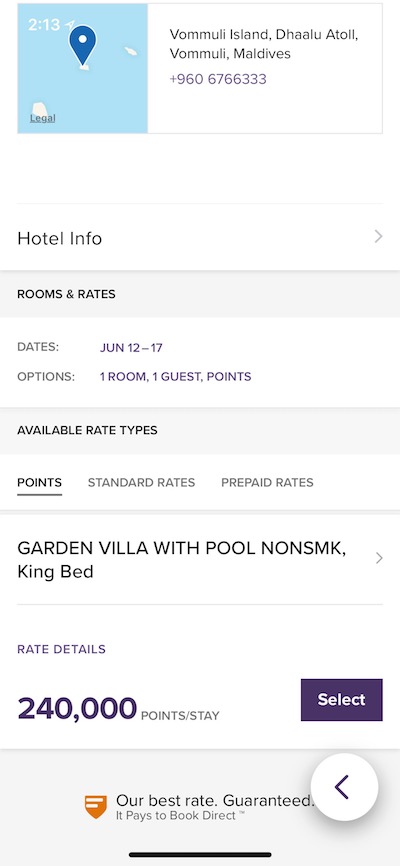 The catch is that while the app shows award availability, it mostly seems to error out when you actually try to book, so it seems that they're still working out some kinks.
Some hotels still show no points availability
One of the exciting developments with the new program is that all hotels are supposed to have "standard" room availability, even properties that were previously considered to be "all suites."
I've been told that these properties should be bookable with points soon, but as of now they still show as "sold out." Even the contact centers can't see availability at these hotels as of now. I suspect it could be a couple more days before some hotels are actually bookable with points.

Have you made any bookings since the new program went into effect? What did you book, and what was your booking experience like?