My previous biggest hotel pet peeves have always been showers and alarm clocks that have more buttons and handles than a 747 cockpit. Perhaps not a pet peeve, however I don't "get" decorative pillows. Yes, I understand they're supposed to make the room look nice, but what are you supposed to do with them?
When I get in my room I throw the pillows on the floor, and they stay there until the following day when housekeeping services the room. I have to assume that happens 365 days a year.
Do I really want those sitting on the (supposedly) washed pillows I'll be sleeping on? Or am I doing something wrong? What are you actually supposed to do with the decorative pillows? And how do I "opt out" of having them? And am I the only one that has this stuff going through my head?
Decorative pillow haters unite!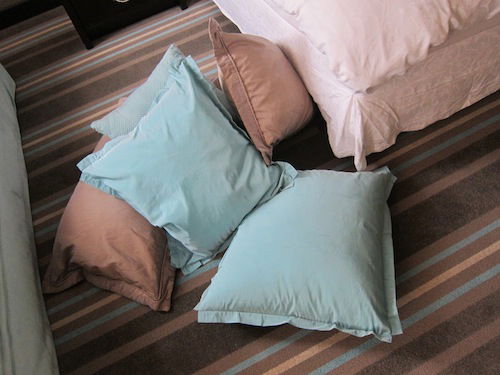 (Bonus points to anyone that can guess which hotel the above picture was taken at)