In the interest of full disclosure, OMAAT earns a referral bonus for anyone that's approved through some of the below links. These are the best publicly available offers (terms apply) that we have found for each product or service. Opinions expressed here are the author's alone, not those of the bank, credit card issuer, airline, hotel chain, or product manufacturer/service provider, and have not been reviewed, approved or otherwise endorsed by any of these entities. Please check out
our advertiser policy
for further details about our partners, and thanks for your support!
If there was ever a place where I wish I could insert the "hmm" emoji, this is it. Last week, I received an *interesting* targeted offer from American Express for their "Fly Now, Earn Later" program.
With this program, certain Delta Amex cardholders are eligible to request an advance on SkyMiles in order to make award bookings. While this program appears to have been in circulation for about a year, receiving the offer was a first for me.
Very interesting.
Normally, when I see an offer for an advance on anything, I take it with about an entire Dead Sea's worth of salt. But I was just curious enough, and the program seemed just unique enough, that I figured it was worth diving in to see what it was all about.
So, is Fly Now, Earn Later worth taking advantage of?
Program Details
In essence, eligible cardholders are able to request an advance on SkyMiles, up to a finite amount that is (supposedly) calculated based on their historic spending habits on their Delta SkyMiles American Express.
Once the miles are received, they have six months to earn the SkyMiles back through credit card spend. At the end of the six month period, if they are unable to meet the spend requirements, they are charged at a rate of 2.5 cents per mile.
According to the program details, the following steps are in place:
See how many miles you are eligible to receive in advance and select the amount that is right for you

Earn miles by spending on your selected Card over the next six months; miles earned from flying are not applied to your Fly Now, Earn Later Balance
At the end of the six month period, any remaining miles will be charged to your Card account at a rate of 2.5 cents
A couple of details here are definitely worth highlighting:
Any borrowed miles must be earned back through card spend, and the spend must occur on the specific card that you have enrolled into the program. So, if you earn miles through flying, these will not count toward paying off your advance, and if you have multiple SkyMiles cards, only the card that you enrolled in the program will count.
At the end of six months, you'll be on the hook for any unearned miles at a rate of 2.5 cents per mile. While this is a downright steal if you're looking to buy SkyMiles at full retail for 3.5 cents apiece (don't!), it's ultimately not a position that you want to be in, considering Ben's valuation of SkyMiles is closer to 1.2 cents.
So, how many SkyMiles can you actually borrow?
Naturally, I wanted to see how this would play out, so I decided to follow the links and see how the process actually works.
To request Fly Now, Earn Later, you simply follow this link and log into your American Express account to see how many miles you are eligible to receive.
I guess I was expecting an offer for some sort of Madoff-esque jumbo loan, because I was pleasantly surprised to see that the maximum number of SkyMiles that I can request is directly in line with the amount that I have spent on my Delta Platinum SkyMiles card over the past six months.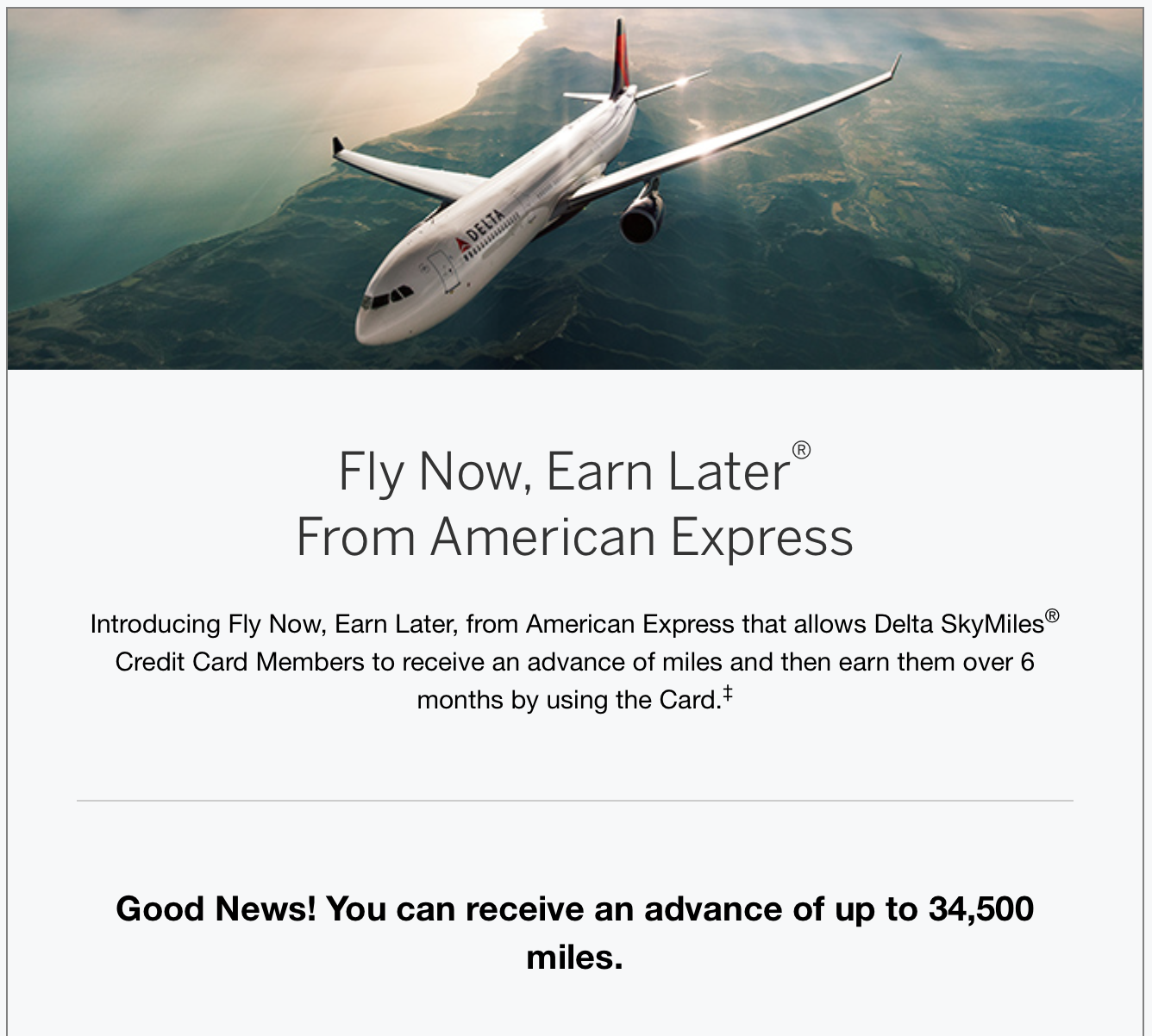 So, while I wouldn't want to be committed to spending that much on my SkyMiles card over the next six months (I've already earned my MQD waiver for the year, so it's back to flexible points currencies for me), at least it's nice to know that the maximum amount of SkyMiles that I can borrow is under control.
While I don't have a need to request an advance on SkyMiles at the moment, I did want to see the process through, so I decided to put in a small request that I figured I could cover over the next six months. 😉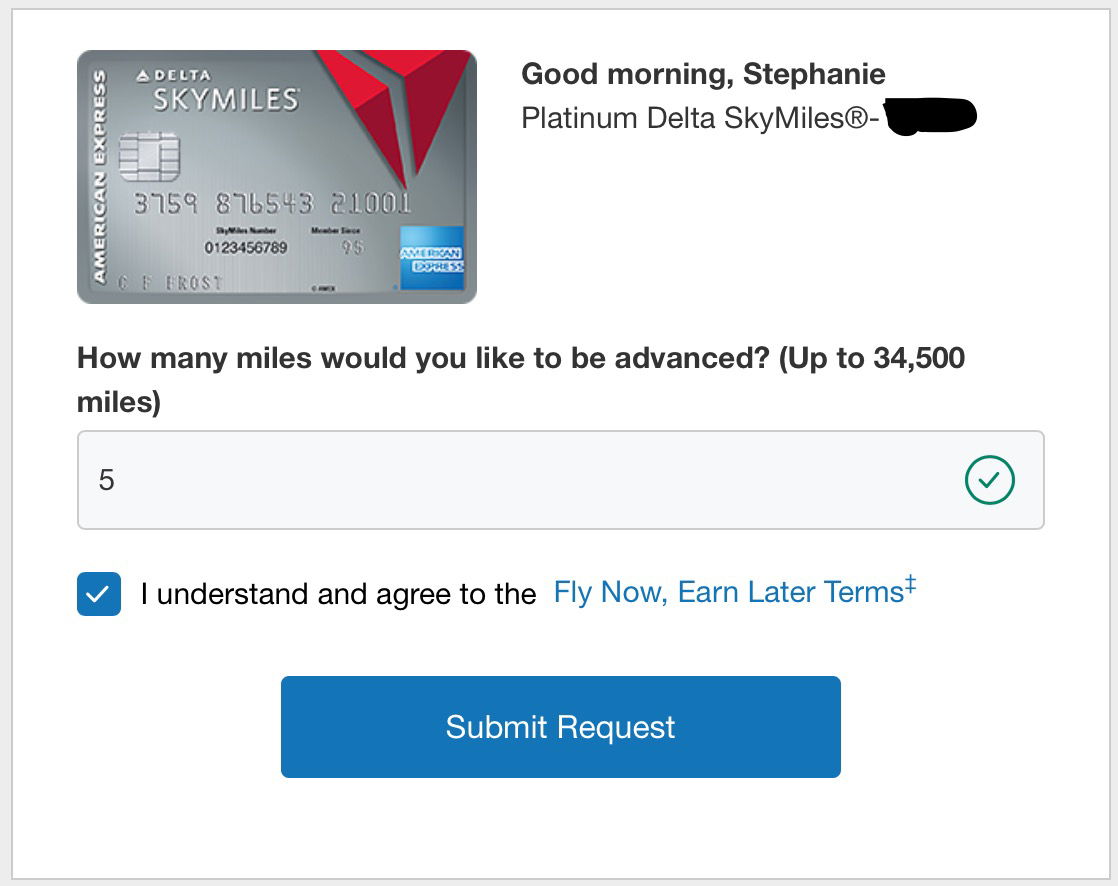 You'll be pleased to know that my five SkyMiles deposited to my account almost instantly.

Who might benefit from this
If you're looking to book an award that might disappear and you need to top off on SkyMiles, this is an option that could make sense. There's no cost as long as you meet the spend requirements within six months, and it's certainly a better value than buying SkyMiles at full retail (although using dollar bills for campfire kindling might also be a better value than buying SkyMiles at full retail…).
It's also nice to see that there are no minimum requirements or increments for how many SkyMiles you can request. While Membership Rewards points are ultimately easier to earn quickly and transfer instantly at a 1:1 ratio, you do need to request them in 1,000 point increments.
So, while I wouldn't make a habit out of requesting an advance on SkyMiles (or any currency, for that matter), this could be a decent way to top off your account to grab that award ticket that might disappear yesterday.
And then there's the timing
Interestingly enough, I was targeted for this offer three days after I hit my $25,000 spending threshold and earned my MQD waiver for 2019. For those of us who fly Delta and leverage these co-branded cards for the MQD waiver and MQM bonuses, any spend beyond that $25,000 (or $30,000, for the Delta Reserve card) probably offers diminishing returns.
Sure, I could chase the next MQM bonus threshold to help me reach the next level of Medallion status faster, but I find that there is far more value to be gained from here through many of the other credit cards that we know and love.
For example, you can earn 5x American Express Membership Rewards points by booking air travel directly with the airline with The Platinum Card® from American Express. Likewise, you can earn 3x points on air travel purchases directly with the airline or at amextravel.com, 4x points at restaurants, and 4x points at U.S. supermarkets (up to $25,000 per calendar year) with the American Express® Gold Card. Small business owners can get 2x points on the first $50,000 in purchases (1x thereafter) with The Blue Business® Plus Credit Card from American Express.
And for all these cards, the accrued Membership Rewards points can be transferred instantly to your SkyMiles account at a 1:1 ratio.
Earn Amex Membership Rewards points with these cards:
Even if your only goal is to earn SkyMiles through credit card spend, and even if you're not considering the added value of having a flexible points currency in your wallet, the above options present much better earning rates than a paltry two SkyMiles on Delta purchases and one SkyMile on everything else.
And I can only imagine that this was part of Delta's thought process.
Because with Fly Now, Earn Later, you're essentially committed to spending a certain amount on your SkyMiles card, lest you pay that 2.5 cent/mile fee. And while there's no dollar cost to leveraging this program, there is an opportunity cost to putting this kind of spend on an airline co-branded card, especially in a currency that's not necessarily worth all that much to begin with.
Heck, even Delta knows that booking SkyMiles awards is no easy feat, given that they send congratulatory emails with graphics like these when you're able to book an award successfully: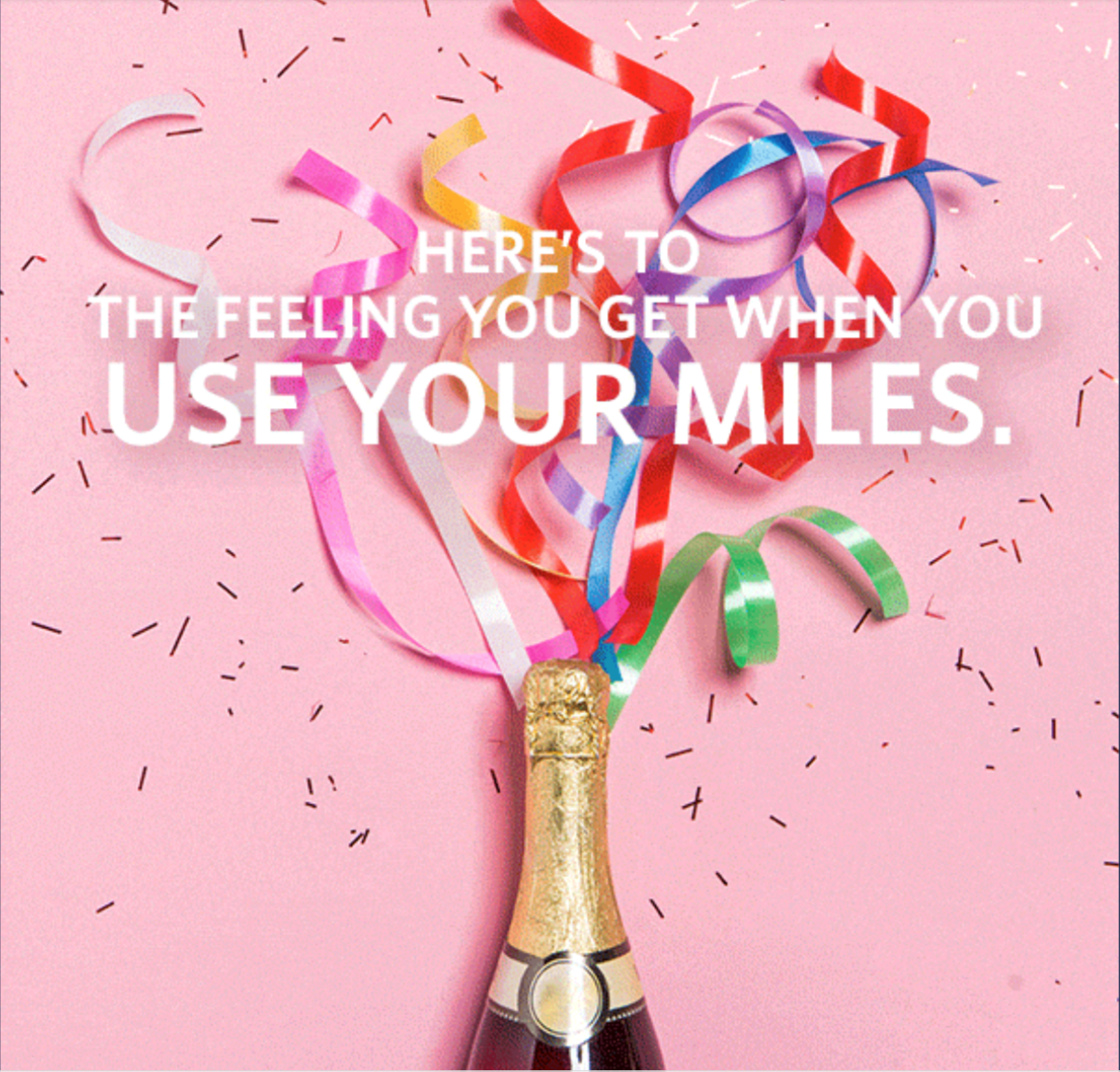 Bottom line
While an offer like this probably raises the appropriate number of red flags for many of us, it doesn't look like anyone is going to have to take out a second mortgage to pay off their SkyMiles debt as a result of this program. To me, this appears to be less of a revenue stream for American Express, and more of a way to lock customers into maintaining their credit card spend on SkyMiles co-branded cards.
So while there are certainly better options for earning SkyMiles, this does present a quick, *conditionally* low-cost way for Delta co-branded cardholders to top off their accounts.
Has anyone else been targeted for this offer? Would you consider requesting an advance on miles?