This weekend I had five segments in domestic premium cabins, one being a lunch flight in business class, three being "snack" flights, and one being a Business1 flight from ORD-EWR. As most of you probably know, domestic business class meal service has been reinstated (somewhat) after a brief hiatus, while Business1 (flights from Chicago to major business destinations on the east coast and in the midwest) routes have recently been "enhanced" to include cold meals only.
My first flight was IAD-DEN in business class on a 767. I was pleased to see that hot nuts were back, along with linens. While some people might not care much about nuts, they're my favorite part of any United flight.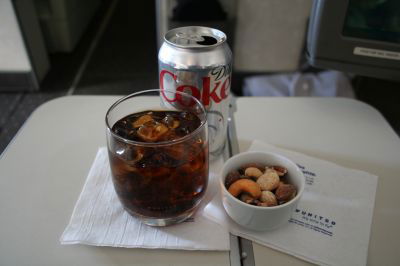 The choices for lunch were a roast beef sandwich or a shrimp salad; I went with the shrimp salad. It was different than the usual "chef salad," but instead consisted mostly of greens, cashews, tomatoes, and shrimp. As usual it came with bread (which was cold and should be banned by the TSA on account of being a potential weapon), but soup was missing, which would usually be served with this option in domestic first. The cookie was different than usual, and instead of being warm it was really chewy. I preferred it, actually.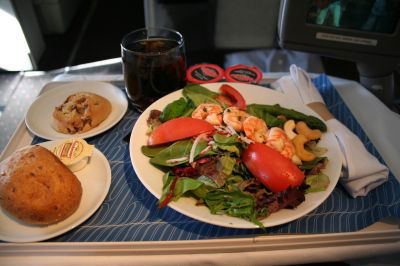 While this wasn't a transcon, I can definitely live with this "compromise," at least for this route, and would choose business class on a three cabin over domestic first on a two cabin aircraft. By the way, despite the fact that I upgraded from coach to business, I was offered a paid upgrade to first at check-in for $325. Of course I declined, but it was interesting nonetheless.
My next flight was DEN-SFO, which was a "snack" flight on an ex-Shuttle 737. This means that they don't have ovens or normal galleys, so the snack was restricted to a "picnic box" with cheese, meat, fruit, and crackers. Instead of the usual Walkers cookies, there was something I've never seen before, a small packaged brownie for dessert.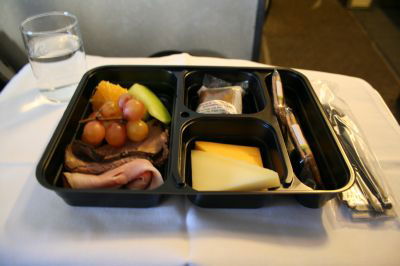 My next flight was SFO-SEA, which had the mini-snack, consisting of grapes as well as two wedges of cheese with one package of crackers. While this snack is basically insulting, this route didn't have any snack up until about a year ago, so I really can't complain.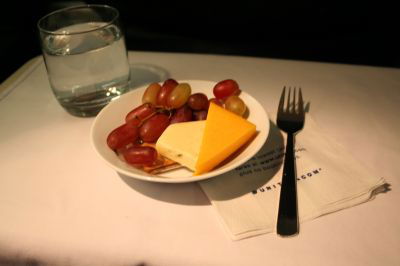 Next was the redeye, which was once again a fruit and cheese plate. Maybe I'm in the minority, but I don't like consuming five pounds of cheese before I'm about to sleep. I wish they'd go with a small salad or something light instead, but I'm dreaming out loud here, since the last thing United wants to do is improve onboard offerings, it seems.
Next came the Business1 flight, which was recently "enhanced." Until recently one could get an omelet on this flight, but that's no longer the case. Instead they offer a tiny fruit plate and a tasteless pastry.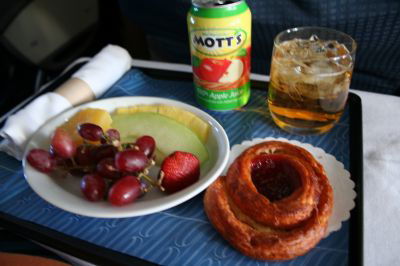 Long story short United serves way too much cheese domestically, in my opinion. They also have some of the mildest, most tasteless cheese out there. I'm no foodie, but it would be nice if they improved the quality and decreased the quantity a bit.
By the way, this is the first time in years I took pictures while flying domestically, and damn it felt weird!