I have found SAS to be a very family friendly airline. My family has flown them several times and have had pretty good experiences. I'm sure it doesn't hurt that we have Star Gold status, but in general I think much of this would be available to anyone.
For example, they cater children's meals by default, so even if you forget to place a pre-order (like me!), your kids can still probably get one. They also hand out simple games and toys. And by far my favorite, they regularly offer discounts of around 25% on child tickets.
Well, saving 25% is nice, but saving 90% or more is obviously way better. And that's exactly what you can do with the current SAS promotion.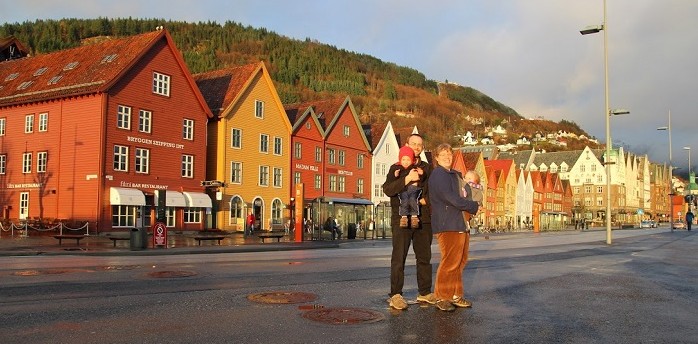 Travis and his family in Bergen, Norway
Kids Fly Mostly Free From The US To Scandinavia
SAS has occasionally run a promotion where up to 8 kids can fly for just the cost of taxes with each paying adult. They ran this promotion a year ago, and then last fall, and now it's back again and better than ever. That's because the current version of it is available from August 20, 2018 through March 30, 2019, which comprises a big swath of the available booking window.
And make no mistake, these tickets are the real deal. It's not like you have to buy an already marked-up adult ticket in order to get a kid for free. You're basically buying the lowest priced SAS ticket, and getting to bring your kids for just the cost of taxes — say about $50.
There are some blackout dates around the holidays, but even then, spring break trips would still be in play.
The key is that you must book your trip before May 13, 2018. So you have about a week to firm up your plans.
Booking the deal
Booking this deal is really straightforward as the discount is coded right into the fare rules. So just specify the number of children in your party, and the total should show the discount.
I recommend using Google Flights to search for fares. Google will then give you a direct link to book with SAS or other online travel agency.
You can fly from any of their US cities including Boston, Newark, Miami, Washington Dulles, Chicago, San Francisco, and Los Angeles — to Sweden, Denmark, Norway, and Finland.
I priced out Chicago to Stockholm from February 10 to 17.
These child fares also earn miles. My kids have flown on child fares many times and the miles always post. You should be careful where you credit them, however, as United now awards miles based on the cost of the ticket. In this case, they'd basically earn no miles.
This works for Premium Economy as well. That could be particularly attractive as you could effectively buy one Premium Economy seat and then get the kids' for almost free.
Heck, if you take a couple of these trips, and credit them strategically, your kid could even earn status.
Flying SAS with a family
We have flown SAS as a family several times now, but only on intra-europe flights.
On those flights, they had kid's meals loaded, even though we didn't request them ahead of time. They also give the kids some simple games and a sticker book, which is a nice touch.

Free toys for kids on SAS
In other words, your kids will probably have a better experience on SAS than they would on a US airline.

SAS Breakfast Box in SAS Plus
We've had a few personal friends do this deal now, and it has worked out great. They credited to Aegean and ended up with enough award miles for a free one-way domestic ticket on United.
Bottom line
If you have a large family, live in one of their gateway cities, and want a trip to Europe in the fall, winter, or early spring, this can be a really good deal.
This is the longest booking window that I remember them having for this promotion and it extends all the way through the first quarter of 2019. So if you're looking to take the family to Europe, this might be worth considering.
Have you taken advantage of the SAS kids fly for nearly free promotion?