An S7 Airlines flight diverted this morning after Russia's opposition leader became ill due to a suspected poisoning at the airport.
S7 Airlines flight diverts over illness
Alexey Navalny is Russia's 44-year-old opposition leader, and a big critic of Vladimir Putin and his government. This morning he was flying S7 Airlines from Tomsk to Moscow, on flight S72614. The flight was operated by a Boeing 737-800 with the registration code VP-BQF.
After takeoff Navalny became ill and eventually fell unconscious. The flight diverted to Omsk just over an hour after takeoff — this is another city in Siberia, about 500 miles from Tomsk.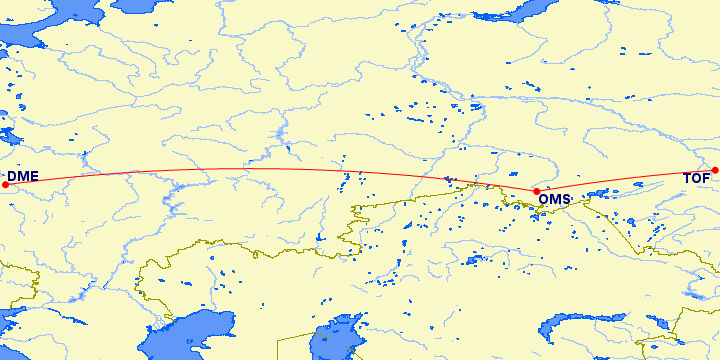 There Navalny was taken off the plane and loaded into an ambulance unconscious.
So, what happened?
Navalny's spokesperson, Kira Yarmysh, Tweeted this morning about the incident, stating the following (translated using Google Translate):
"This morning Navalny was returning to Moscow from Tomsk. During the flight, he felt bad. The plane urgently landed in Omsk. Alexey has toxic poisoning."
"Now we are going to the hospital by ambulance. A year ago, when Alexei was in the detention center, he was poisoned. Obviously they did the same to him now."
"We assume that Alexei was poisoned with something mixed into the tea. It was the only thing that he drank in the morning. Doctors say the toxin was absorbed faster through the hot liquid. Alexey is now unconscious and in intensive care."
The chief doctor at the hospital that Navalny was transferred to stated that "he is in serious condition."
Based on what we know, Navalny went to the lavatory in the back of the plane after takeoff and was heard screaming, which is recorded in this video:
#BREAKING : Passengers say that #AlexeyNavalny went to the toilet during the flight and did not return. They heard #Navalny screaming for help. pic.twitter.com/kyyvdOFknh

— Albert Batlayeri  (@AlbertBatlayeri) August 20, 2020
There's also video footage of him being transported off the plane on a stretcher:
Alexei #Navalny, the leader of the opposition in #Russia, got poisoned on the plane. He was delivered to the hospital and he is in a coma now. Doctors are refusing to reveal the results of the blood test. pic.twitter.com/N3UqAUbM3Q

— Riots & Resistance (@ResistanceRiots) August 20, 2020
Awful…
Bottom line
Russia's opposition leader became ill on an S7 Airlines flight this morning, causing a diversion, and putting him in intensive care. It's suspected that he was poisoned, and if that was the case, this isn't even the first time that this has happened to him.
Here's to hoping for a full and quick recovery for him, and that those who did this are held accountable (though unfortunately that may be a tall order).