2017 was the safest year on record for commercial aviation, as we didn't see a single commercial passenger jet crash anywhere in the world (we did see some props crash and some cargo jets crash, but no passenger jets). Aviation has been one of the safest forms of transport for decades, though last year was especially safe.
Unfortunately 2018 won't maintain that same record, as a seven year old Saratov Airlines Antonov AN-148 crashed today near the village of Argunovo, about 60 miles southeast of Moscow.
Saratov Airlines flight #6W703 was performed with a 7 years old Antonov An-148 aircraft with registration number RA-61704 pic.twitter.com/2KS4UJ1ow9

— Flightradar24 (@flightradar24) February 11, 2018
The plane took off from runway 14R at Moscow's Domodedovo Airport, and is believed to have crashed about 5-6 minutes later, as it was beginning the ~900 mile flight to Orsk. All 71 people onboard, including the 65 passengers and six crew, are feared to be dead.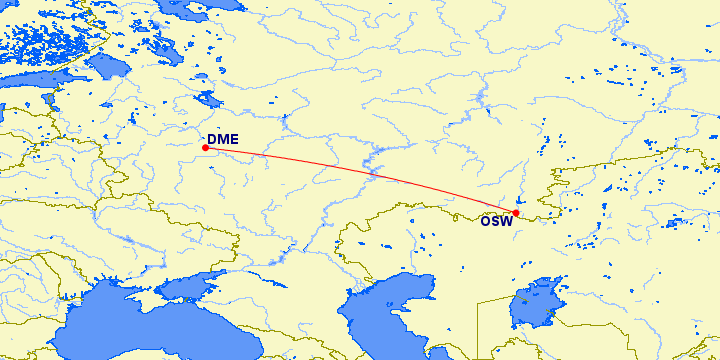 Data suggests that the plane descended from 6,200 feet (the highest altitude it reached) to 3,200 feet during the last minute before the signal was lost, and at the time the signal was lost it was descending at a rate of 22,000 feet per minute. Per CNN:
"The snow is very dense … the Moscow region has had some of its heaviest snowfall in decades," CNN's Matthew Chance reported from Moscow. "It's not clear at this stage whether weather was factor in this crash."

While the cause of the crash remains uncertain, the Investigative Committee of Russia said officials have launched a criminal investigation.

Russian President Vladimir Putin ordered the creation of a "special commission in connection with the plane crash," said
Putin's spokesman Dmitry Peskov, according to Tass.

"The President also expresses deep condolences to all those who lost relatives and friends in this disaster."
No cause of the crash has been revealed so far, though I'm sure investigators will learn a lot more over the coming hours and days. In the meantime, my thoughts are with the families and friends of those who were onboard. How awful…
(Featured image courtesy of Anna Zvereva)