Last November while moving I made the decision to purchase a W Hotel Bed. Originally I was going to purchase a Westin Heavenly Bed, but the W Beds were on sale and from what I've heard equally comfortable, so I ended up buying one. Rather than just buying the mattress it seemed more economical to just buy the whole bedding set, so I went with the Queen Pillowtop Starlight Set. It wasn't cheap, though it seemed worthwhile so I wouldn't have to buy all the parts individually.
I've received several emails and comments asking about my impressions of the bed, and I'd say I'm moderately pleased with it. I still think the Heavenly Bed is more comfortable (or even more comfortable are the beds at the InterContinental San Francisco and Four Seasons Seattle, just to name a couple), though the W Bed provides a good night of sleep.
I've only had the bed for around six months, so I think my major complaint is that a part of the mattress is already "springing up" a little bit (I'm no mattress expert, so I'm not sure what the correct terminology is). I'm not a huge guy and my bed gets about as much traffic as a Circuit City (think that one through carefully, it might take you a second), so I can only imagine it's a bit worse for beds that two people are sleeping in.
Anyway, on the whole I'd say I'm satisfied. Would I recommend it? Meh, I'm not sure. I certainly wouldn't recommend against it. I realize that's not very decisive, though those are my thoughts about the bed. If I were to buy a new mattress and really wanted to splurge I'd probably find out which one the InterContinental San Francisco uses and go with it.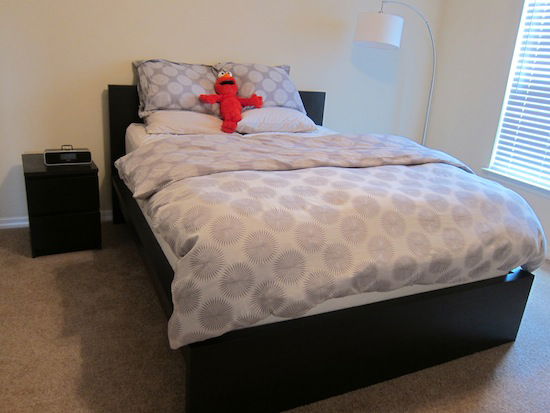 In the meantime, meet Elmo, my new travel companion. He arrived yesterday in tight quarters, though I'll be sure his travels are more comfortable in the future. I'm just working on getting him a passport for our trip to Bali next year. One glass of Dom for Elmo, one glass of Krug for me, please.