As I posted about last month, I took a trip to Chicago this past weekend. I'll have a separate post with a mini trip report, but I'll stick to a review of the InterContinental Chicago for this post.
Just to provide some background, hotelclub.com comped one night for me. I had booked a Historic Tower King room for around $350 all-in (there were cheaper room types available), and used a buy one get one free certificate the second night. My out of pocket cost was virtually zero, which was pretty neat.
I got to the hotel at around 11AM and was helped by a very friendly and funny check-in agent. First she said "wow, you're a Royal Ambassador, you must travel a lot," and then she said "if I were a Royal Ambassador I'd be drunk most of the time with all of those free drinks. I don't know how you guys do it." We both chuckled and hit it off well (as I try to do when the room is in the hands of the agent and they have some discretion in what they give me.;))
She asked if I was only staying for one night, and I mentioned I was on two separate reservations for two nights. She said "oh," and asked me to wait for a second as she talked to the guest relations manager. She came back and said that I had actually been upgraded three levels to a "pullman suite" because that's the room that was available for two nights, but told me not to always expect that on future stays. I said I wouldn't and headed off towards the Historic Tower.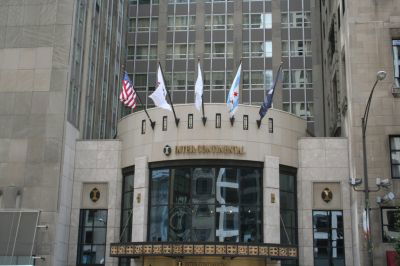 Exterior of the hotel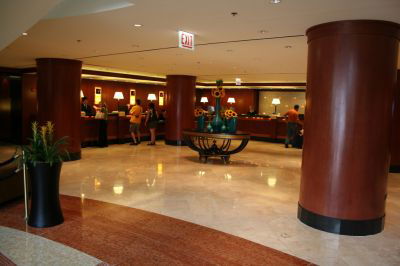 Lobby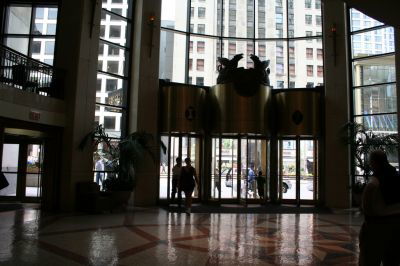 Entrance to the hotel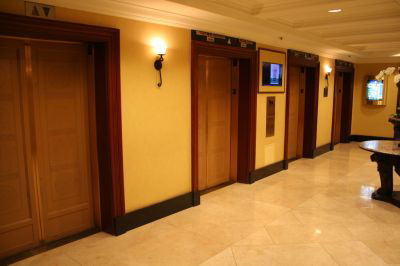 Elevators
My room was on the 38th floor, the highest floor accessible by the main elevator (there was another elevator on the 38th floor which went up to the 41st floor, where I assume the presidential suite is). The 38th floor only had three rooms, and my room took up about half of it.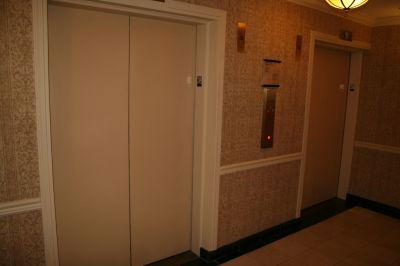 Elevators on the 38th floor
My suite was a combination of rooms 3801 and 3802, which I assume were separate rooms at one time.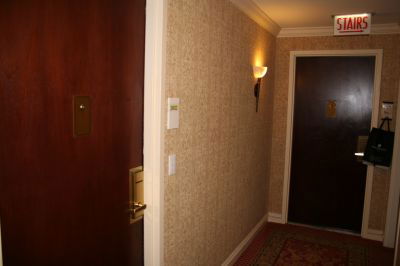 The doors to rooms 3801 and 3802, both of which I'd be staying in
The room had an "L" shaped hallway as I entered, with the first full bathroom on the right side, which then led to the living room.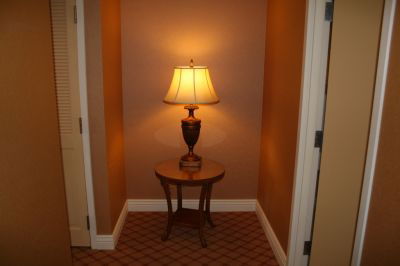 First part of the hallway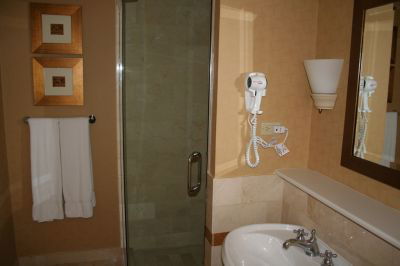 First shower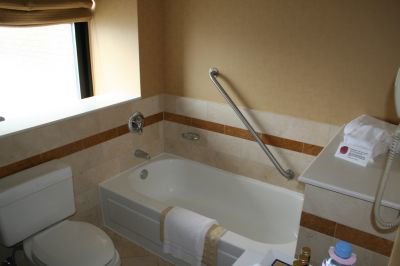 First bathtub and toilet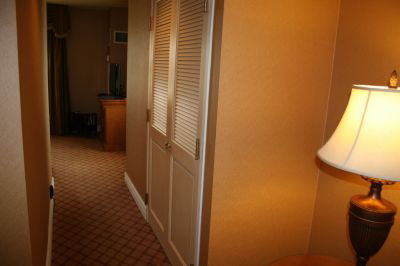 Hallway to the living room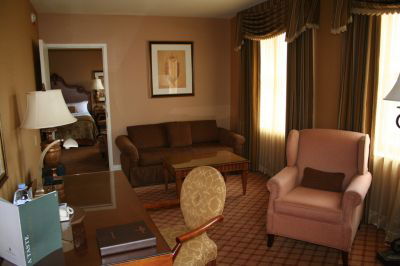 Living room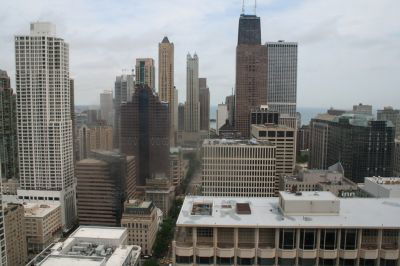 View from the living room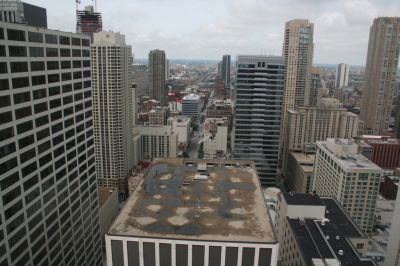 View from the other side of the living room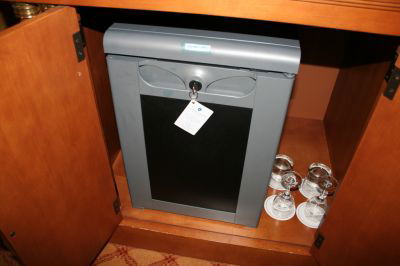 The minibar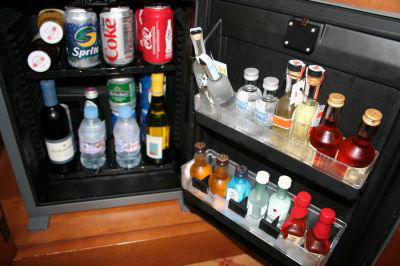 Contents of the (very nice) minibar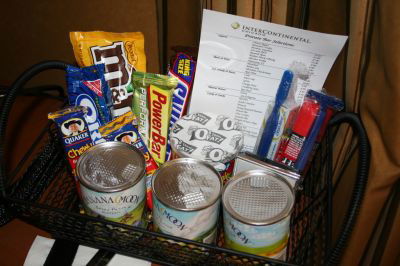 The snacks (which are not free for Royal Ambassadors)
I thought the living room was very nice. It has a great plasma TV, a nice couch, a great seat, and a very functional desk with plenty of power outlets. The minibar was very well stocked, which is always nice as a Royal Ambassador. Usually I prefer modern hotels over "ancient" ones, but I found the decor to be very nice. The view over Michigan Avenue was also great, although the windows were pretty dirty.
I then checked out the bedroom, which was nice. It had a great bed, yet another desk, and another comfortable chair, along with yet another minibar and plasma TV!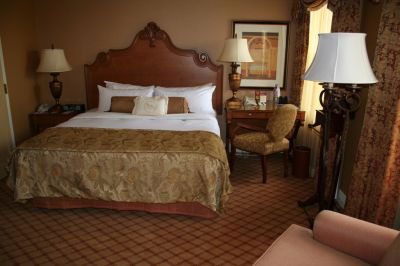 Bedroom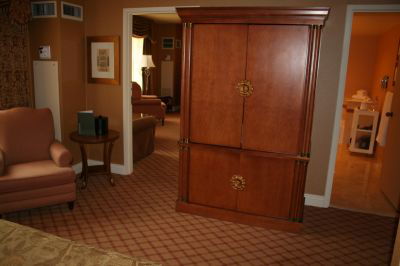 Bedroom, looking towards the living room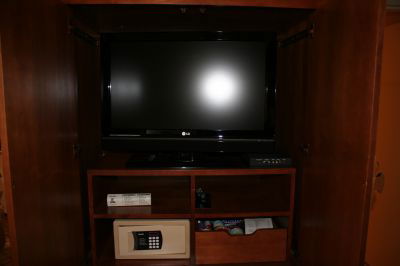 Plasma TV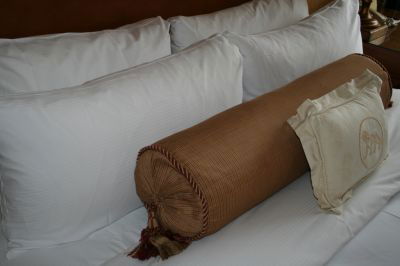 Great pillows/bedding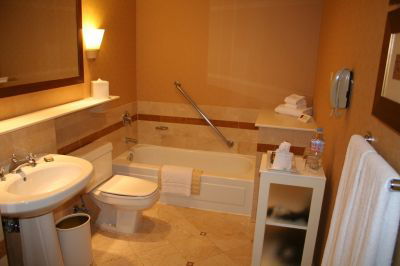 Second bathroom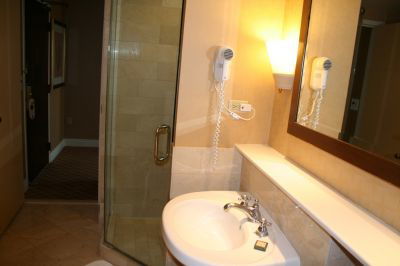 From the other side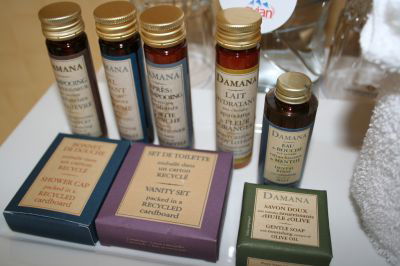 GREAT toiletries!
The Royal Ambassador welcome gift consisted of a bottle of naive, eh, Evian water, a basket of fruit, a small box of chocolates, and a note from the GM. I got the same gift again the second night, which I assume was a mix up due to me being on two separate reservations.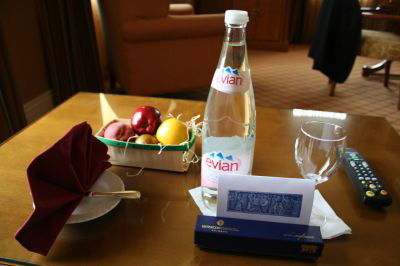 Welcome gift
Both nights they had turndown service, including placing a bathrobe with two chocolates on the bed.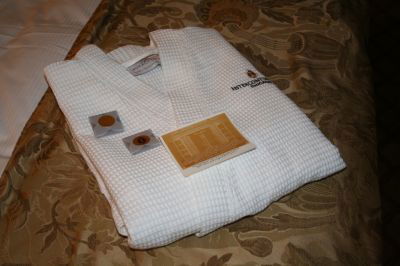 Turndown
I was extremely pleased with my stay. All of the staff I interacted with were extremely friendly and helpful, the room was great, the hotel is in immaculate condition, the location is ideal on Michigan Avenue in the center of all the action, and my upgrade couldn't have been better.
I'd definitely return if I were in Chicago.