In addition to airlines having limited time fare sales, there are certain markets out of which airlines consistently publish cheaper premium cabin fares. Of course the exact details vary, but you can generally expect that a ticket from New York to Colombo in business class will be significantly more expensive than the same ticket in reverse.
That's simply market pricing, and reflects the relative demand, economies, currencies, etc. I've been writing about cheap premium fares for years, and there's no doubt that over time they change. Some good fares get pulled, but others always emerge.
I've been taking advantage of cheap fares out of Cairo for years, but per the "Ask Lucky" forum, something very strange is going on with Qatar Airways fares out of Cairo at the moment. Specifically, Qatar Airways isn't selling any longhaul business class tickets out of Cairo right now.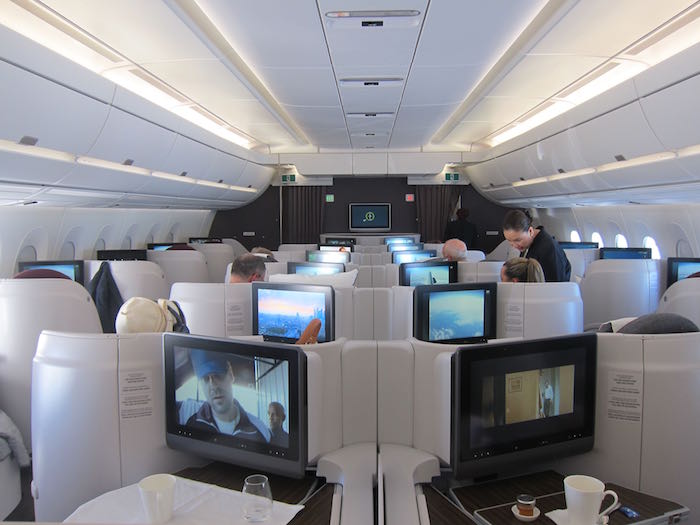 Qatar Airways A350 business class
They'll sell you a ticket just from Cairo to Doha…
And they'll sell you a ticket from Cairo to somewhere else in the Gulf, like Dubai…
But they won't sell you a longhaul business class ticket to anywhere, regardless of whether it's New York…
…or Johannesburg…
…or Jakarta…
…or Sydney.
I was trying to diagnose the problem, because I'm always fascinated by the back-end details of airline pricing and fare construction. I pulled up availability from Cairo to New York via Doha on ExpertFlyer, and interestingly when you choose the combination of flights they're both zeroed out, while individually they both have availability.
Airlines sometimes use what's called "married segment" logic, where they're only willing to sell you a seat on a flight in conjunction with another flight.
To explain that a bit further, consider an American flight from San Diego to Los Angeles. The airline might not be willing to sell you a seat at a low fare bucket if you just want to fly between San Diego and Los Angeles, while they may be willing to sell it to you if you're flying that segment in conjunction with a flight between Los Angeles and Sydney. The logic is that there's more revenue potential that way, so they don't want to sell out that short flight and then have someone not book a more lucrative flight because there's no availability for the connector flight.
There are all kinds of versions of this, though that's the simplest example I can come up with.
Qatar Airways often uses married segment logic, so I assumed that was it. However, it doesn't seem to be the case. I then pulled up Cairo to Sydney availability, and it showed availability on both flights in business class. Despite that, it still won't price.
For now we should mark this as "developing." I think a lot of us would be quick to assume that maybe Qatar Airways is getting rid of cheap premium fares out of Cairo. However, if that were the case they would have just eliminated the discounted fares, as opposed to all business class fares. There were still plenty of expensive tickets, as pricey as out of other markets. But you can't even book full fare business class with the current "issue."
Hmmmm…
What do you make of the situation with Qatar Airways' business class fares out of Cairo?