Last year Qatar Airways announced they'd join the OneWorld alliance… well, at least after their CEO did everything on earth to try and deny it. Usually it takes about 12-18 months for an airline to join an alliance from the time that the intention is announced, so I suspect we'll see them join OneWorld sometime late this year or early next year.
It's not unusual to see partnerships within that alliance "go live" prior to the actual join date. Earlier this year American and Qatar Airways even began codesharing. It looks like the next agreement will be between British Airways and Qatar Airways, per the following email that was sent out to Privilege Club members today:
Effective 2nd September 2013, Qatar Airways and British Airways will enter into a frequent flyer partnership. As a Privilege Club member, you will now have the opportunity to earn Qmiles on all qualifying British Airways flights.

Qmiles can be earned on all flights with a British Airways flight number and being operated by British Airways.

You will earn up to 150% of Qmiles flown depending on the booking class (type of fare) you purchase. For more details, please click here

British Airways is one of the world's leading airlines and part of the International Airlines Group. Based at London Heathrow, it is the airport's major operator with approximately 50 per cent of flights to and from the airport.

A founding member and an integral part of the successful oneworld alliance, the airline has a fleet of 240 aircraft and operates over 300,000 flights per year to over 160 different cities worldwide.

What's more, you will also be able to redeem your Qmiles for award tickets on all British Airways flights effective 1st October 2013. To learn more, please click here

Take advantage of this highly rewarding partnership and experience the spectacular benefits of being a Privilege Club member.
So as of September 2, 2013, it'll be possible to earn Qatar Airways miles for travel on British Airways, while it will be possible to redeem miles for travel on British Airways as of October 1, 2013. While I haven't seen a similar announcement from British Airways yet, my guess is that this will be reciprocal, and the same will be true for those wanting to earn/redeem British Airways Avios for travel on Qatar Airways.
The earnings chart isn't especially lucrative, and looks as follows: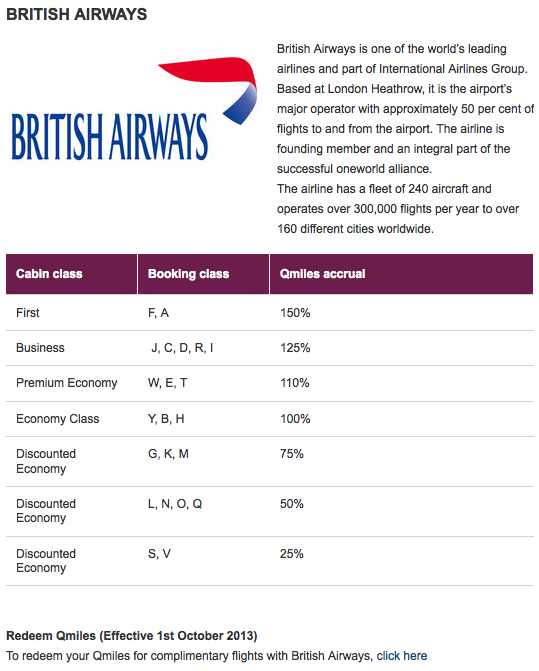 The optimist in me hopes that October 1 is actually the OneWorld join date, though I probably wouldn't hold my breath…