After a two day "layover" at home, it's back on the road for me. Sometimes my planning is downright unfortunate, and this is one of those instances. Late last year I had booked a couple of mileage runs to Spain to get a jump start on Executive Platinum qualification for the year. It pays to book early, since it meant I was able to lock in upgrades to business class for all my segments. Besides, three days in Barcelona (a city I've never been to) doesn't sound half bad.
Unfortunately this was before American announced double elite qualifying miles for the month of January, and as luck would have it, both of my trips were planned for February. I couldn't help but book a quick trip to Shanghai in January to rack up nearly 45,000 elite qualifying miles, though I had totally forgotten my return flight from Shanghai would be only two days before my flight to Barcelona.
The bad news (or good news, depending on how you look at it) is that my sleep schedule has been totally screwed up the past couple of nights. I slept from 4PM till 2AM last night, and the previous night slept from 5PM to 1AM… so I guess I'm kinda sorta already on Barcelona time.
The bad news (or once again good news, depending on how you look at it) is my routing — I'm flying from Tampa to Barcelona via Chicago, Las Vegas, Los Angeles, Miami, and New York. Yes, that's redeyes two nights in a row. All flights are scheduled to have Wi-Fi, though, so it's all good.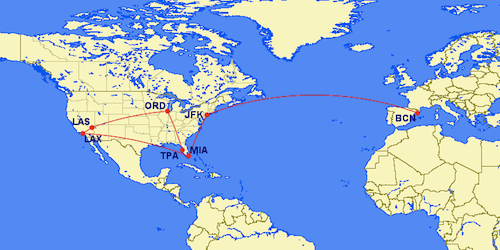 Anyway, stay tuned, as it should be a fun couple of days. If you'd like to follow me on Twitter you can do so here, as I tend to have a lot to complain about say when flying. 😉
Now if only the weather were a bit warmer in Barcelona…