Hey, you've gotta give Ryanair Group CEO Michael O'Leary credit for his sense of humor, and his dedication to delivering his message.
O'Leary pied at European Commission in Brussels
Earlier today, Ryanair's outspoken boss, Michael O'Leary, visited the European Commission headquarters in Brussels, where he was preparing to hold a press conference, prior to handing a petition to European Commission President Ursula von der Leyen.
Just ahead of the press conference, two climate protestors approached O'Leary. One protestor came up to him, said "welcome to Belgium," and then shouted "stop the pollution of the f****** planes." A second protestor then threw a pie in his face.
O'Leary took it in stride. He responded "well done," wiped off his face, took off his jacket, and then tried to continued his press conference. The press wanted to ask him about how he had just been pied, and he responded by saying "I love cream cakes, they're my favorite!" What an absolutely brilliant handling of such a situation.
You also have to appreciate that rather than trying to hide this, Ryanair's amazing social media team is highlighting what happened. The airline is joking that passengers are so happy with Ryanair that they're "celebrating with cake," and how "instead of buying cream cakes, could have bought a flight from Belgium for the same price."
While climate protestors often target the aviation industry, it's typically focused on private jets. While I realize these protestors basically want to eliminate aviation altogether, Ryanair at least has among the lowest per-passenger emissions of any airline out there, so relatively speaking, you have to appreciate that aspect of the airline.
So, what was Ryanair's petition about?
Whether you like to fly Ryanair or not, the reality is that the airline does a lot to try to make aviation more affordable for everyone. The company takes on government after government to keep fares low, and to keep airspace open. While this is of course self-serving, I'd say that this largely aligns with the best interests of the public in keeping aviation affordable.
In this case, O'Leary was trying to present a petition with 1.5 million signatures, demanding that flights be allowed to cross French airspace during air traffic control strikes. Here's how Ryanair describes this petition:
So far in 2023, French ATC (Air Traffic Control) strikes have forced Ryanair to cancel over 4000 flights mainly overflying France.

It is unacceptable that France uses Min Service Legislation to protect French flights during these repeated ATC strikes, while overflights, none of which are operating to/from France, suffer all these cancellations. This is unfair. The EU must act now to protect overflights and the EU Single Market.

Ryanair has repeatedly called on the EU Commission and Ursula von der Leyen to take action to protect EU passengers and overflights during repeated French ATC strikes. Ryanair calls on all passengers to sign our petition.

Do it today and send an urgent message to Ursula von der Leyen that EU citizens demand action to protect overflights during French ATC strikes.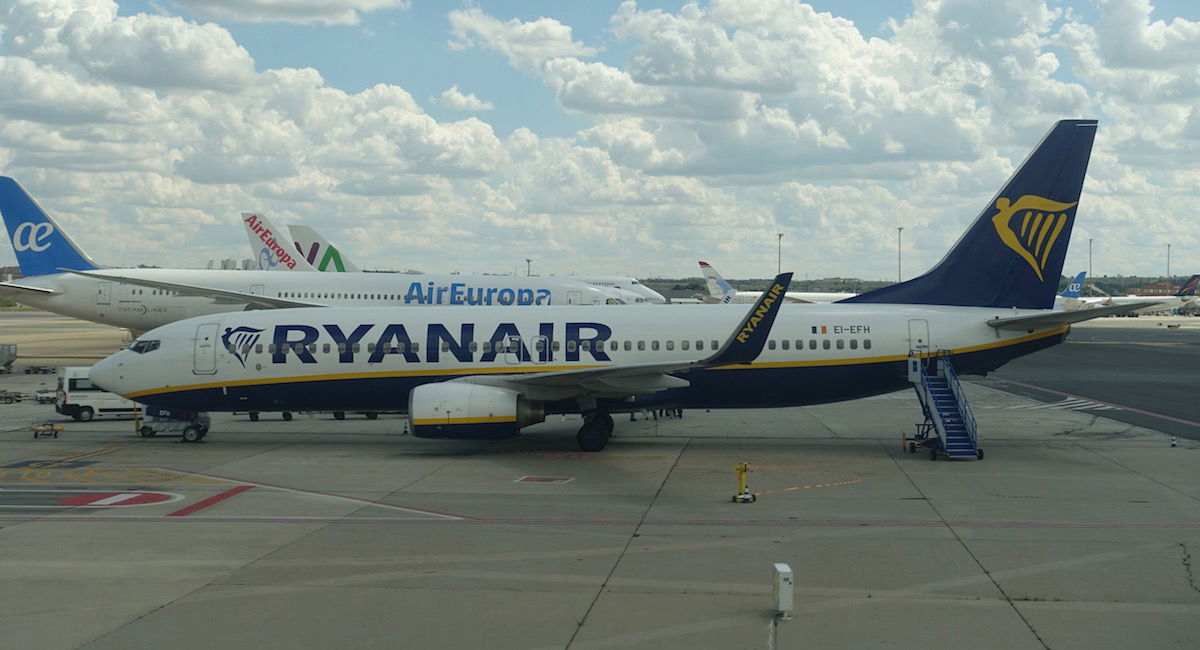 Bottom line
Ryanair Group CEO was attacked by climate protestors today in Brussels, as he tried to deliver a petition to the European Commission. He was pied in the face, though his response was simply amazing. Huge credit to O'Leary for how he handled this. I think this might have been counterproductive for the climate protestors, as they actually brought more attention to what he was trying to fight for.
What do you make of O'Leary getting pied?