While flight diversions happen all the time, I don't remember the last time a domestic flight diverted to an international destination. That's what makes this story, flagged by @AirlineFlyer, so interesting.
JetBlue flight from Newark to Fort Lauderdale diverts to Nassau
Several days back we saw severe flooding at Fort Lauderdale Airport (FLL), which caused the airport to shut down, leading to hundreds of flight cancelations. On Wednesday, April 12, 2023, JetBlue flight B6205 was scheduled to be operated by an Airbus A320, and fly from Newark (EWR) to Fort Lauderdale (FLL). The flight was scheduled to depart at 9:35AM and arrive at 12:50PM, but that's now how things played out.
First the flight was delayed by a bit over four hours, as it ended up leaving Newark at 1:38PM. That's already pretty rough, but just sounds like JetBlue being JetBlue, since the airline struggles to run an on-time operation.
The flight then climbed to 36,000 feet, and then eventually started its descent toward Florida. Unfortunately this was around the time that the airport was shutting down due to the weather situation. So the JetBlue flight had to divert. However, it didn't go to Fort Myers, Miami, Orlando, or Tampa, which are the most common diversion points for Fort Lauderdale.
Instead the plane diverted to… Nassau, in the Bahamas. The plane ended up landing there 3hr20min after it departed Newark, touching down at 4:58PM.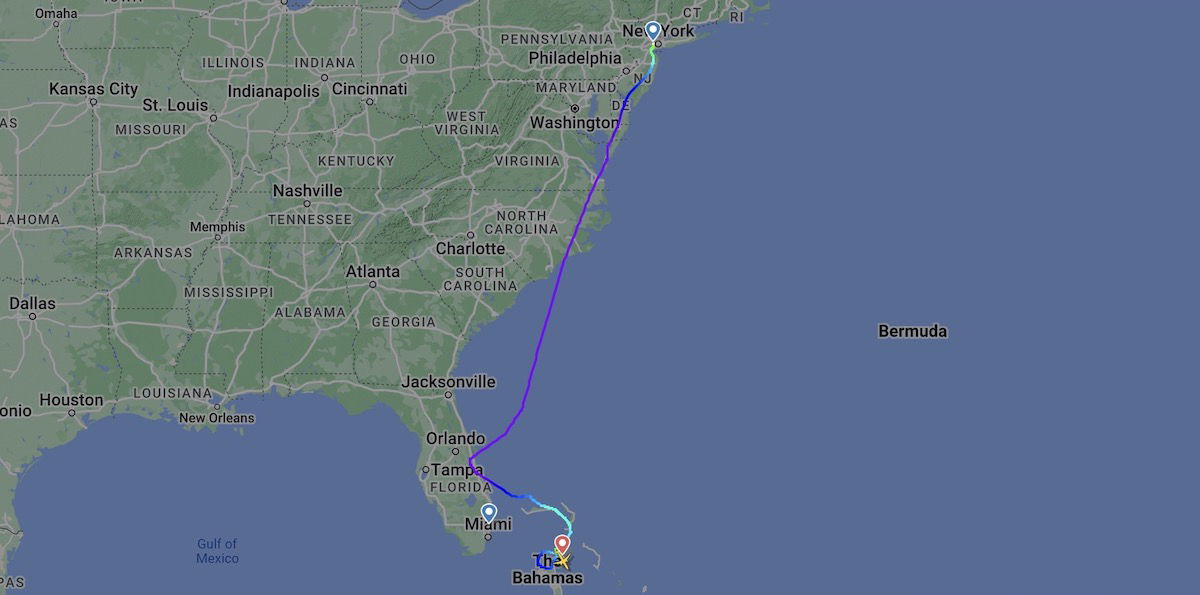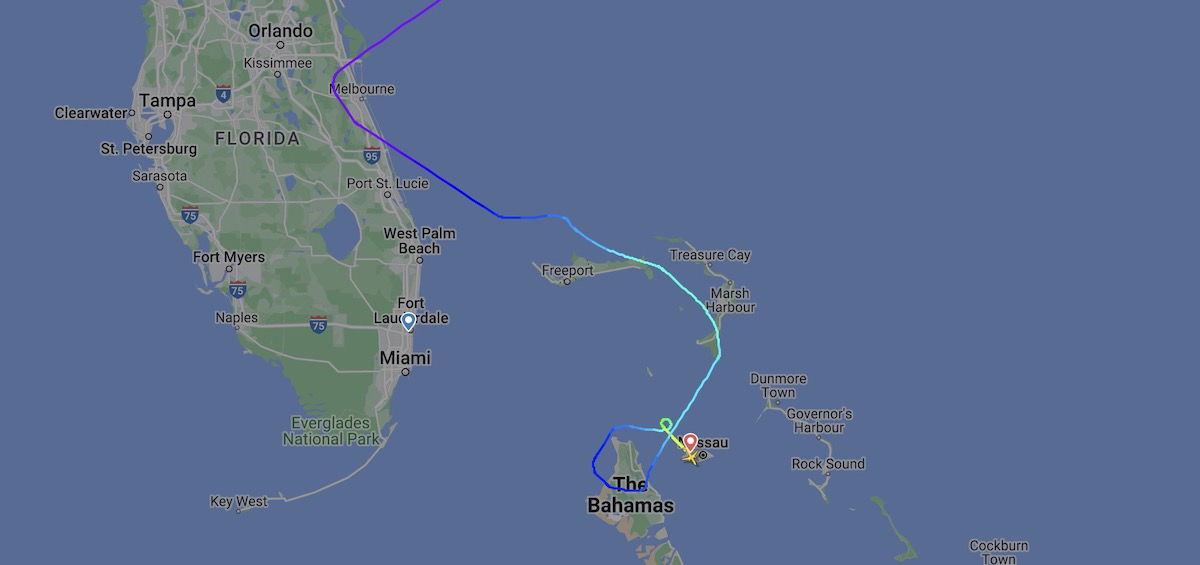 While diversions are common, I don't ever remember a domestic passenger flight diverting to an international destination, because this poses an obvious challenge — most passengers presumably don't have their passports on them, so if the flight can't return to the United States, you're going to be in a complicated situation…
JetBlue flight returns from Nassau to Newark
So, what happened once the plane was in Nassau? The A320 ended up staying on the ground in Nassau for 3hr20min, prior to taking off… back to Newark. The plane took off from Nassau at 8:21PM, and then completed a 2hr35min flight back to Newark, where it landed at 10:56PM.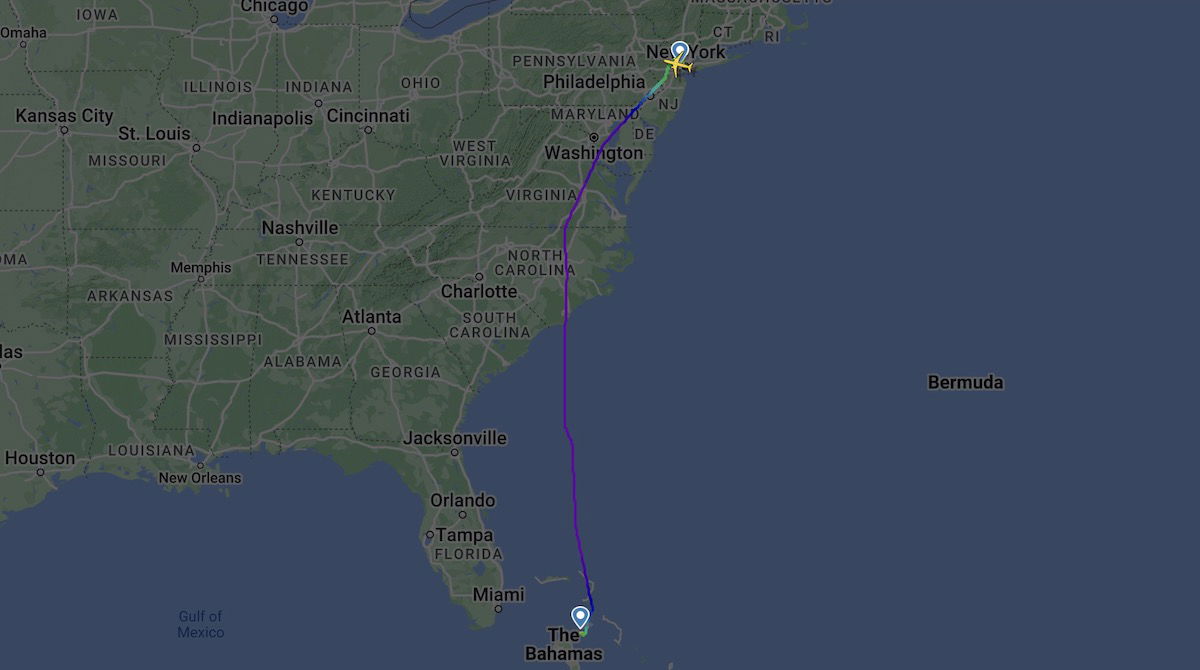 The good news is that passengers didn't somehow end up stranded in the Bahamas without passports, as I imagine the crew was pretty close to timing out. The bad news is that the same plane was back in Newark over nine hours after it took off, and over 13 hours after the initially scheduled departure time.
Talk about a rough day of flying — first there was a four hour delay, then a diversion, then a return to the origin airport.
JetBlue has allegedly offered each passenger a $500 JetBlue credit, plus a refund if they chose not to take the rest of their trip. Here's how a JetBlue spokesperson describes the situation:
"With the airport in Fort Lauderdale closed and surrounding airports unable to accommodate this flight, the aircraft, and customers were returned to Newark after some time on the ground in Nassau. Safety is JetBlue's first priority and the weather, airport closure, and subsequent diversion traffic was unprecedented."
Bottom line
JetBlue passengers flying from Newark to Fort Lauderdale this past Wednesday had a very long day. The flight departed around four hours late, and then made its way to Fort Lauderdale, only for the airport to shut down, leading to a diversion.
The decision was made to divert to Nassau, which is incredibly uncommon, given that domestic flights don't often divert to an international destination. However, I suspect the decision wasn't made without some thought, and that there weren't any other viable airports without excessive holding times.
The good news is that the crew didn't time out, so passengers didn't get stranded in a situation where they didn't have passports for a foreign country. The bad news is that the flight returned to Newark, so passengers arrived there over 13 hours after they were scheduled to depart. Rough travel day, eh?
What do you make of this JetBlue diversion?