I'm often asked what kind of a wallet I use given how many credit cards and airline/hotel elite cards I have, and how I switch it up when traveling. Here's the short answer in a picture: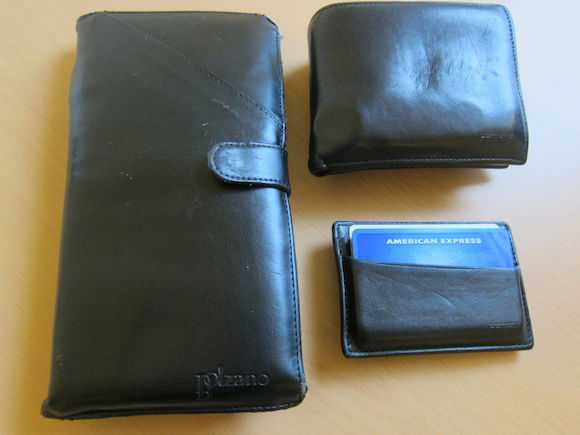 To explain a bit further, here's how/why I organize my stuff the way I do.
My money clip changes the most, since I always have the top few cards in there that I'm using at the moment, either because they provide me with the highest return on everyday spend or because I'm trying to reach the minimum spend on a card. For example, right now that includes the American Express Prepaid card (highest all around return and no foreign transaction fees), Chase Sapphire Preferred (double points on dining and travel, and no foreign transaction fees), Citi Hilton Honors Reserve (trying to reach minimum spend), and American Express Premier Rewards Gold card (double points on gas and groceries). Then I also have my Starbucks Gold card and drivers license in there as well. That's what I always have on me, regardless of where I go. Like I said, I'll often swap out the cards based on which card I'm trying to reach a minimum spend on, or whether I'm traveling internationally or not. For example, when I'm traveling internationally I'll never have the American Express Premier Rewards Gold card in there, since it has foreign transaction fees.
Then there's my "regular" wallet, which has all my elite cards and cards that I need frequent access to. That includes the airline and hotel elite cards I use most frequently (American Executive Platinum card, British Airways Gold card, Hyatt Diamond card, Starwood Platinum card, InterContinental Royal Ambassador card, etc.), American Express Platinum card (which I never use for spending but do use for lounge access), Priority Pass card, and credit cards that I occasionally swap out into my money clip based on the category I'm spending in (like both of my Chase Ink cards).
Then my travel wallet has my passports, foreign currency for the country I'm visiting, and cards I don't need often but I still have on me. This includes stuff like my AAA card, Global Entry card, loyalty program membership cards (both airlines and hotels), etc.
And then lastly while it's not a wallet, I do have an envelope with credit cards I keep but never use (either for the annual benefits that come with it or because they have no annual fee).
What organization system do you use?