Lufthansa's flight attendant union, UFO, has been on strike since Friday, November 6, 2015. This comes after management and the union just couldn't come to an agreement regarding a new contract.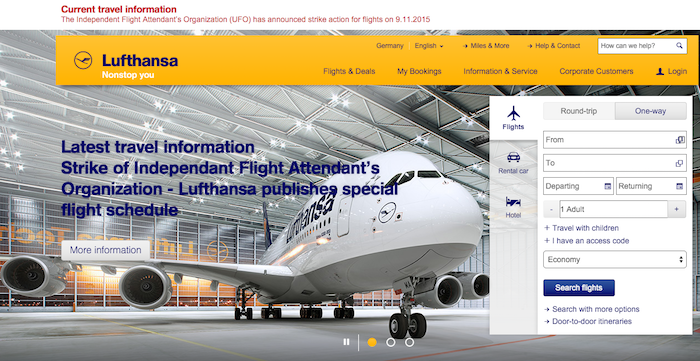 On Friday and Saturday we saw many Lufthansa short-haul flights get canceled, including the following:
On Friday, all Lufthansa 737 and Airbus A319/320/321 flights to/from Frankfurt/Dusseldorf were canceled between 2PM and 11PM
On Saturday, all Lufthansa 737 and Airbus A319/320/321 flights to/from Frankfurt/Dusseldorf were canceled between 6AM and 11PM
Generously the union didn't go on strike on Sunday and excluded Munich from the strikes on Friday and Saturday, because they didn't want leisure travelers to get stranded. Via NDTV:
However, Lufthansa's Munich hub would not be affected at all this weekend, given that there were still school holidays in the southern regional states of Bavaria and Baden-Wuerttemberg, it explained.

In addition, "no industrial action is planned at all on Sunday since most people traveling that day will be doing so in a private capacity," UFO said.
Well, the strike is back today, and it's the worst yet, as a vast majority of Lufthansa's flights are canceled. Per an update posted on Lufthansa's website:
The Independent Flight Attendant's Organization (UFO) has announced strike action for all Lufthansa flights from/ to Frankfurt and Dusseldorf on Monday, 9.11.2015 between 4.30 and 23.00 and flights from/to Munich between 4.30 and 00.00.

Flights operated by Lufthansa CityLine, Germanwings, Eurowings, Air Dolomiti, Austrian Airlines, SWISS and Brussels Airlines are not affected by potential strike actions and will therefore run as planned.

Lufthansa will do its utmost to keep the effects of a strike to a minimum and to inform passengers as soon as possible. For that reason, Lufthansa requests all passengers early on to stay up-to-date by checking the flight status on LH.com.

On Monday, out of the approximately 3.000 planned connections about 929 continental and intercontinental flights had to be cancelled. Affected by these cancellations are in total approximately 113.000 passengers.

Lufthansa did publish a special timetable. Nearly all continental and intercontinental flights had to be cancelled. Exceptions are a few flights between Munich and Frankfurt to London Heathrow, Dublin, Ashgabat, Delhi, Hongkong and Tokio.
Whew, at least they spared the flight to Ashgabat! 😉
To recap Monday's 929 cancelations:
Flights to/from Frankfurt and Dusseldorf are canceled between 4:30AM and 11PM
Flights to/from Munich are cancelled between 4:30AM and 12AM

A few random frequencies will operate, but aside from that everything is canceled.
This whole strike is just sort of unbelievable to me. We see pilot strikes from Lufthansa all the time (almost one a month, on average), but rarely do they cripple the whole system to this degree. Just canceling everything is mind-blowing. It inconveniences passengers, the flight attendants' colleagues (gate agents & reservations agents), etc.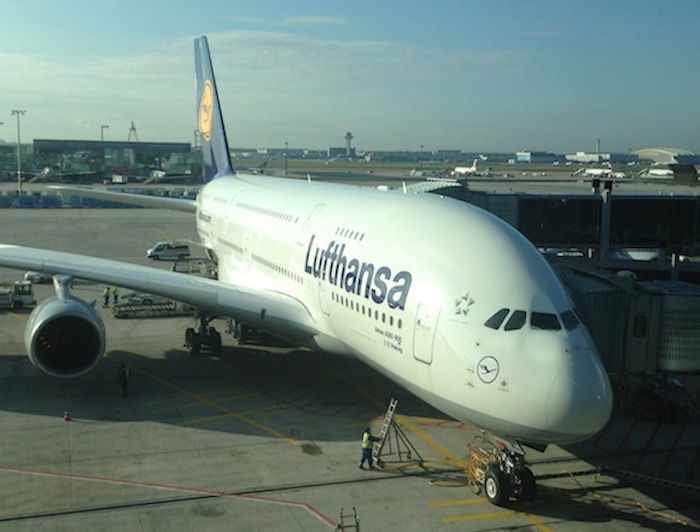 Bottom line
We potentially have a few more days of these strikes. As I've said before, I respect employees' rights to collective bargaining, but I just can't help but wonder what this is accomplishing for anyone.
On the plus side, everyone I've heard from has indicated that Lufthansa seems to be willing to rebook passengers on just about any airline at this point, even non-partner airlines. Of course that assumes you can get through to them on the phone, where there might be a hold of several hours.
Have you been impacted by today's Lufthansa strike? Can anyone help me understand how anyone is better off after this strike?