It looks like Lufthansa will be flying their 747-8 to both Seattle and Dubai for a limited time, per @airlineroute. Specifically, Lufthansa will fly the 747-8 from:
Frankfurt to Dubai between October 16 and October 28, 2017
Frankfurt to Seattle between November 6 and December 30, 2017
On the surface that surprised me a bit. I could see them upgrading Seattle to a 747-8 in summer, though in November and December? That's the time of year that has among the lowest demand for travel to Seattle, so you'd think you wouldn't put such a premium heavy plane on the route.
In fairness, though, swapping from a 747-400 to a 747-8 represents a capacity decrease, believe it or not. That's because Lufthansa's 747-8s are super premium heavy — the 747-400s have 393 seats, while the 747-8s have 364 seats. So the major distinction is that the 747-8 has a first class cabin, while the 747-400 doesn't. So I said to myself "some people in Seattle are going to be excited to be able to redeem miles for first class out of Seattle once again." Back in the day Lufthansa flew an A330 with first class to Seattle (I took that flight many times), so figured it was a brief return of first class service.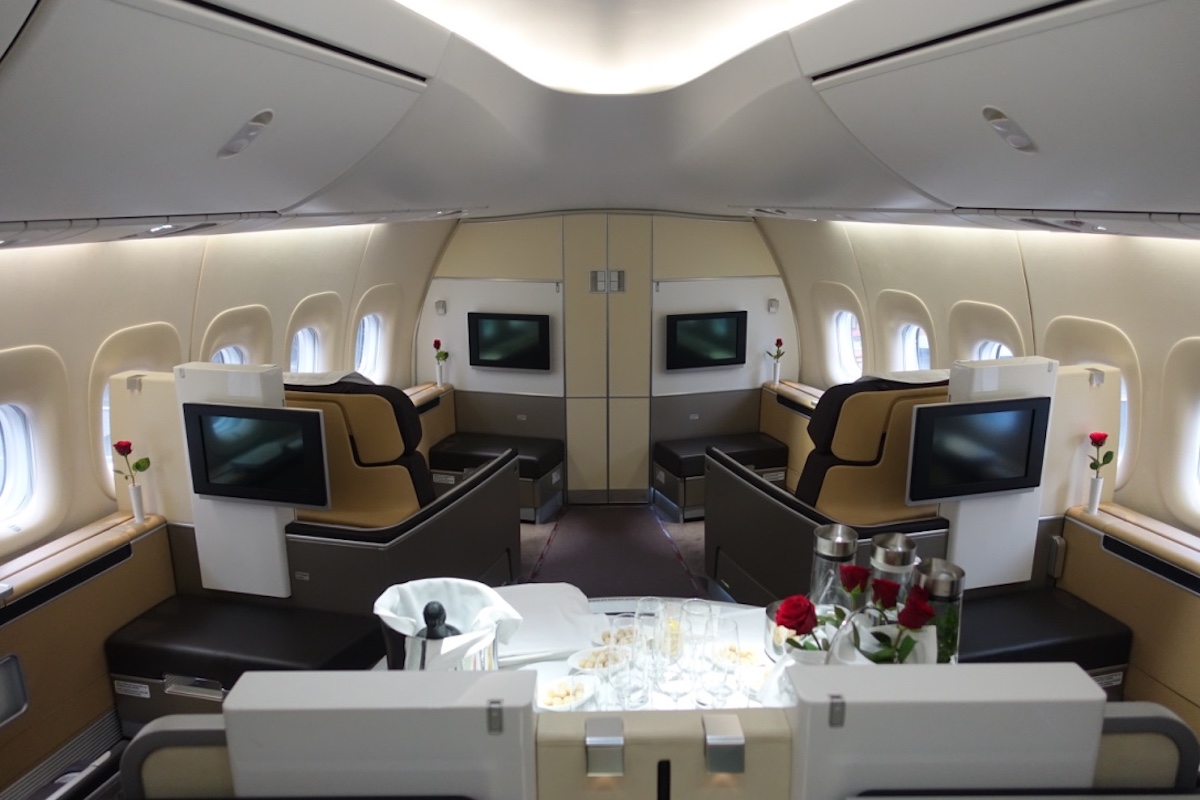 Lufthansa's 747-8 first class cabin
I did some digging, but noticed that they're not selling first class on the route. This wouldn't be the first time an airline has done something like this, though typically when they do, they save the first class seats for elite members, etc.
So I went through the process of making a booking on this flight, and was immediately given the option of selecting a first class seat at no extra cost.
Presumably service will still be the standard business class service, but getting Lufthansa's first class seat at the business class price is an awesome deal.

Lufthansa's 747-8 business class
Do keep in mind that seat assignments are always subject to change, so there's a chance they may change their mind and undo your seat assignment, and save first class for HON Circle and Senator members. However, if they let you select the seats to begin with, I'd hope that they would honor the seat assignments.
If you are looking to book a business class award from the West Coast to Europe in November or December, redeeming business class miles for a first class seat is a great value. As you can see, award availability in the market is generally excellent (below is a screenshot from Seattle to Frankfurt).