For the past few years the Louvre Abu Dhabi has been under construction, and I'm excited to check it out the next time I'm in Abu Dhabi. I quite like Abu Dhabi — I find it to be more "cultural" than Dubai, while still being very approachable.
The Louvre Abu Dhabi has finally opened this week, and Etihad commemorated it in a pretty awesome way, by doing an A380 fly-by. Here's a video of Etihad's impressive performance:
The plane that did the fly-by features the Louvre Abu Dhabi's logo on each of its four engines, to promote the opening of the museum.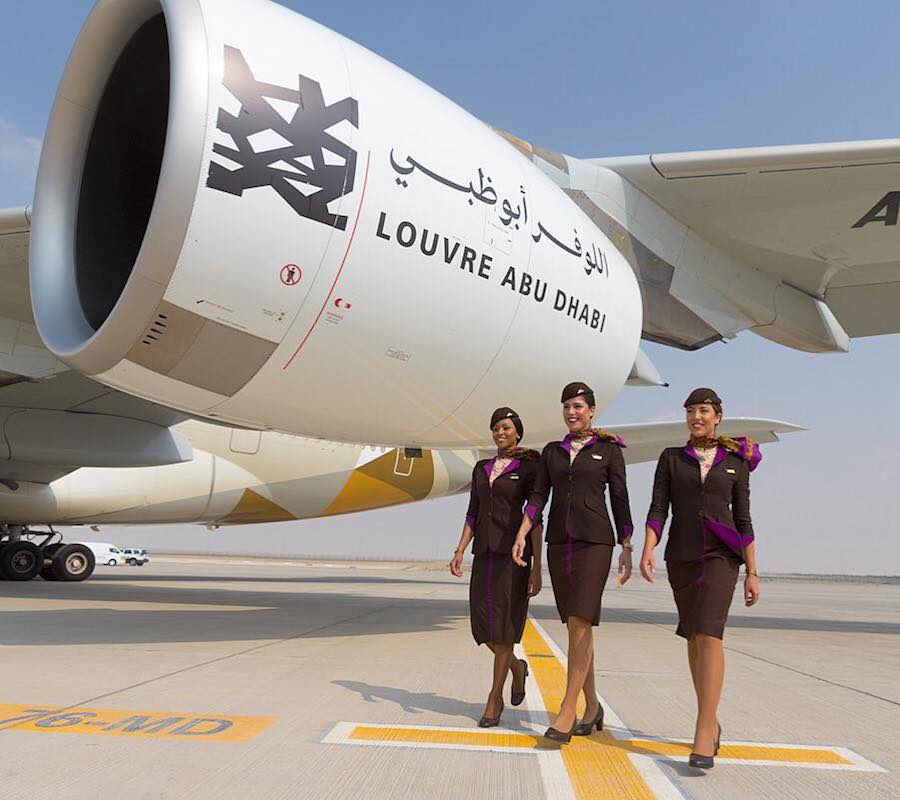 Per the press release:
Peter Baumgartner, Etihad Airways Chief Executive Officer, said: "Echoing the sentiments from the signing of our landmark partnership agreement with Louvre Abu Dhabi last month, Etihad Airways is today honoured to play its part in the inauguration of this hugely important universal institution.

"Abu Dhabi can now proudly take its place among the world's foremost cultural destinations, and we, as the UAE's national airline, are poised to play our part in bringing millions of guests to our home to experience this modern wonder of art and humanity first-hand."

The Etihad Airways Airbus A380 and Boeing 787 fleets feature multi award-winning interiors influenced by Abu Dhabi's architecture and landscape. These include ceiling designs and light projections in the boarding zones, Lobby Lounge, First Class and The Residence cabins of the A380s, and stylised sconce lighting in the Business Studios of both aircraft types – all inspired by Louvre Abu Dhabi's spectacular dome and its 'Rain of Light' effect, mimicking the way sunlight streams through the fronds of palm trees in a desert oasis.

Etihad Airways is the Louvre Abu Dhabi's official airline partner, having signed the first exclusive platinum partnership in October.

As a Platinum partner, Etihad Airways will work closely with Louvre Abu Dhabi on areas of brand partnership, marketing, social media, public and media relations, events and exhibitions, cultural exchanges, cargo support, inflight programming, and travel trade support. Etihad Airways' destination management company, Hala, will collaborate with the museum on bespoke tour packages in Abu Dhabi.
It might be a bit of a stretch to say that Abu Dhabi is among "the world's foremost cultural destinations," though it's still a city I quite enjoy. And much like with Emirates, Etihad and Abu Dhabi sure know how to market themselves. I think this "48 Hours In Abu Dhabi" video would make just about anyone want to visit the city: