It's not every day that you get to fly out of a brand-new terminal on its first day open, but that is precisely what I, and thousands of other passengers, experienced in New Orleans on Wednesday, November 6th.
Due to a stroke of luck (or misfortune, depending on how you look at it) and a conveniently-timed client, I had the privilege of being one of the first to experience the new terminal earlier this week.
Getting To The New MSY Terminal
The long-awaited new terminal still uses MSY's (the airport code's) existing runways, in a new building north of its predecessor. Sadly, the surrounding infrastructure hasn't quite caught up with the inside of the terminal, and the main thoroughfare in is a little bit circuitous. Road construction isn't set to be complete until 2023, so we have that to look forward to.
Factor in the overnight move, the concerns around drivers knowing where to go, and my must-attend meeting in New York City the next day, and I was more than a little nervous the night before.
Fortunately, my concerns were completely unfounded. All of the Uber and Lyft drivers who I talked to knew exactly what was going on, and the Lyft app navigated us there without a hitch, despite showing the old address. The ride from the Hyatt Regency New Orleans took about 25 minutes, and before I knew it, we were pulling up to the shiny new terminal.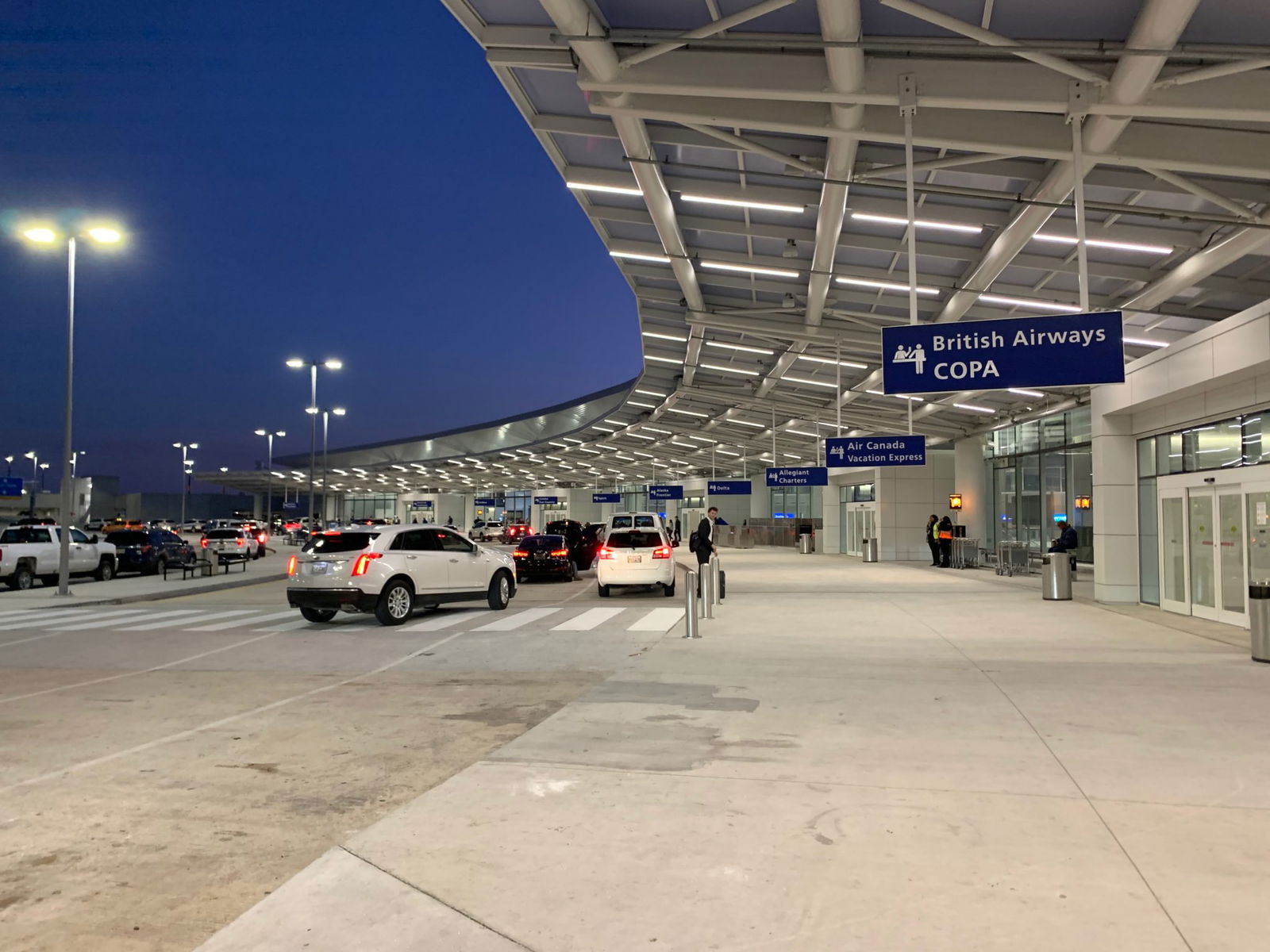 Inside The Terminal
The check-in area is located on the third floor, with security and departure gates located one level below, and baggage claim located on the bottom floor. As I walked in, the whole terminal felt incredibly open and airy, and much more akin to a modern airport in Europe or Asia.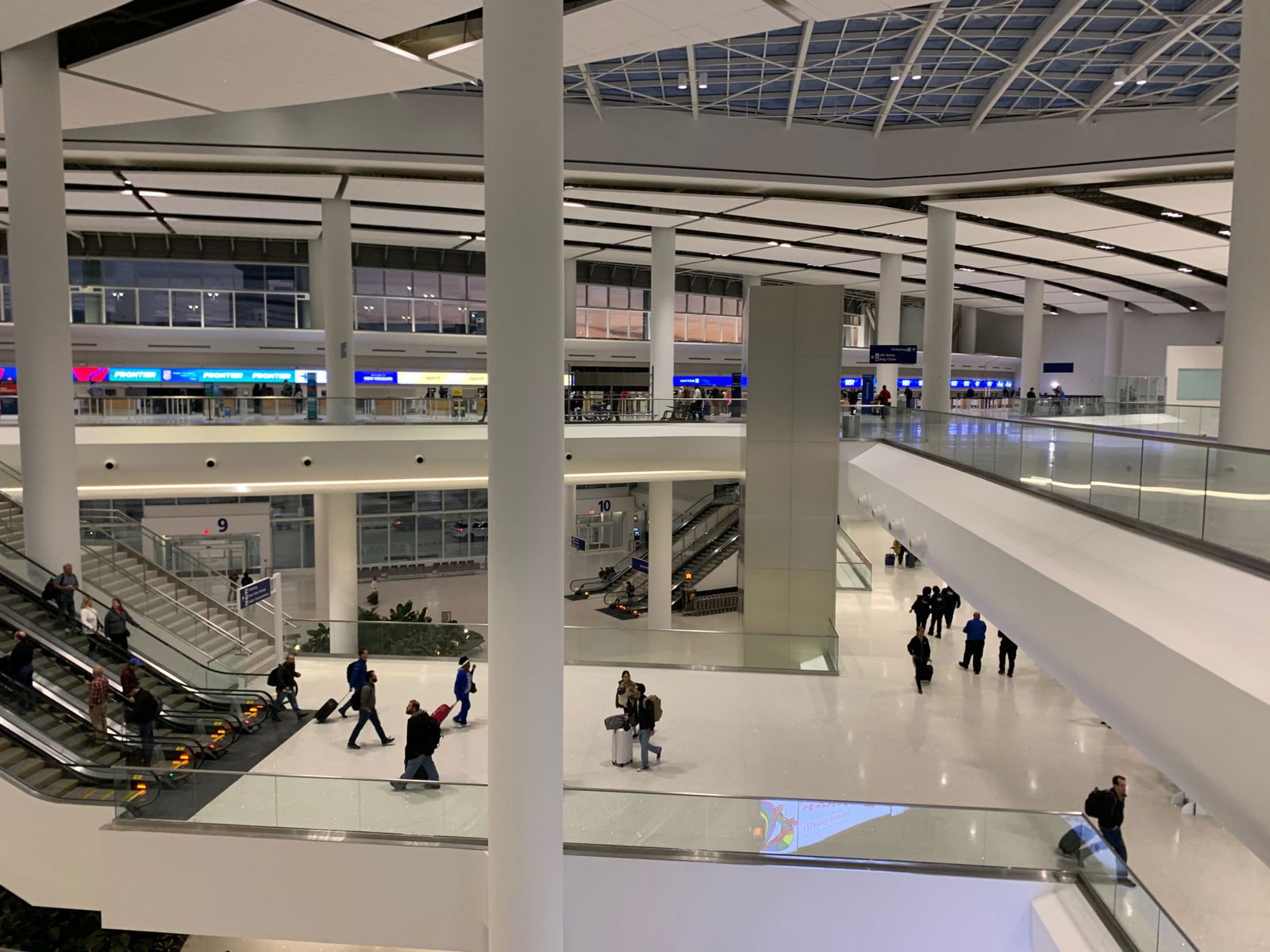 The open mezzanines made the space feel huge, without having to walk a mile. I've heard of some people complaining about it feeling too sterile, but I absolutely loved it, in a next-generation Apple Store sort of way.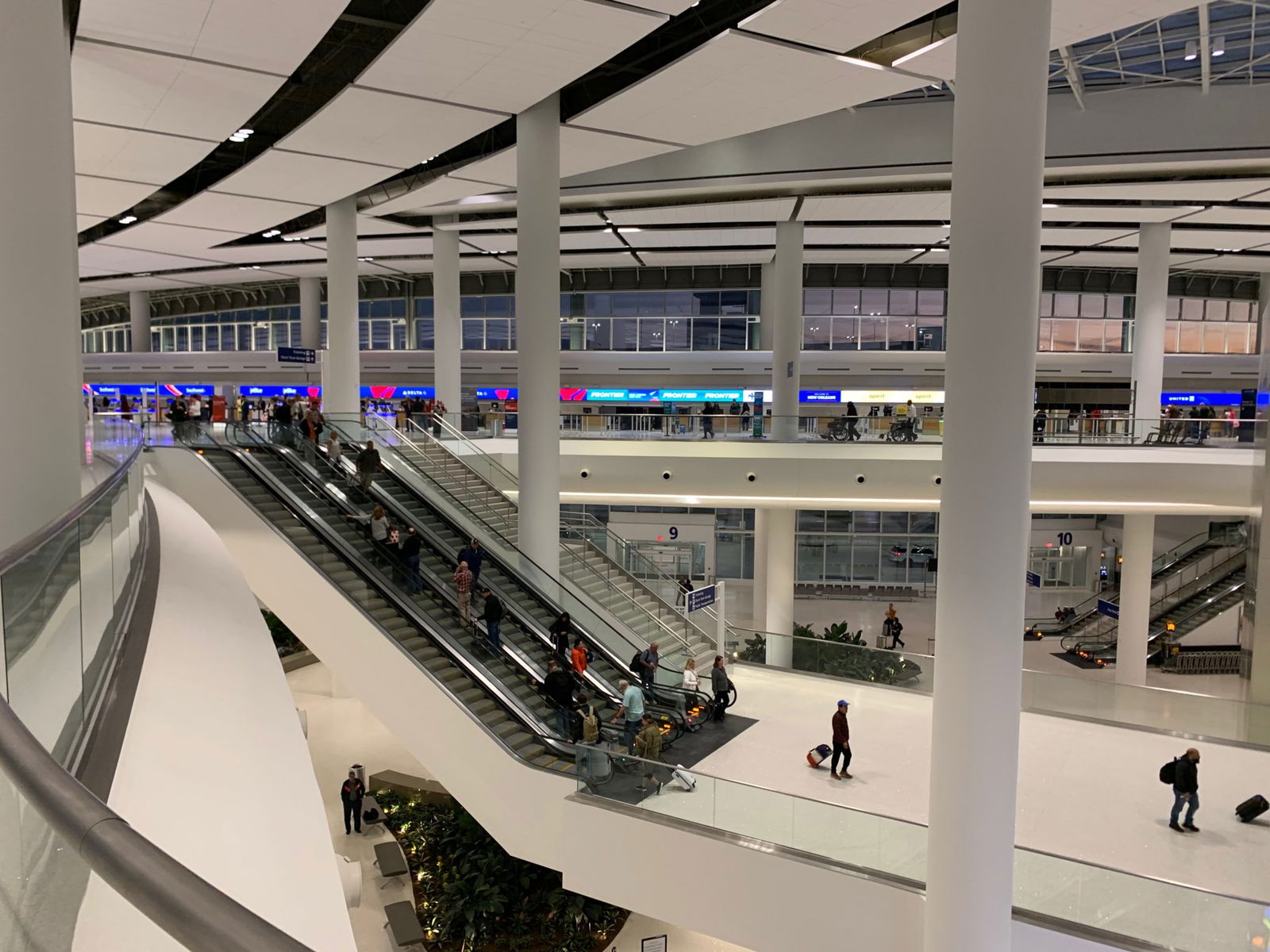 While I didn't have a bag to check, I snapped a quick photo of the check-in area. All airlines operate from the same terminal, with the check-in desks in one location. Of course, this has its perks and its pitfalls.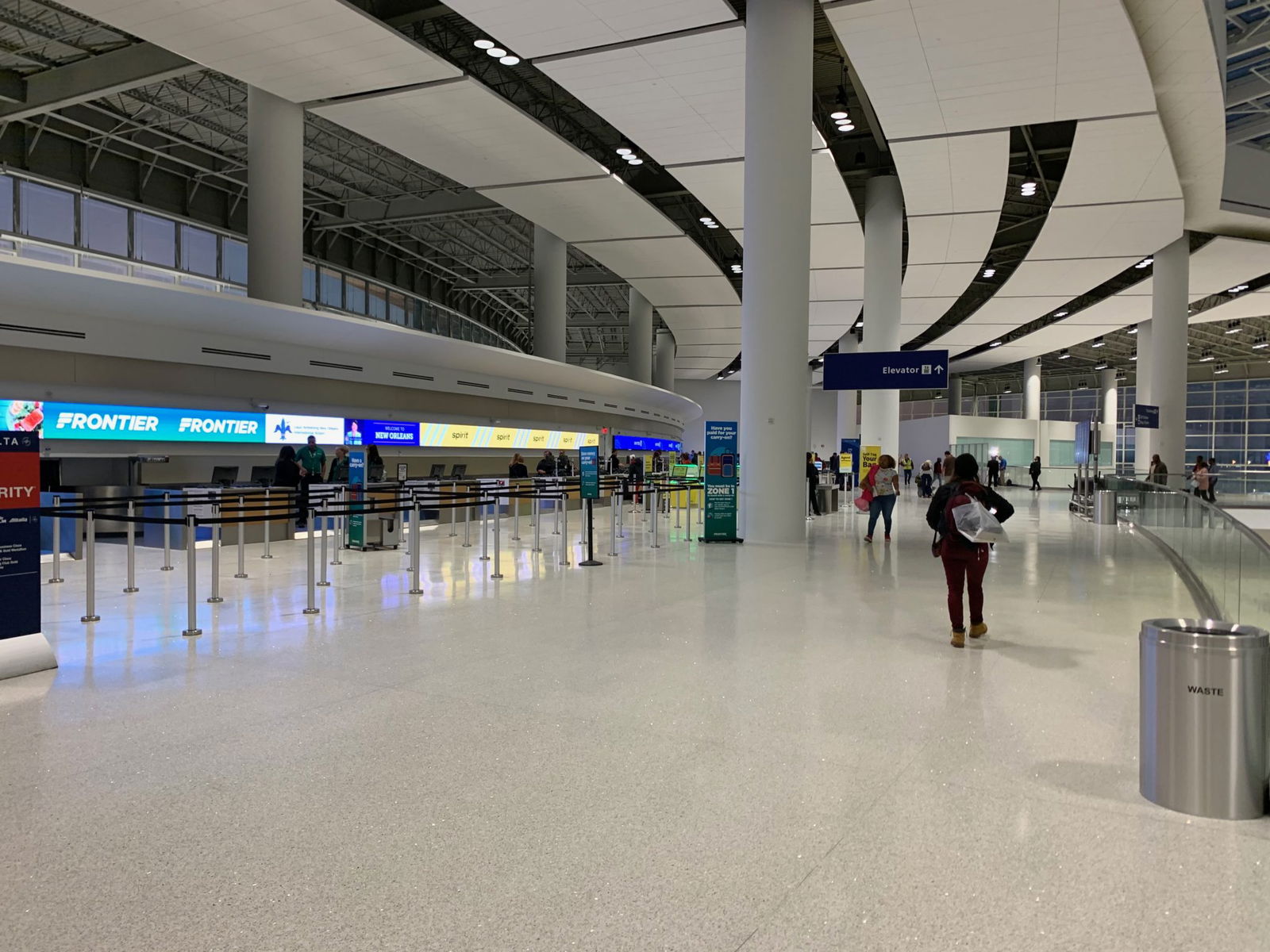 Perhaps the biggest challenge with a terminal being consolidated like this is the potential for long security lines. Fortunately, I was through security in about three minutes, thanks to Pre-Check and CLEAR, which were running smoothly.
Everything on the security front felt pretty ordinary, and certainly not like they were in their first hours of operation. None of my colleagues ran into any trouble when they were traveling later that morning, either.
In fact, the biggest indication that we were at a new airport terminal was the abundance of camera crews, which was admittedly pretty cool.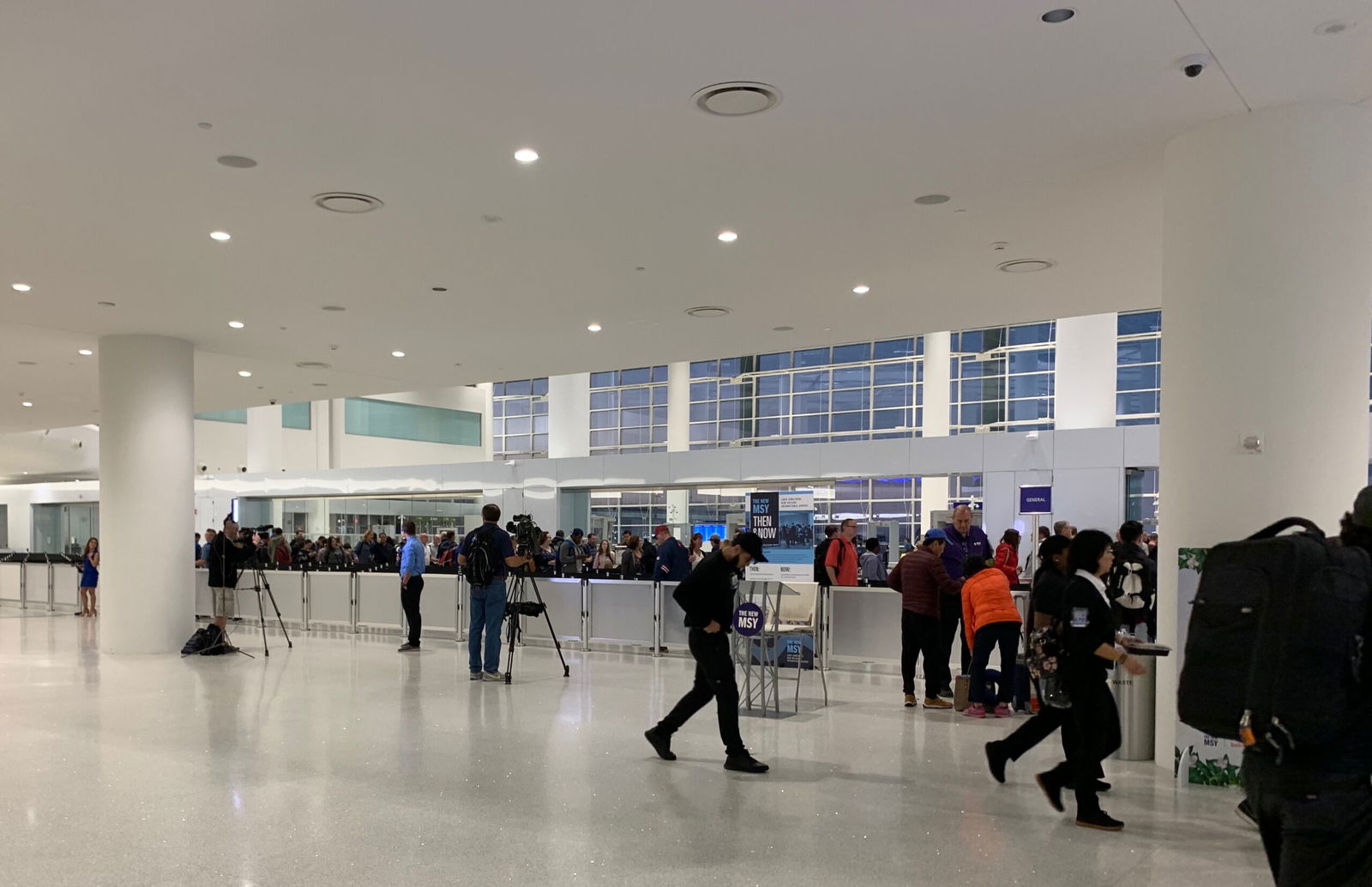 Once past security, I headed toward the C concourse, which is currently occupied by United, Delta, and Spirit. I couldn't help but notice that security is still partially under construction, too.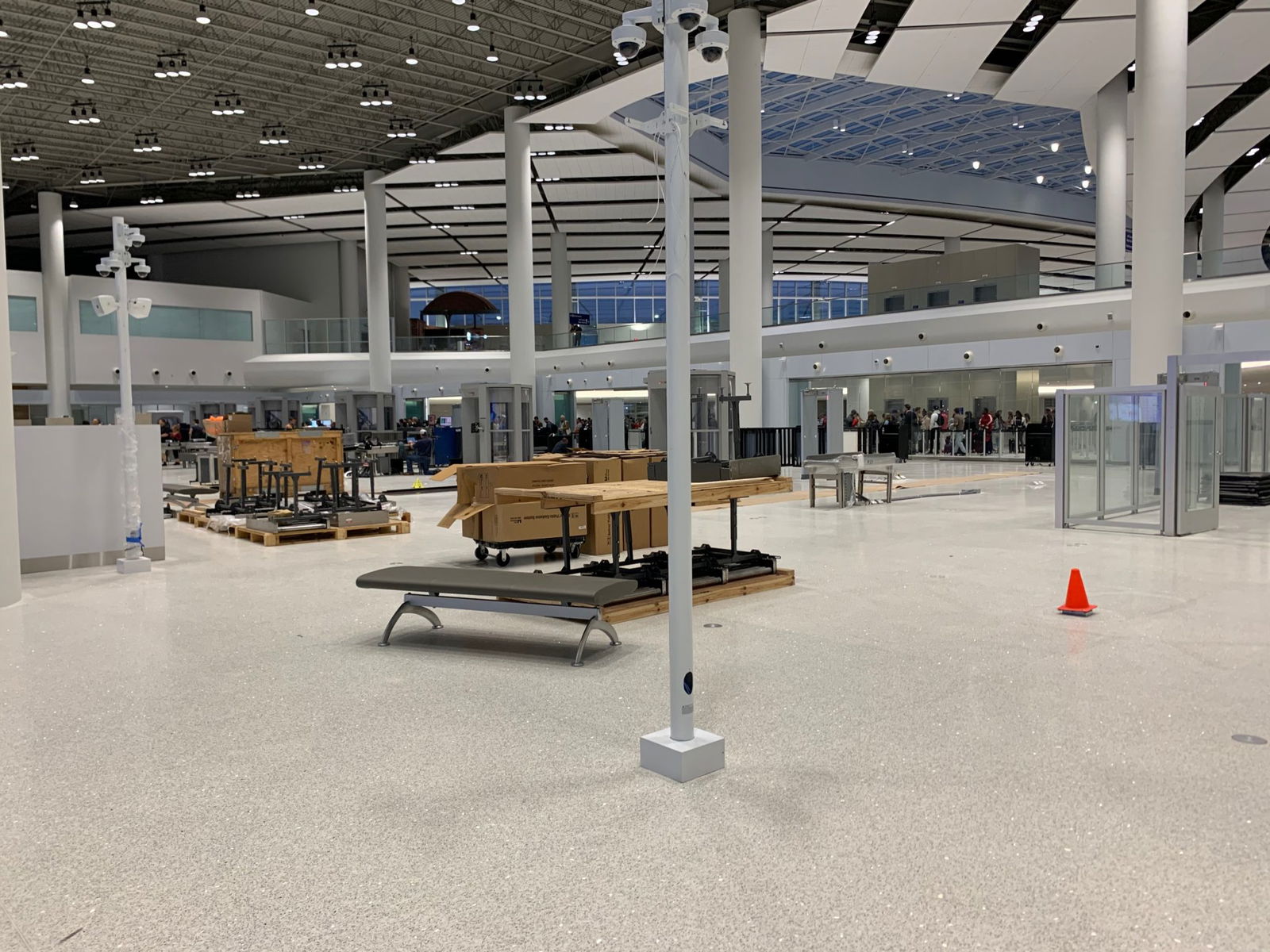 And if they get more lanes open, it won't be a bad thing.
Post-Security
After turning left toward the C concourse, I made my way down the hallway, which maintained the same open and airy feel as the rest of the terminal.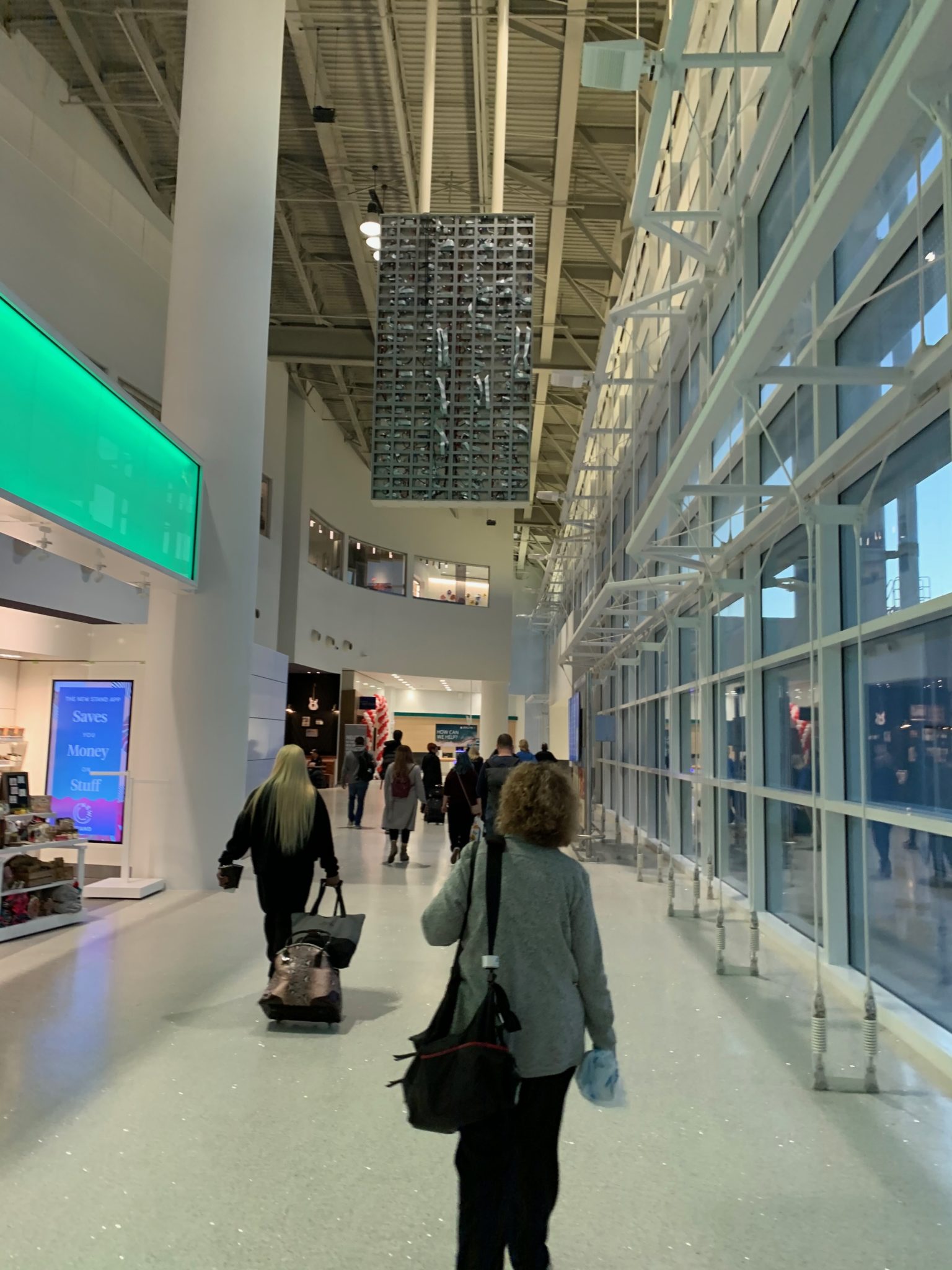 The concourse itself covers the basics exceptionally well, with plenty of seating and charging stations – two of my favorite things.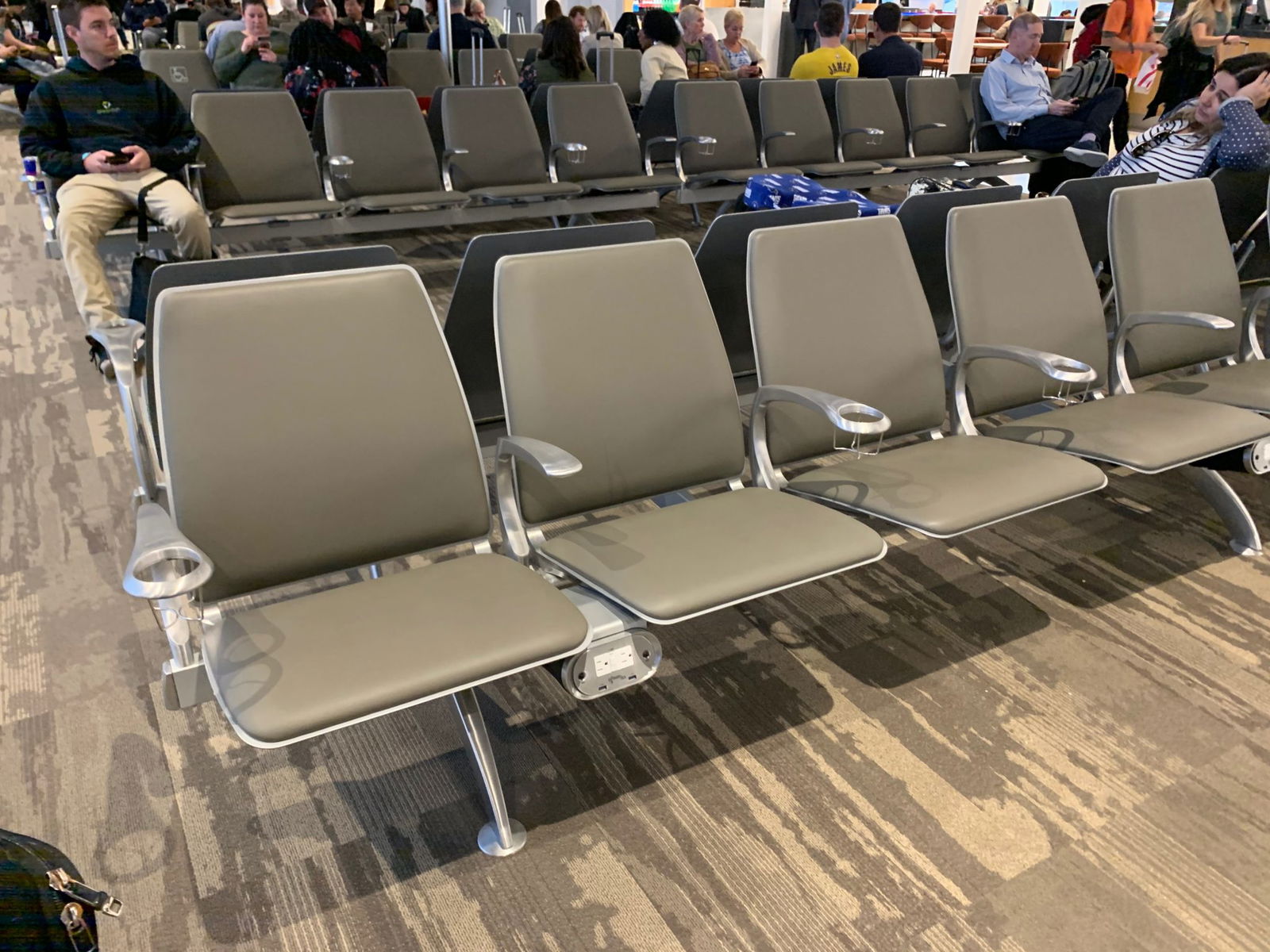 The concourse itself has gates operating on either side, with plenty of eating establishments in the middle. I'd had a little too much Frenchman Street the night before to be excited about breakfast, but I did grab a couple of terminal shots before settling in and prepping for my day.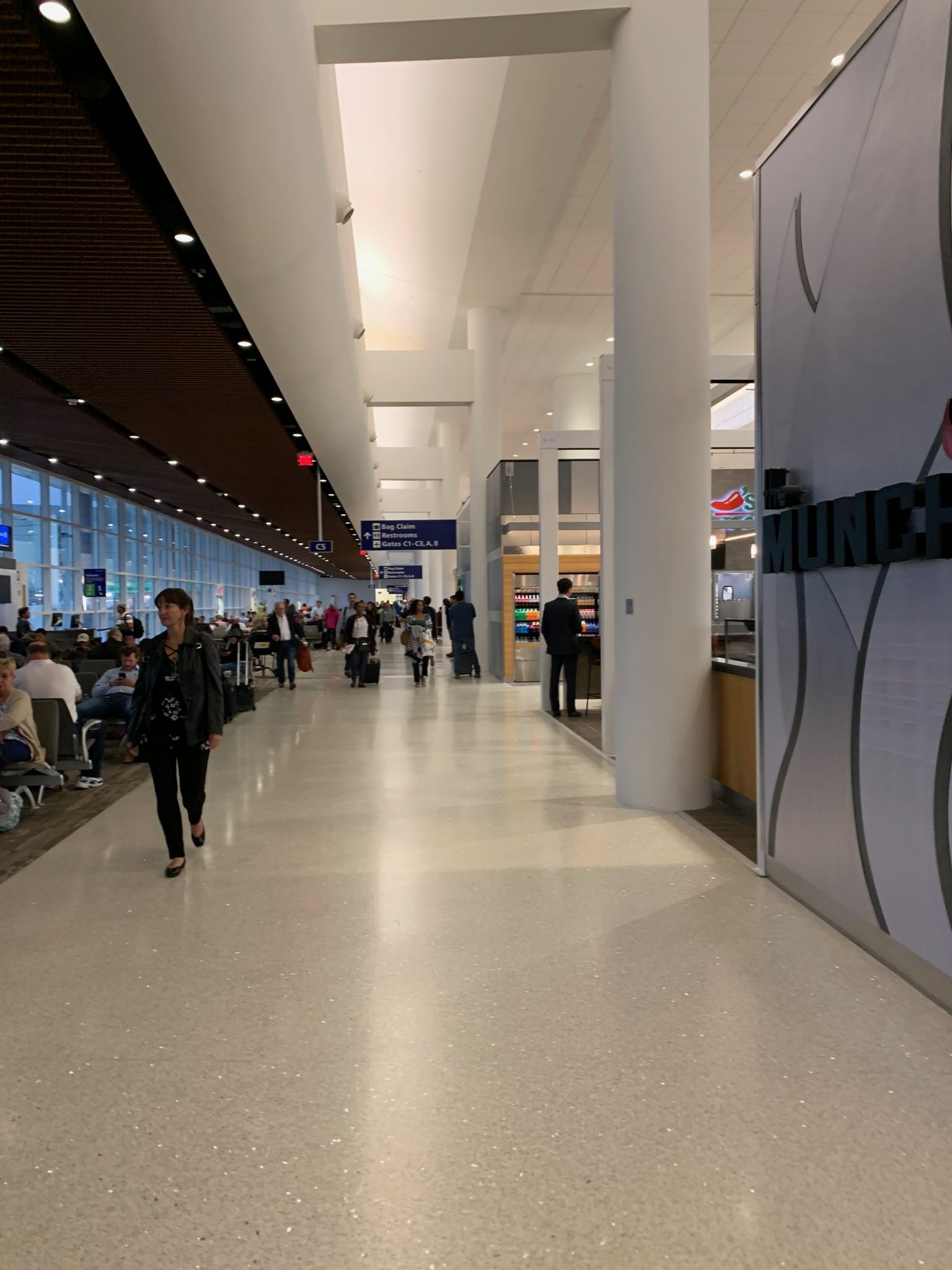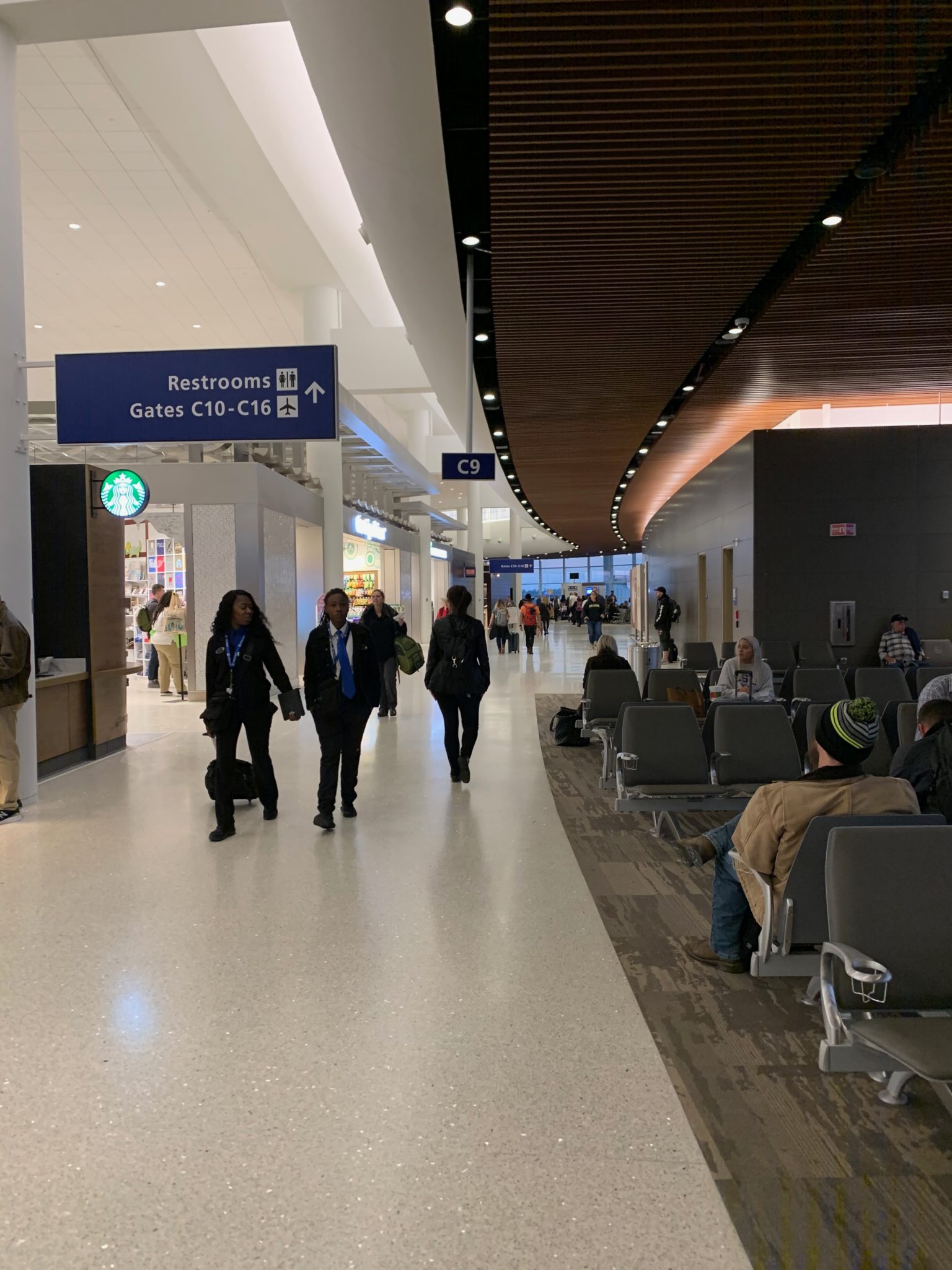 The floor-to-ceiling windows offered great views of the tarmac (although less great livery, if you care about that sort of thing).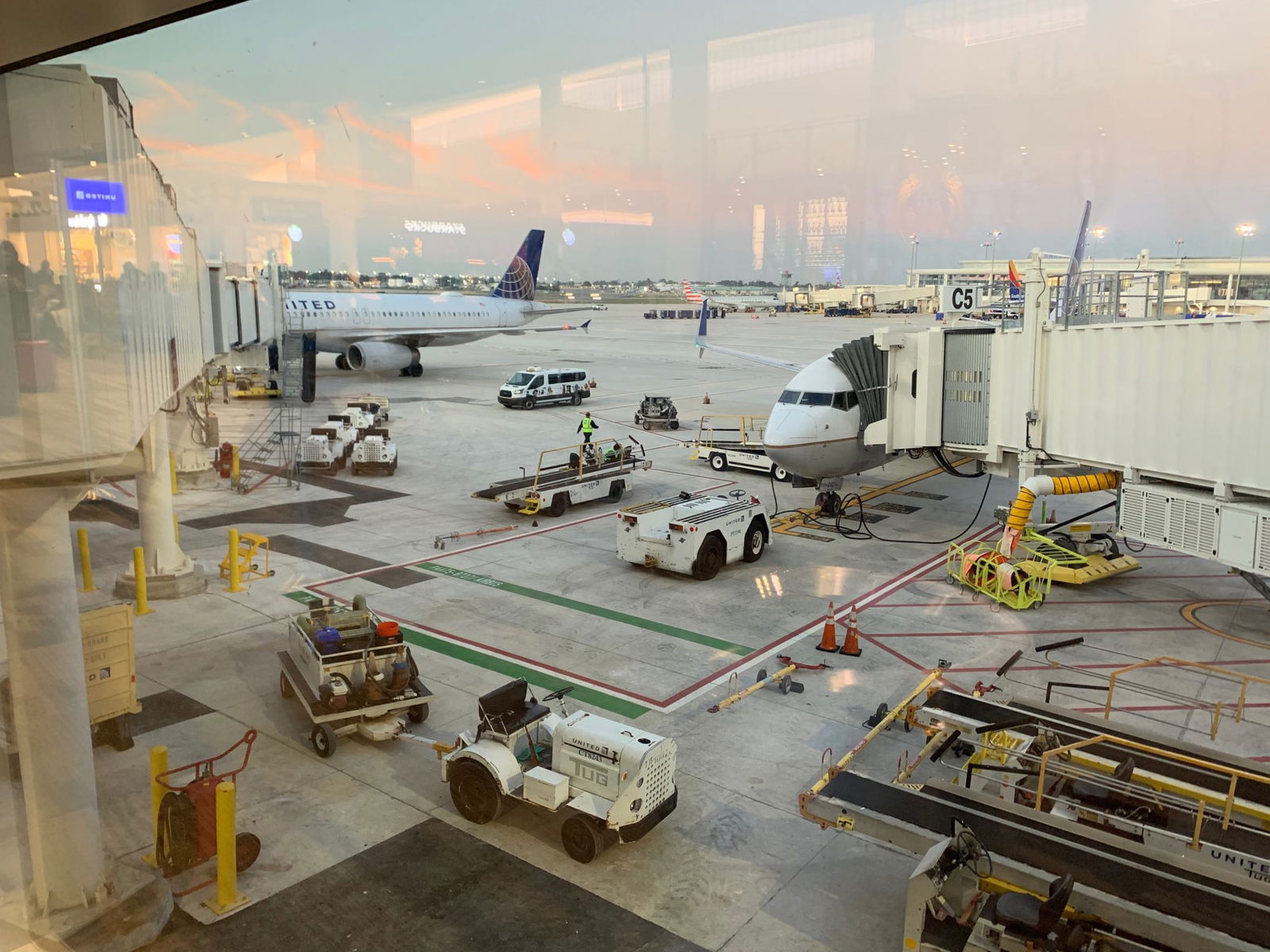 Shortly before leaving, I checked out one of the nearby restrooms, which elicited no shortage of oohs and aahs from fellow travelers.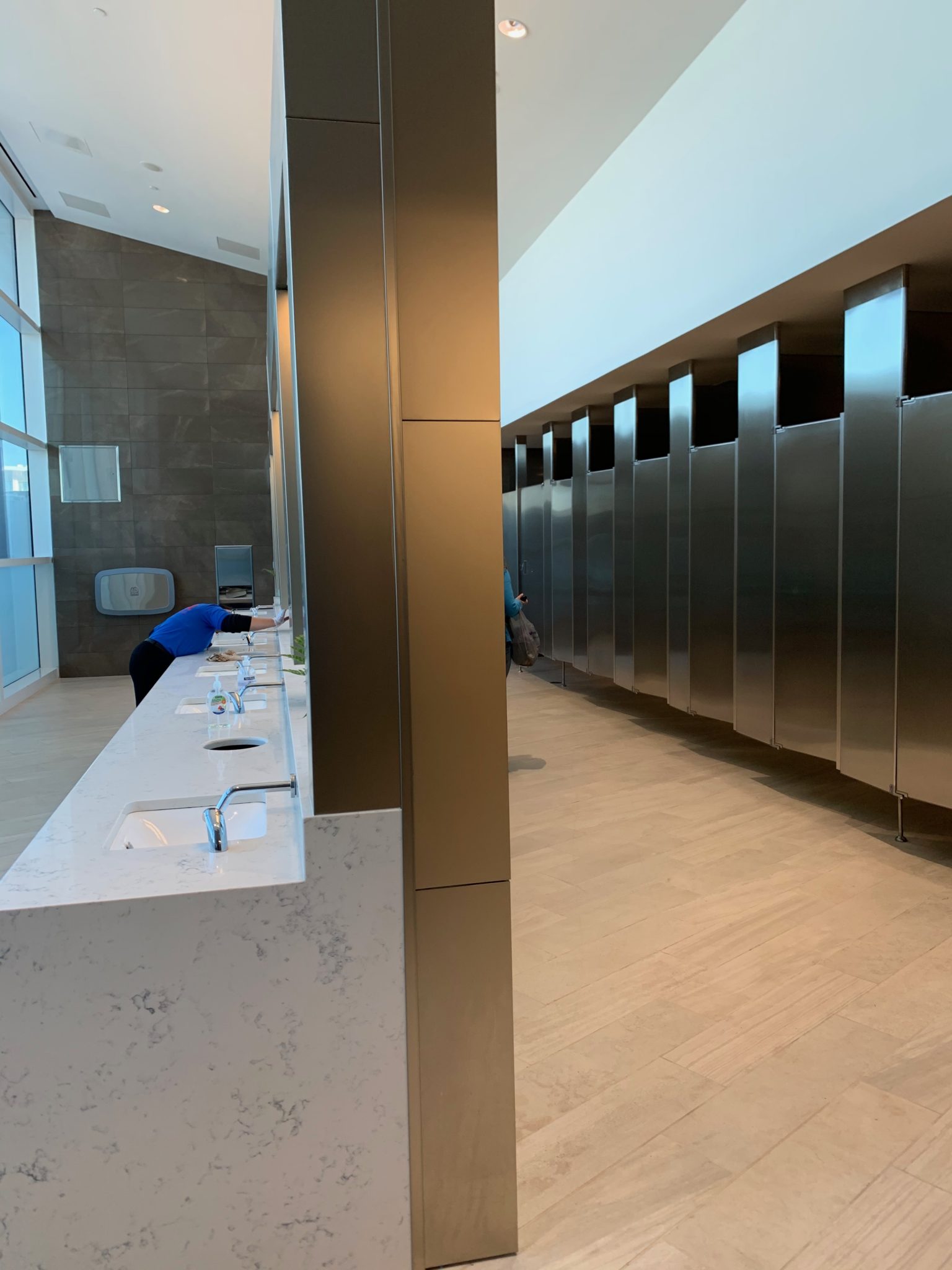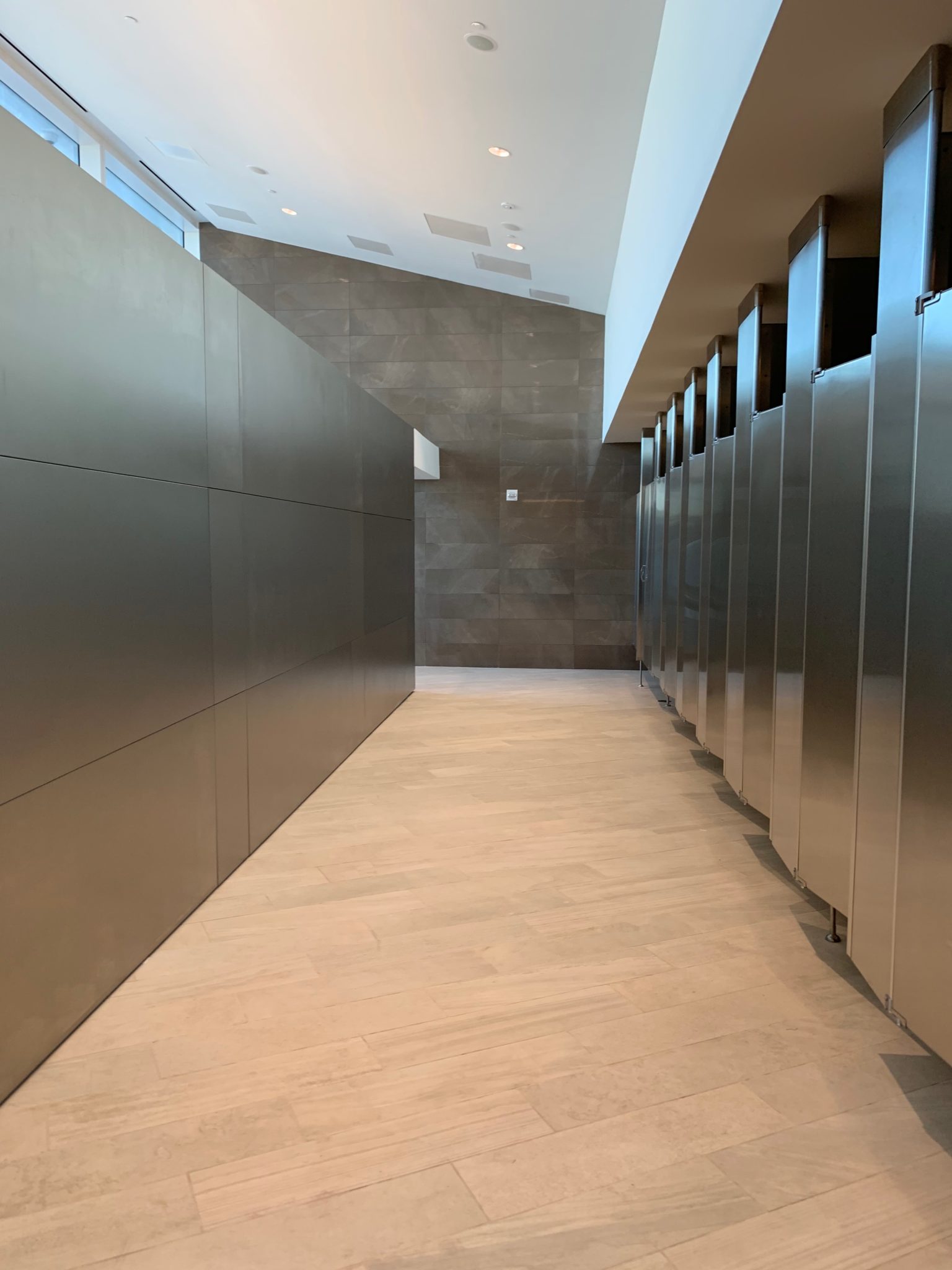 Time flew by in the comfortable new terminal, and I even forgot for a while that I was at a place of business that had opened only hours earlier. In fact, the only real sign of any kinks being worked out were a series of overly loud boarding announcements, which were followed a few minutes later by an announcement reminding everyone to double-check their zone before making announcements. It wasn't too disruptive, but I also wasn't sad when things quieted down.
Before I knew it, I was on board my 737-700, which felt extra dated that morning. We taxied out for our on-time departure, but not before grabbing one last shot of the neighboring A/B concourse.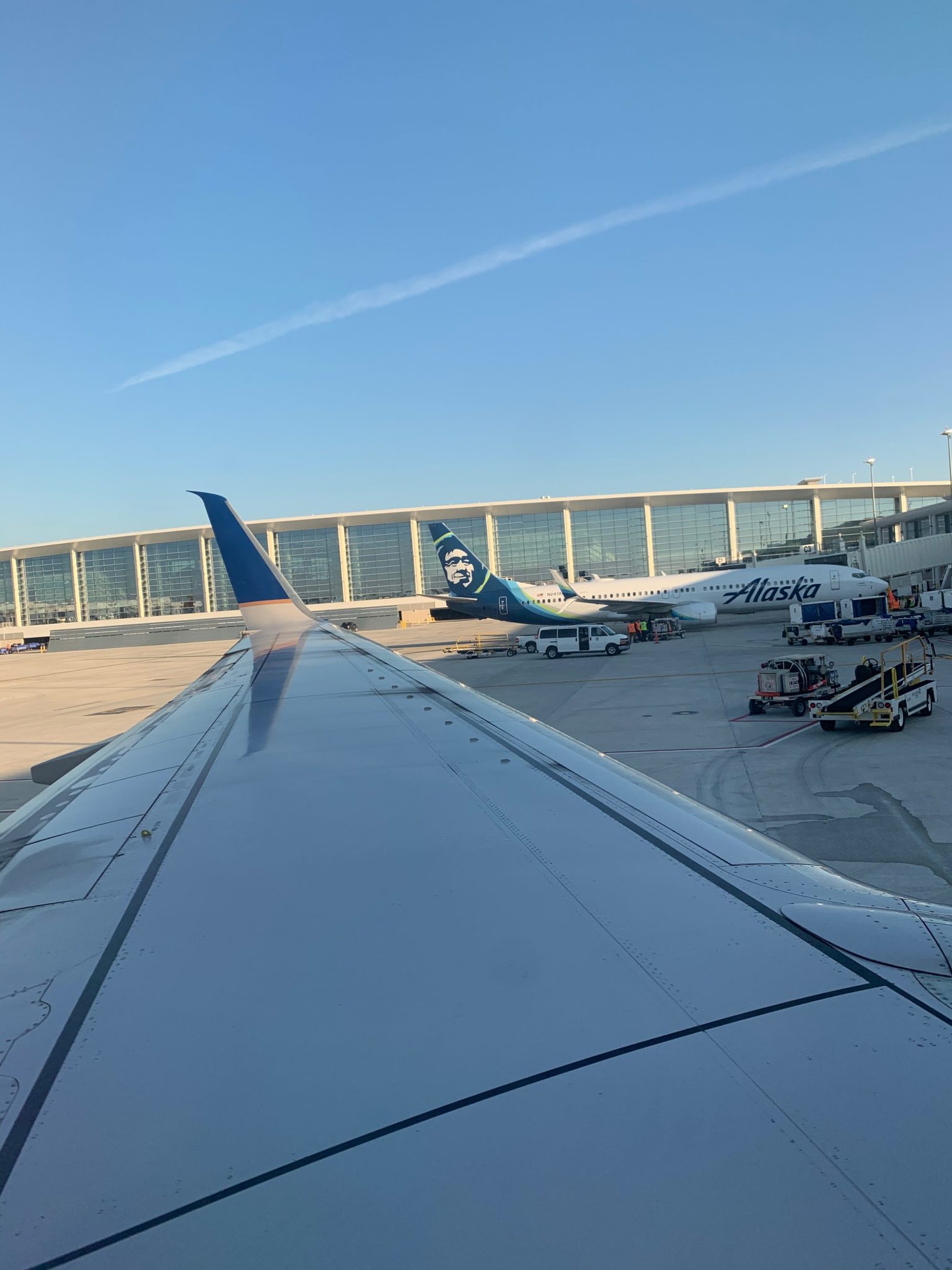 The New MSY Delta Sky Club
Right now, the Delta Sky Club is the only lounge operating out of the new terminal, and sadly, my reservation on United's Friendly Skies meant that I didn't have access this time around. Luckily, my husband and part-time trip report photographer was flying out later that morning, so I sent him in for, um, reconnaissance.
The festive atmosphere began before you even walked in the door, with plenty of press covering the opening.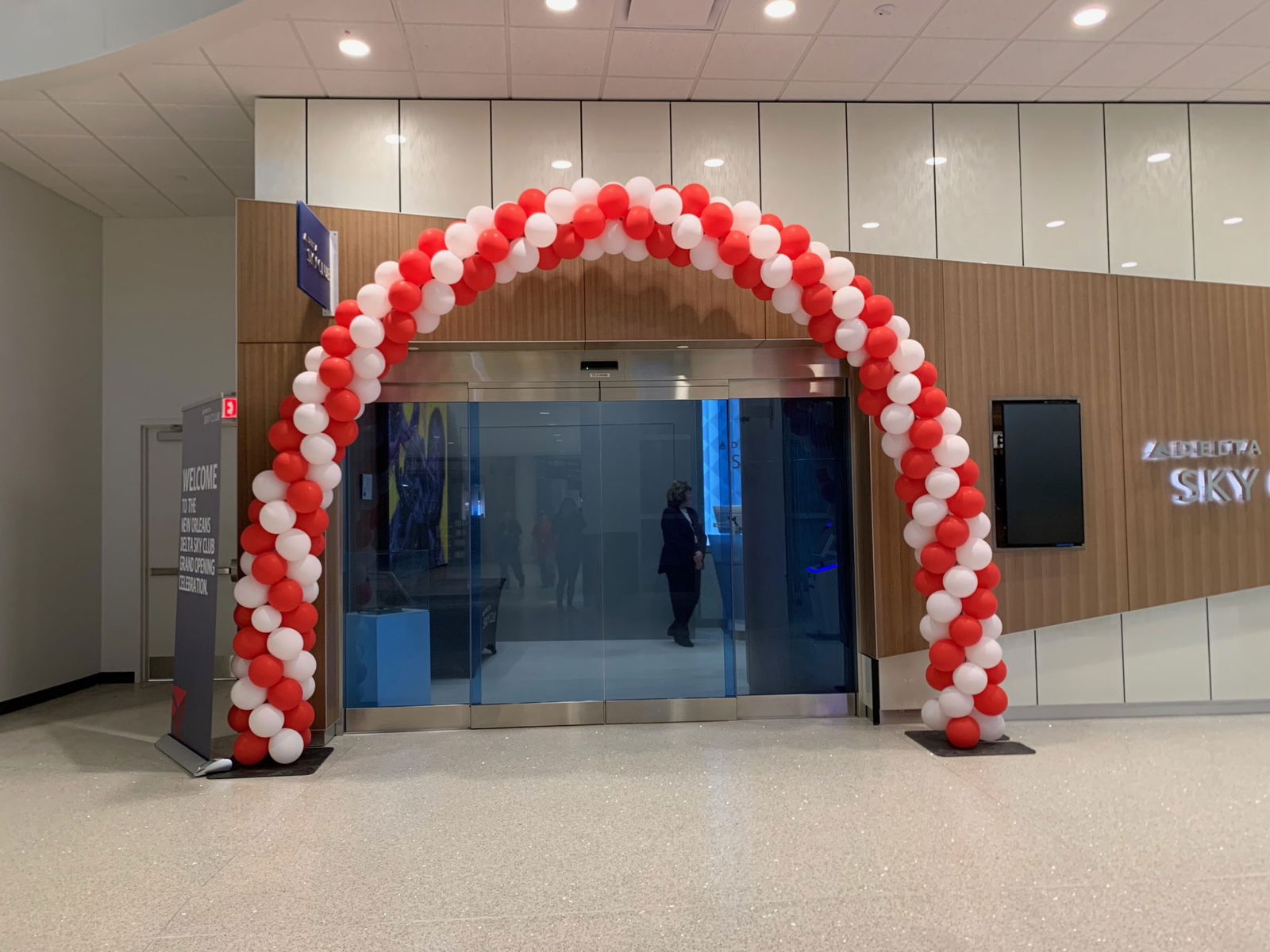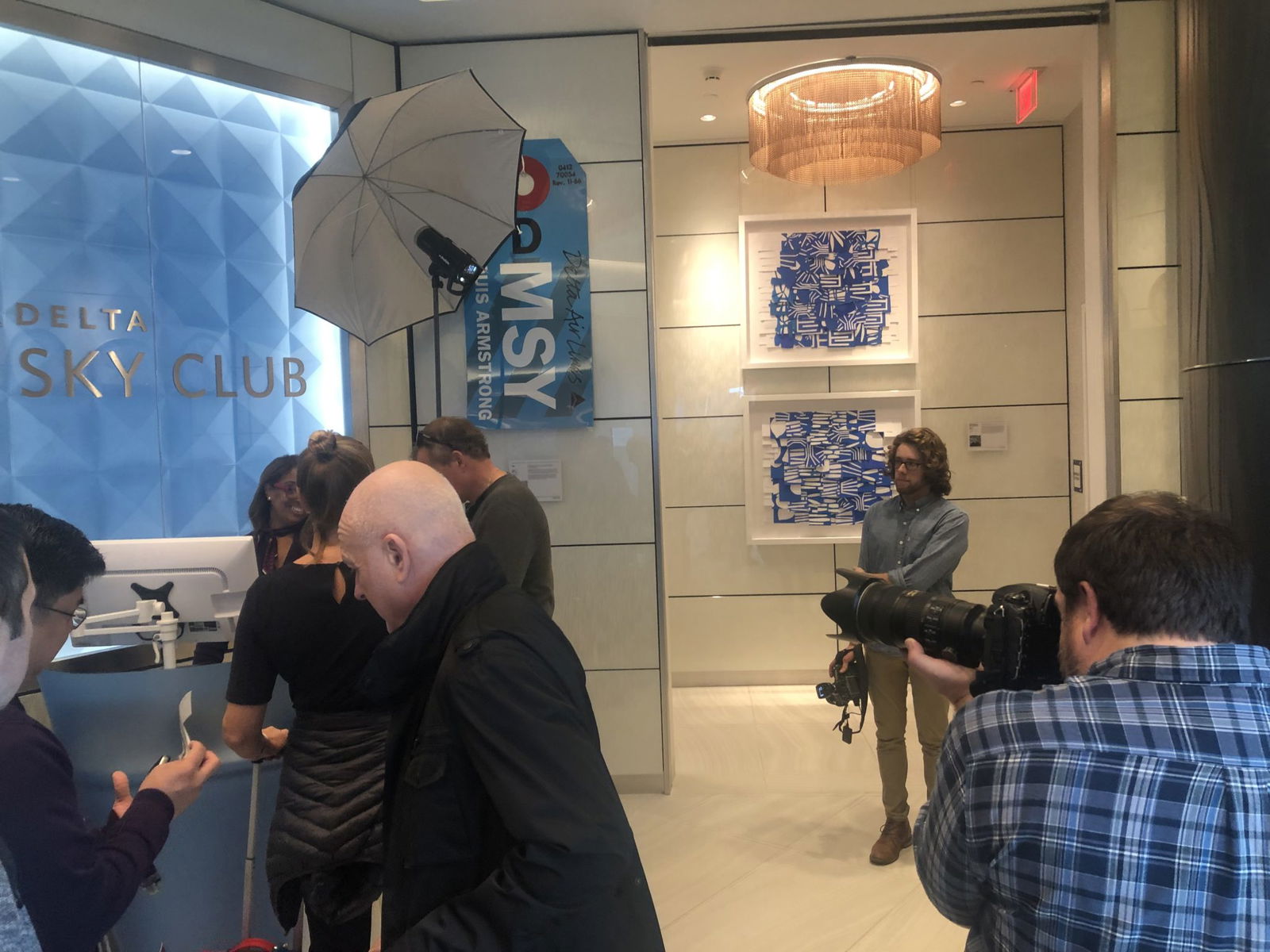 MSY SkyClub opening day
And it was pretty clear that Delta took pride in the day's festivities, with everything from schwag: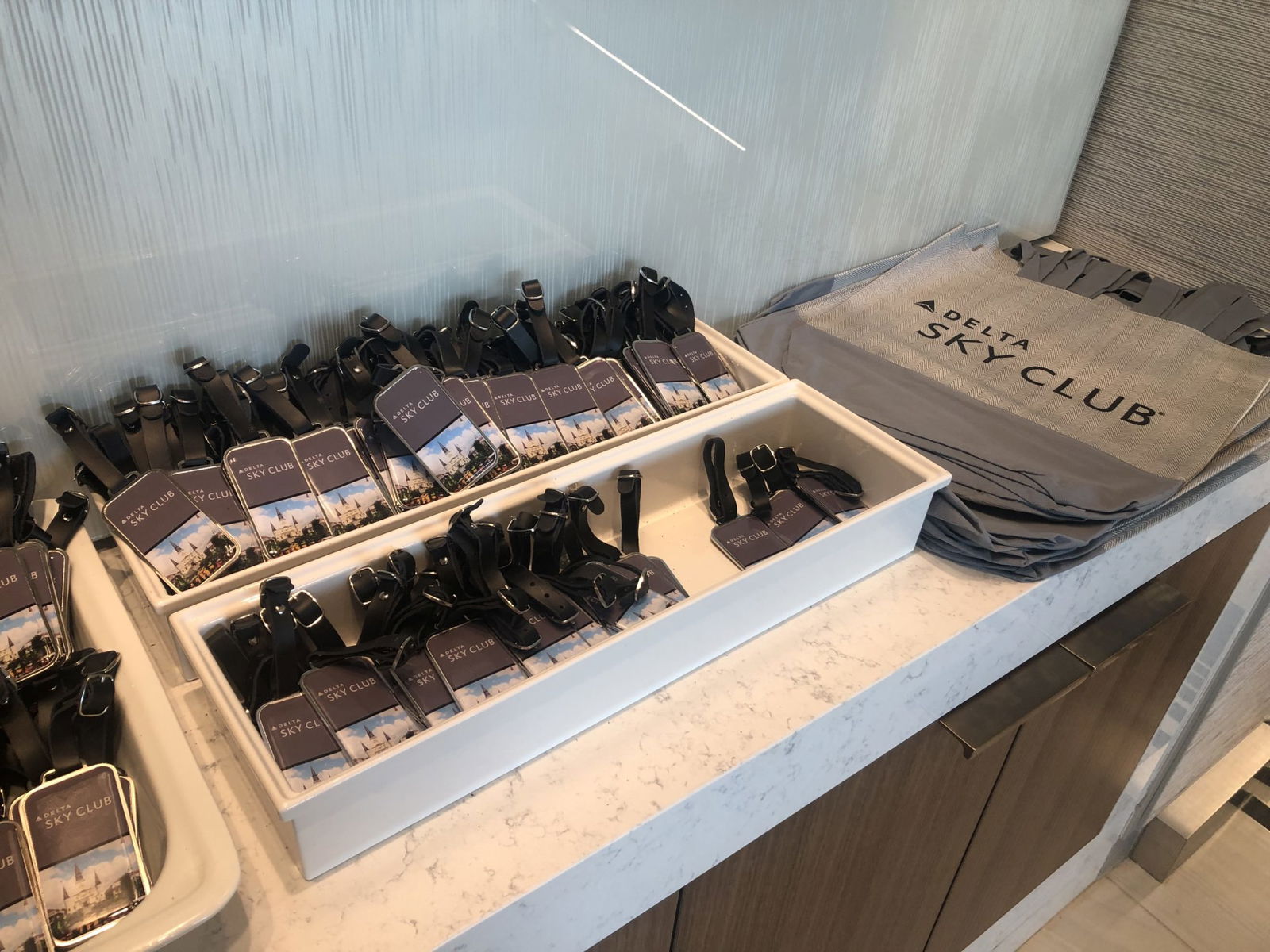 To a local artist who was signing prints of one of his paintings that hangs in the Sky Club: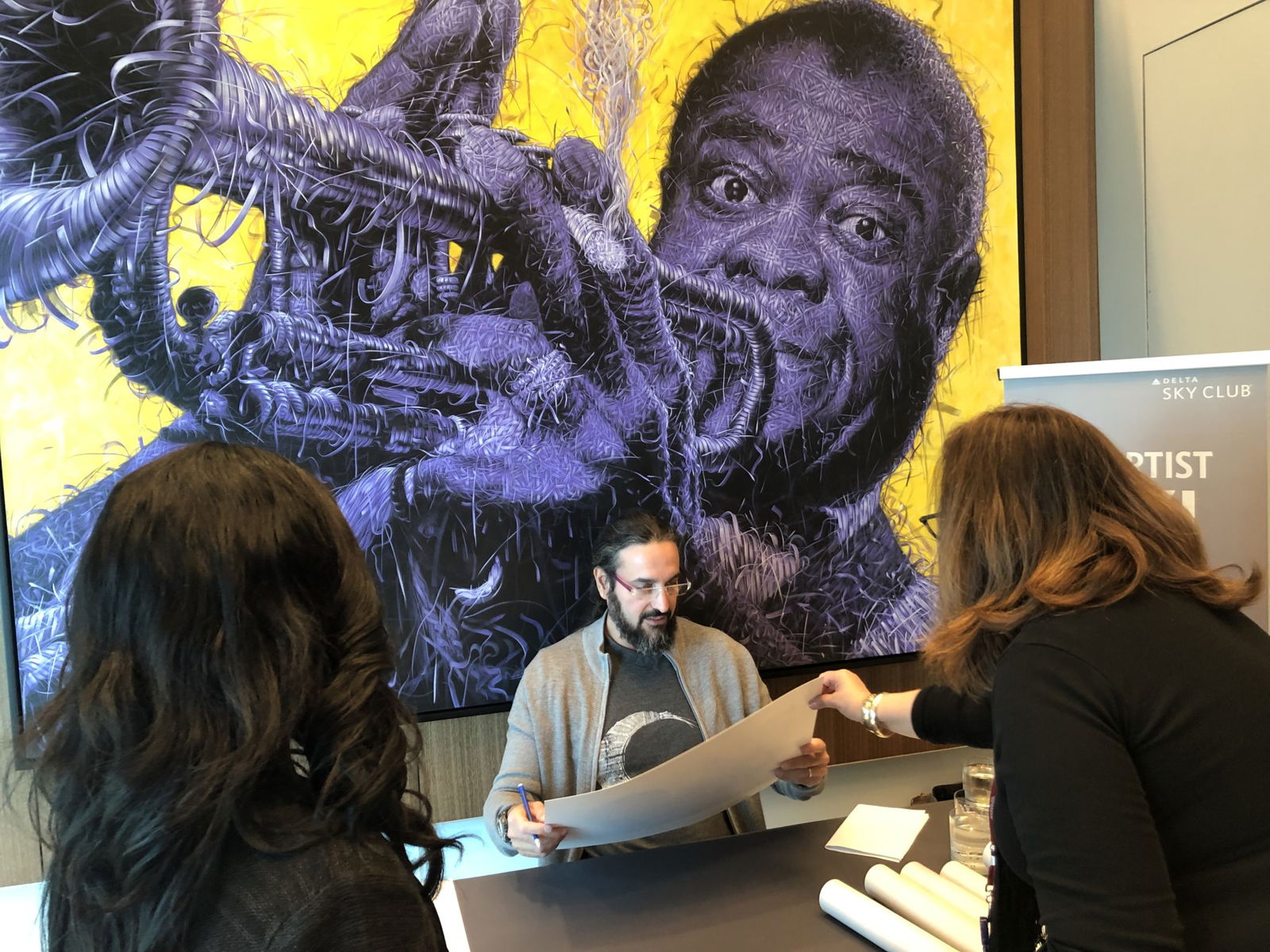 That said, when I asked my husband what he thought of, his initial response was, "Nice, but smaller than I thought it would be."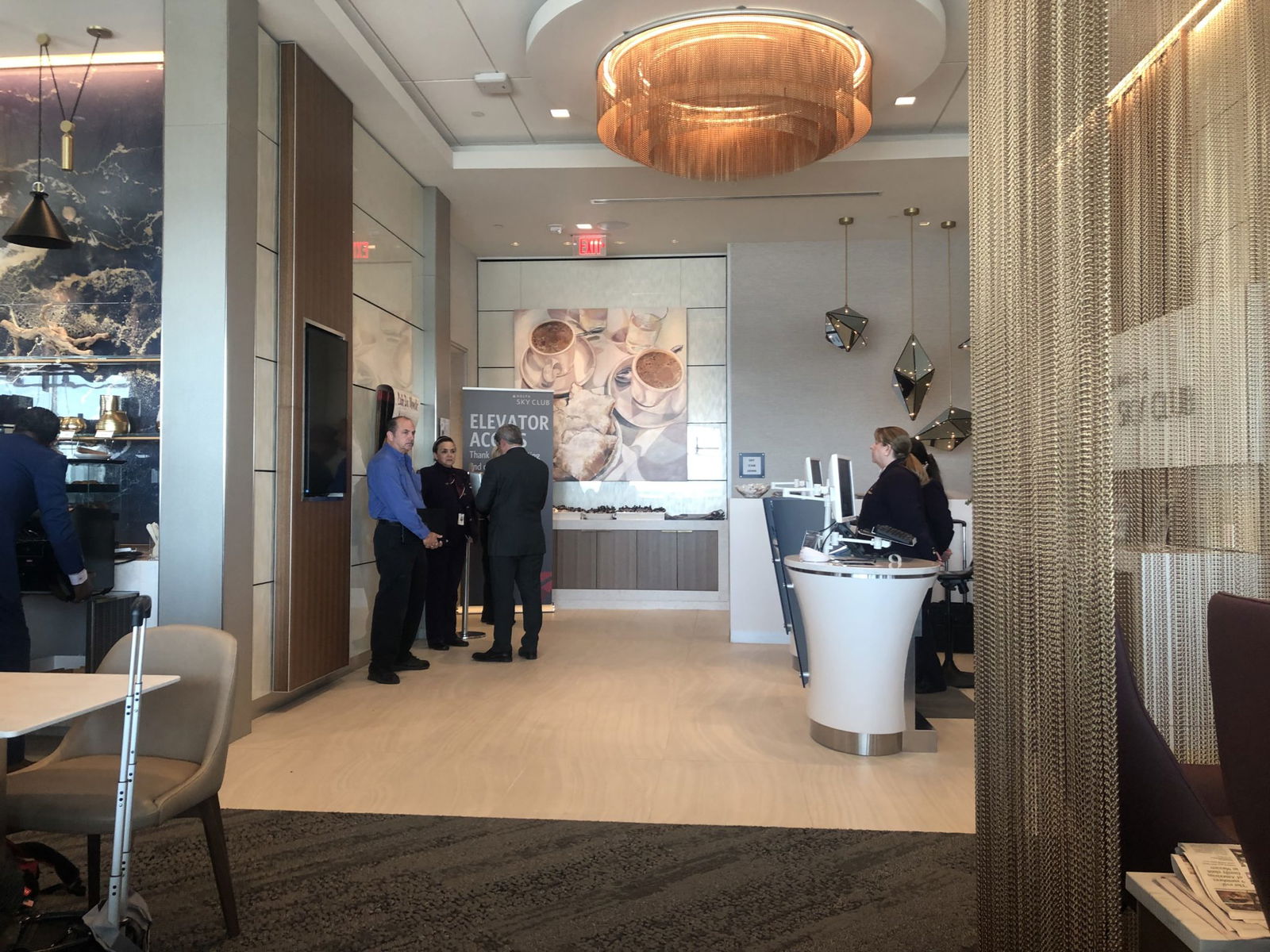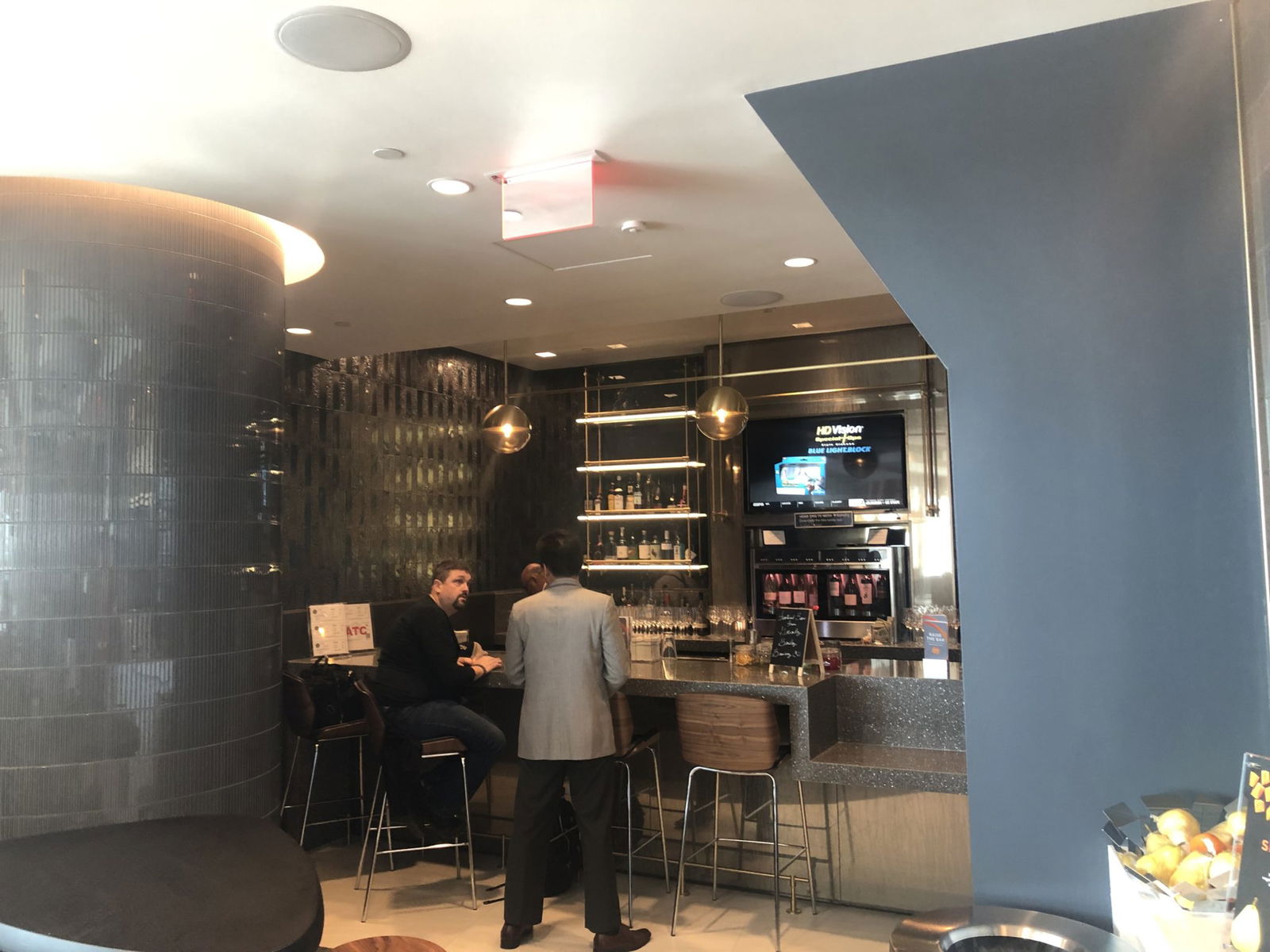 MSY Sky Club bar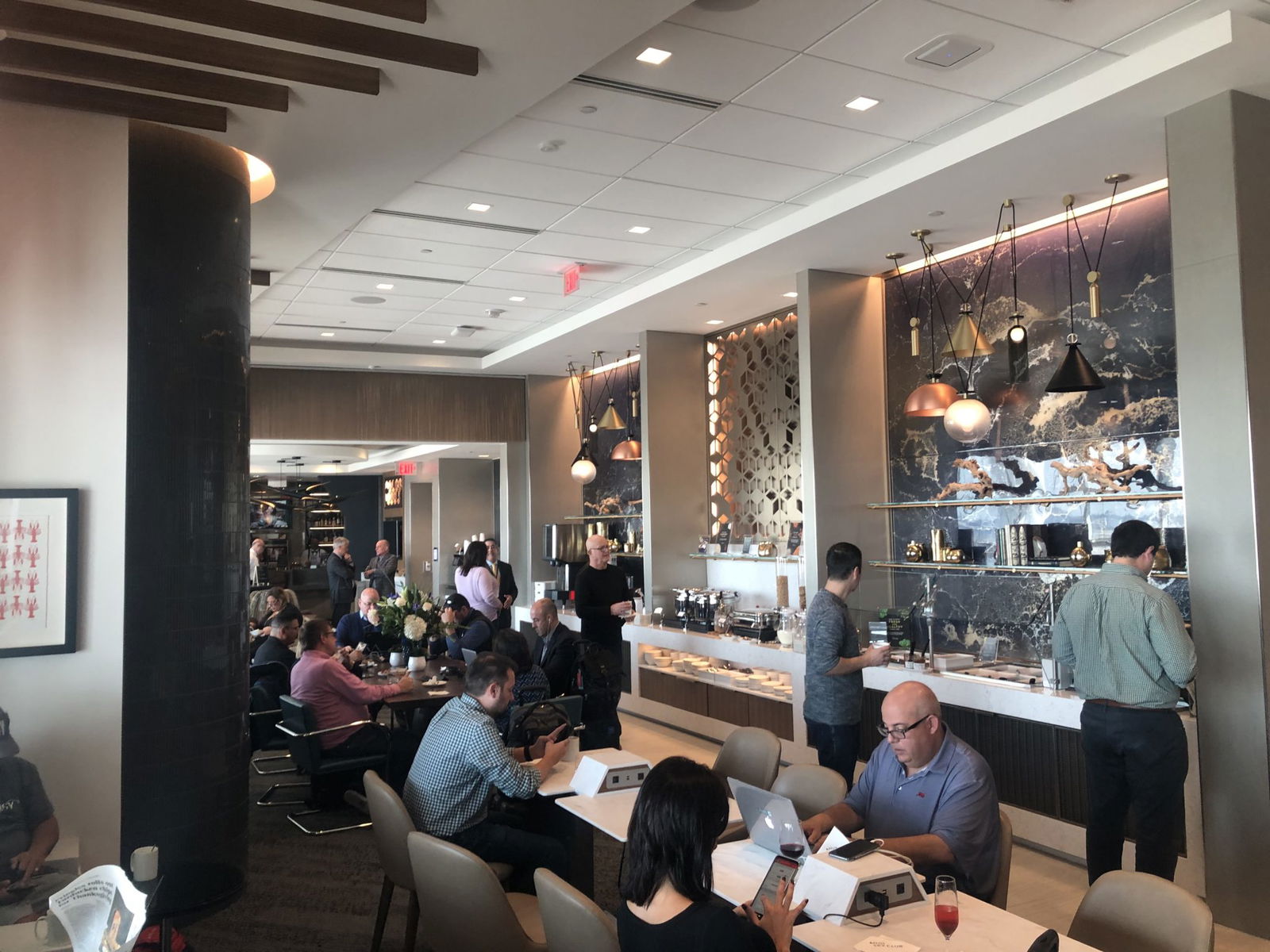 MSY Sky Club seating
His tune (and my photo reel) quickly changed, however, when they broke out the champagne, shrimp and oysters.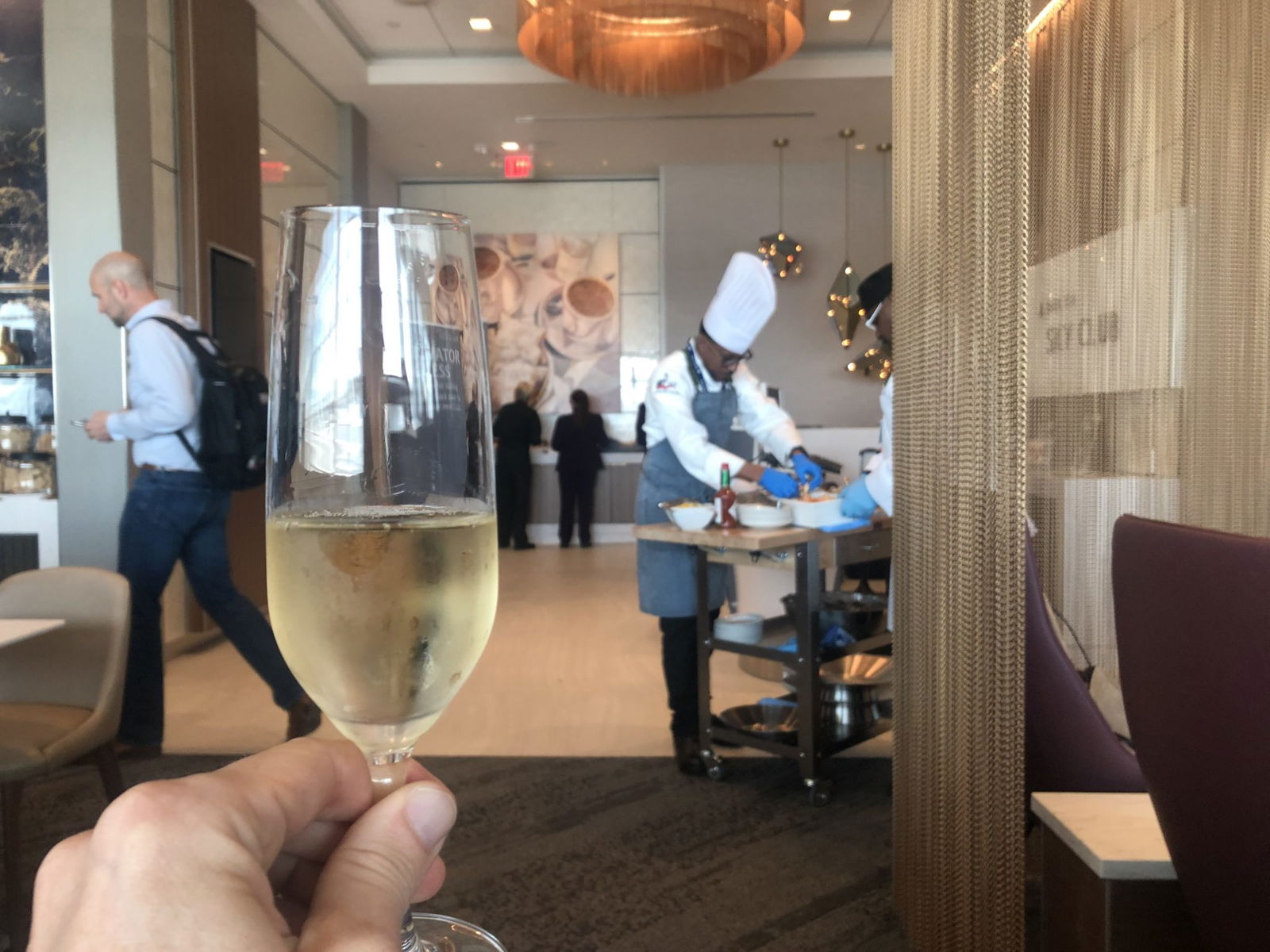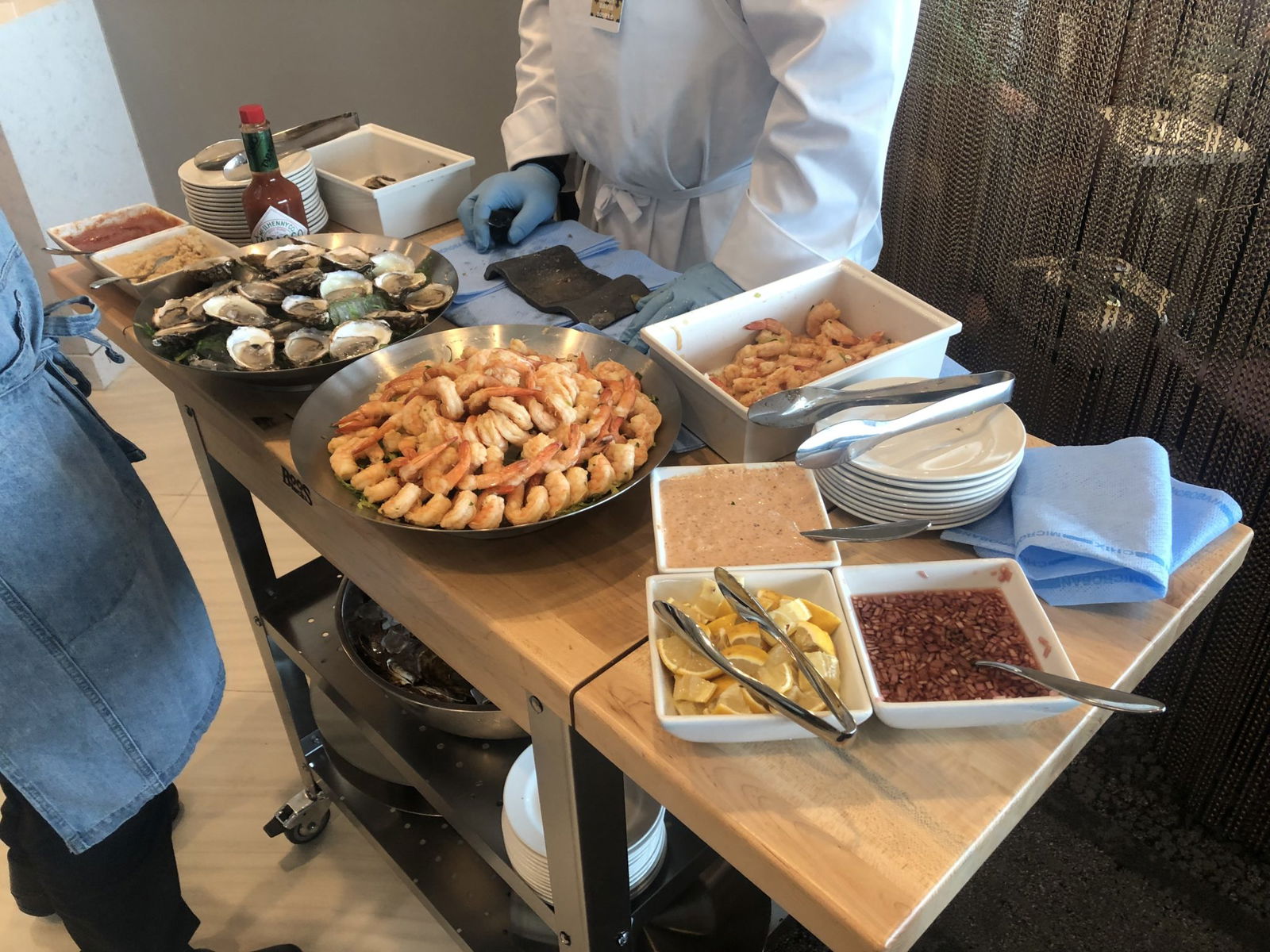 Sky Club oysters
This food display prompted a series of "Best Sky Club ever!!" texts, from someone who generally doesn't really care about airport lounges.
I should probably mention here that this was opening day, and the seafood was clearly served from a popup cart, so I wouldn't necessarily expect crustaceans on your next visit. But it is nice to see a lounge staff put so much care into their opening day festivities, and genuinely take pride in their product.
Overall Impressions
As someone who is used to East Coast airports, this was a refreshing change and a beautiful space. Sure, there was some congestion with security, and the drive-in isn't ideal, but those issues will be fixed with time. In fact, if it weren't for the camera crews and a few wayward overhead announcements, you wouldn't have known that the space had only been open for mere hours.
But the most fun part of all was watching everyone's reactions. People were oohing and aahing at everything from the airy new concourses to the restrooms, and for good reason. Let's face it – flying isn't usually that fun for the average traveler, and airports can be a pretty stressful place to hang out. So it was really nice to replace the typical TSA complaints with people gasping because the bathroom doors are tall.
So, while I'm sure some of the initial buzz will wear off, and a new airport terminal in New Orleans won't bring major changes to my life, it was an absolute privilege to witness the festivities firsthand that morning.
Oh, and I made my meeting with time to spare. 🙂
Have you flown in or out of the new MSY yet? What do you think of the new terminal?