Lately we've seen a trend whereby airlines have added an incredible number of new ultra long haul flights. This is a reversal of a previous trend, because prior to a few years ago we saw fewer and fewer long flights introduced.
When you look at the list now, a majority of these flights may have been unfathomable several years back, but are now thriving.
Why Ultra Long Haul Flights Are More Practical Than Ever
What makes ultra long haul flying more sustainable than in the past? A couple of factors:
The new aircraft technology we've seen, especially with the Airbus A350 and Boeing 787; these planes are fuel efficient and relatively low capacity (at least compared to the 747), and as a result are able to operate long flights in a profitable manner
Oil prices are still fairly low (though also volatile), and there's strong global demand for nonstop flights between business hubs

Qatar Airways A350
The World's 15 Longest Flights as of February 2020
I figured it would be fun to look at the world's 15 longest flights, given how much the list has changed lately. I'm going off of distance here, since winds can also have an impact on the duration of flights, and on top of that, some airlines do a lot of schedule padding.
What's pretty amazing to me is that all 15 of these flights are over 8,200 miles, which is a long way to go nonstop.
So, what are the world's longest flights? Here they are, starting with the longest (I'm including the airline that operates the route, the distance, and the aircraft type used):
Newark to Singapore / Singapore / 9,534 miles / Airbus A350-900ULR
Auckland to Doha / Qatar / 9,032 miles / Boeing 777-200LR
Perth to London / Qantas / 9,010 miles / Boeing 787-9
Auckland to Dubai / Emirates / 8,824 miles / Airbus A380
Los Angeles to Singapore / Singapore / 8,770 miles / Airbus A350-900ULR
Houston to Sydney / United / 8,596 miles / Boeing 787-9
Dallas to Sydney / Qantas / 8,578 miles / Airbus A380
New York to Manila / Philippine Airlines / 8,520 miles / Airbus A350-900
San Francisco to Singapore / Singapore & United / 8,446 miles / Airbus A350-900 & Boeing 787-9
Johannesburg to Atlanta / Delta / 8,439 miles / Boeing 777-200LR
Abu Dhabi to Los Angeles / Etihad / 8,390 miles / Boeing 777-300ER
Dubai to Los Angeles / Emirates / 8,339 miles / Airbus A380
Jeddah to Los Angeles/ Saudia / 8,332 miles / Boeing 777-300ER
Doha to Los Angeles / Qatar / 8,306 miles / Boeing 777-200LR
Toronto to Manila / Philippine Airlines / 8,221 miles / Airbus A350-900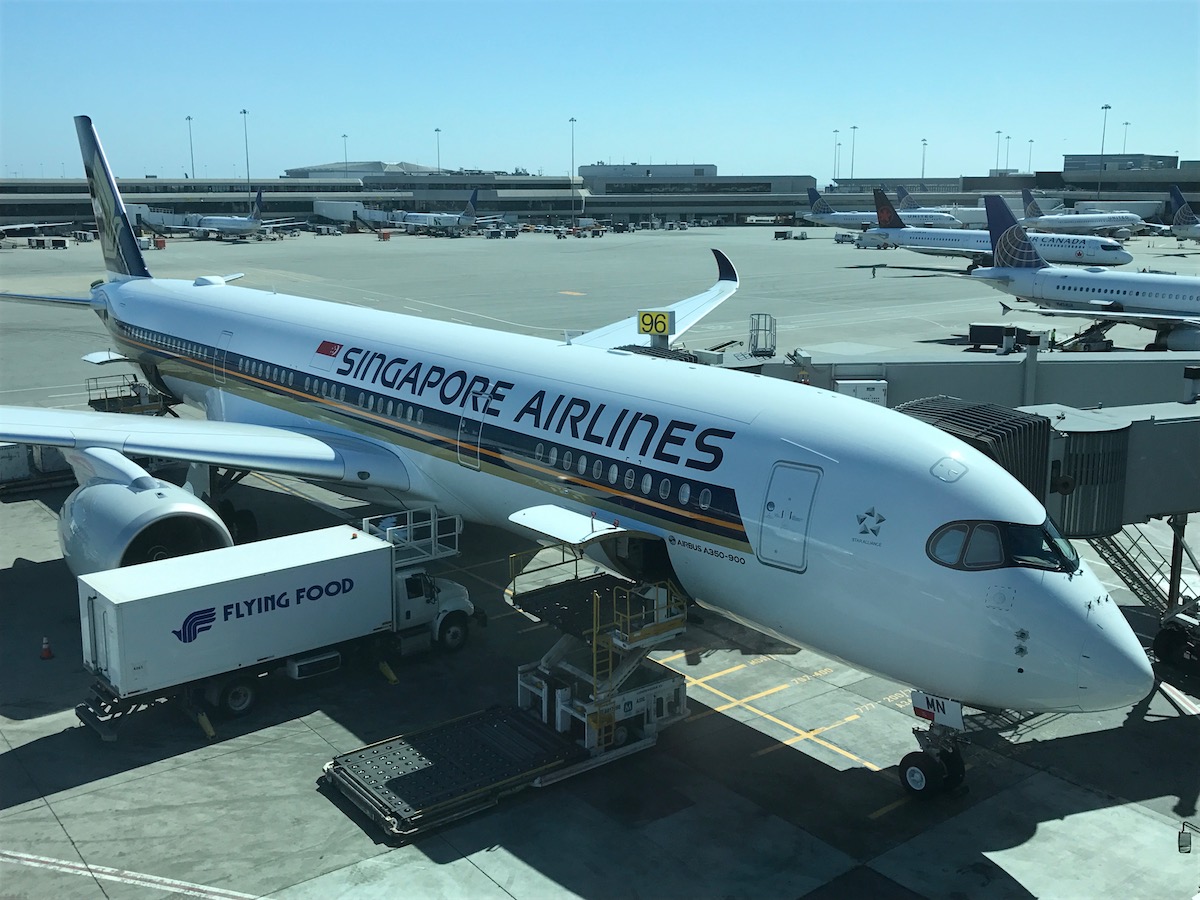 Singapore Airlines A350
I intentionally left out the flight time, since they fluctuate throughout the year due to winds. All 15 of these flights are blocked anywhere between 15hr and 18hr45min.
I'm leaving out those flight times not just because the seasonal fluctuations, but also because some airlines pad their schedules more than others (in order to create artificial on-time arrivals), so I don't want to give them too much credit there.
Here's a map with all the routes, which is quite cluttered, as you can see: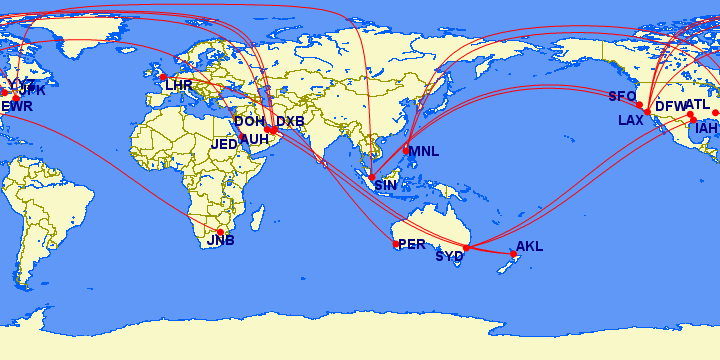 Just to further illustrate how much more popular ultra long haul flights have become, only six of the above 15 flights have been operating prior to 2016, meaning that nine of the above routes have been launched within the past few years.
Even more impressive, the world's six longest flights, and for that matter eight of the world's nine longest flights, have been launched since 2016.
What Record-Breaking Flights Are On The Horizon?
Two of the world's three longest flights have been launched last year, which raises the question of what other record-breaking flights might be on the horizon.
Well, at the moment there is just a single flight that has been confirmed and will be joining the list. Qantas will begin flying nonstop between Brisbane and Chicago as of April 20, 2020. That flight will cover a distance of 8,916 miles, so it will be the world's fourth longest flight, right behind Qantas' Perth to London flight.
There are some other interesting flights that have either been launched or are on the horizon, but that we can't add to the list yet:
Beyond that, perhaps the biggest thing on the horizon is Qantas' "Project Sunrise," where they hope to fly nonstop from Sydney and Melbourne to London and New York. Airbus is allegedly developing the A350-1000ULR, which would be capable of operating these routes nonstop, though that still hasn't been officially announced.
Longest Flight Summary
It's exciting to see the number of new ultra long haul flights that are being added by airlines, thanks to new aircraft, like the 787 and A350. While these marathon flights are great for those traveling in a premium cabin, I can't imagine doing a nonstop flight like this in economy. In those situations I can't help but feel like I'd rather break up the journey than fly nonstop. Heck, even in business class I feel like some of these flights are too long.
It's especially encouraging how many of the longest flights have been added in the past few years. Unfortunately at this point there's not much else in the pipeline with current plane technology.
The next big groundbreaking flight will likely be when Qantas announces their Project Sunrise flights.
What ultra long haul routes do you think we'll see introduced next?