Yesterday many people were able to book a United mistake fare, whereby for ~$50 you could book business or first class from the UK to just about anywhere in the world. You could fly United, Lufthansa, Swiss, or several other partners. I didn't bother posting about it at the time because I figured it was a given that this fare wouldn't be honored (and I was also away from my computer when it was first announced).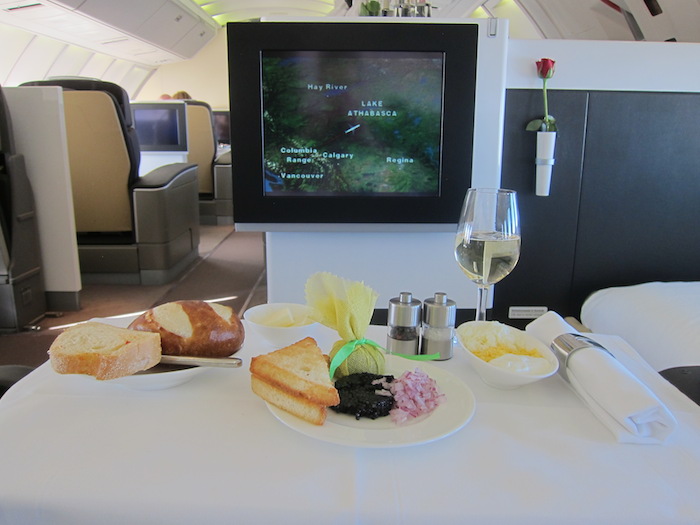 Lufthansa first class for the price of caviar? Yes please!
The fare could be booked by going to the Danish version of united.com. United had filed the fares correctly, and it seemed to come down to a currency conversion error with their third party software provider.
United won't be honoring the mistake fare
United has said that they won't be honoring these tickets, and has issued the following statement to USA Today:
"United is voiding the bookings of several thousand individuals who were attempting to take advantage of an error a third-party software provider made when it applied an incorrect currency exchange rate, despite United having properly filed its fares. Most of these bookings were for travel originating in the United Kingdom, and the level of bookings made with Danish Kroner as the local currency was significantly higher than normal during the limited period that customers made these bookings."
DOT regulations on mistake fares
This is interesting in light of the Department of Transportation regulations concerning price changes after ticketing, which are extremely pro-consumer:
(a) It is an unfair and deceptive practice within the meaning of 49 U.S.C. 41712 for any seller of scheduled air transportation within, to or from the United States, or of a tour (i.e., a combination of air transportation and ground or cruise accommodations), or tour component (e.g., a hotel stay) that includes scheduled air transportation within, to or from the United States, to increase the price of that air transportation, tour or tour component to a consumer, including but not limited to an increase in the price of the seat, an increase in the price for the carriage of passenger baggage, or an increase in an applicable fuel surcharge, after the air transportation has been purchased by the consumer, except in the case of an increase in a government-imposed tax or fee. A purchase is deemed to have occurred when the full amount agreed upon has been paid by the consumer.
In theory consumers have more protection than ever before when it comes to mistake fares.
Nobody booked this mistake fare by mistake
My general philosophy on mistake fares is that it's always worth a shot to book them. If they're honored, that's amazing. If they're not, well, that sucks.
But what makes this especially unique is that I'd be willing to guarantee that no one booked this mistake fare by mistake. No one booked this thinking it could have been a legitimate fare, so I don't think there are any "victims," as there definitely have been with other mistake fares. Why?
You specifically had to go to the Danish United website to book the fare out of the UK
You had to state you had a Danish billing address, which I'd be willing to bet a vast majority of people didn't have
Other websites didn't show the same fare
Don't get me wrong, I'm not suggesting anyone shouldn't have booked the fare, but rather that I don't think anyone is being harmed by them not honoring this fare. It was worth a shot, but that's it, in my opinion.
Fighting this battle will do more harm than good
I think we have to pick our battles. And I think that this is a battle that isn't worth picking. If anything, it's counterproductive.
We have the obligation to apply at least some level of logic here. The historical issue with mistake fares has been that sometimes it's tough to know what is and isn't a mistake fare. For example, is a $1,500 roundtrip business class ticket between the US and Europe a mistake fare? What about a $1,000 business class ticket? Or a $500 business class ticket? As you can see, it's a very slippery slope.
With this mistake there's no slippery slope. It's as flat as Florida.
I don't think we're doing ourselves any favors by trying to fight this. The DOT regulations are designed to protect consumers from price changes are fares that are mispriced, where a consumer could genuinely think it's a real fare. I don't think anyone could argue with a clear conscience that was the case here.
All that being said, I would be curious to see if the DOT chimes in on this one, and what their ruling is. I'm afraid it might not end well for us, as it may lead to them changing the current policy.
Bottom line
I'm generally as pro-consumer as they get, but I do think we have to step back here for a second and put things into perspective. If we ultimately want legal protection when low fares are filed, I think fighting this will do more harm than good.
Was it a great fare and worth booking? Absolutely. Would it have been nice if they decided to honor? You betcha! But I don't think it's reasonable to throw a fit when they don't, in this case. Because I think everyone that took advantage of this fare knew exactly what they were doing.
Just my two cents…
Would be curious to hear what you guys think — am I off base? Where do you stand on this mistake fare?