One thing I love about the travel industry is how many passionate people work in it. It's a very special industry with some of the best people I know. And as a frequent traveler there's nothing better than running into the same familiar faces over and over.
That's a principle which certainly extends beyond the travel industry. No matter what industry it is, there are people who approach their day-to-day life with happiness and trying to make others smile, and then there are those who approach their lives with frustration and unhappiness.
So today I wanted to write about one person I see at airports fairly frequently who always puts a huge smile on my face thanks to her awesome attitude.
As you may have noticed at security checkpoints, there are typically staff who admit you to the line, who don't work for the TSA as such, but rather work for a contract company. Most of the time "friendly" isn't the operative word I'd use to describe them.
One consistent exception is Pam, who works the premium security line at American's Terminal 4 LAX. When you're in the check-in area, she's usually stationed at the far left before going up the escalator.
I've actually never had a conversation with her, though she's always smiling and always so friendly to every single person. Which is damn amazing, because she must see thousands of people a day. Last time I passed through there (a few weeks back) I even had to say to her "you're always so friendly, it's amazing… keep doing what you're doing."
What I hadn't realized at the time is that she actually has a bit of a fan club. I have several friends who have been taking pictures with her every time they depart LAX.
And there's now even a Facebook page for Pam at LAX which you can "like."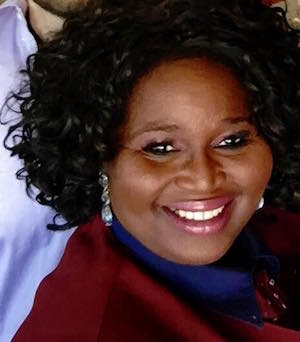 If you're passing through American's terminal at LAX and see Pam, be sure to say hi and thank her for making everyone's day brighter. Like I said, I don't know her personally, other than knowing she makes me smile every time I go through security at LAX. Though perhaps I should introduce myself next time.
Have you had the pleasure of passing through Pam's checkpoint at LAX?
PS: Before anyone calls this post creepy, I have it in good faith that she's fine with the Facebook page, and that she's amused by the whole situation