Scandinavia is one of my favorite regions of the world. We've now been to Norway, Sweden, Finland, and Denmark, and they are all fantastically beautiful places. It can be a bit expensive, but not nearly as much as it was a few years ago, at least for Americans, thanks to the strength of the dollar. It's also a very kid friendly place so I highly recommending taking the family.
And now, SAS Airlines has an amazing deal going that will allow you to do just that. Kids can fly to Europe for about $50 all-in. That's ridiculous.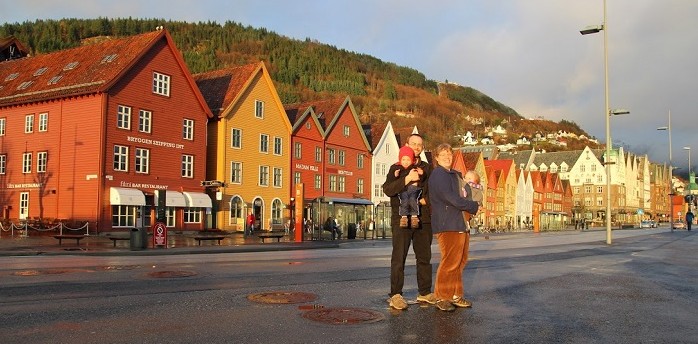 Travis and his family in Bergen, Norway
Kids Fly Free From The US To Scandinavia
For trips booked on SAS between the US and Scandinavia between February 7 and April 9, 2017, you can bring along all of your kids (12 and under) for just the taxes and fees. You will literally be paying less than $50 for each round-trip kid ticket, and you can book up to eight kids with each adult.
It is critical that you act fast, however, as tickets need to be booked by this Monday, January 23.
I recommend using Google Flights to search for fares. Google will then give you a direct link to book with SAS or other online travel agency. Google Flights actually shows a slightly higher price than what you'll get on the SAS website, but it's in the ballpark.
There's no special trick to book this fare as it's coded directly into the fare rules. All you need to do is add kids during the booking process. Here is the relevant section of the fare rules from ExpertFlyer:
FOR TICKETING ON/AFTER 17JAN17 AND ON/BEFORE 23JAN17/
FOR TRAVEL ON/AFTER 07FEB17 AND ON/BEFORE 09APR17
CNN/ACCOMPANIED CHILD PSGR 2-11 – NO CHARGE.
TICKETING CODE – BASE FARE CODE PLUS CH.
You can basically fly from any of the SAS gateways, which include Chicago, Newark, Los Angeles, Boston, Miami, San Francisco, and Washington, DC. On the other end, you seem to be able to fly to anywhere in Scandinavia.
I priced out Los Angeles to Stockholm from February 13 to 19.
Clicking through, I then get the passenger details page.
You'll note that the page specifically has a page for the child's frequent flyer number. That's because child fares earn miles. My kids have flown on child fares many times and the miles always post. You should be careful where you credit them, however, as United now awards miles based on the cost of the ticket. In this case, they'd basically earn no miles.
Also of note, I believe this works for Premium Economy as well.
Flying SAS With Kids
SAS is a fine airline with a long and proud history. We have flown SAS as a family several times now, but only on intra-europe flights.
On those flights, they had kid's meals loaded, even though we didn't request them ahead of time. They also give the kids some simple games and a sticker book, which is a nice touch. In other words, your kids will probably have a better experience on SAS than they would on a US airline.

SAS Breakfast Box in SAS Plus
Is This A Smoking Deal?
If you don't have kids, I assume you stopped reading a long time ago as this deal isn't going to be useful to you. But even for those with a family, there are some things to keep in mind.
You need to originate in one of the SAS gateways. If you don't live in one of those cities, you'll need to position. That may or may not be economically viable and you should include the cost of those flights, the gas for the car, or whatever.
The number of kids you are bringing along is important. This is one of those deals where it is literally cheaper by the dozen. If you are a family of two adults and one kid, this may not be such a great opportunity because there a lot of cheap fares to Europe anyway and you're only getting one "free" seat.
We have three kids, so we'd be amortizing the two adult fares over three kids which lowers the overall average cost and would make it pretty attractive. To truly maximize the deal, you want to have eight kids on the ticket — but now you're outside my expertise and more into the domain of Points With A Crew.
Speaking of cheap fares to Europe, Boston to Stockholm can be had for $400 for adults during this period. But SAS is closer to $800. So a family of two adults and two kids wouldn't actually save anything because they'd be paying around $1600 either way. So in this market, the breakpoint for savings would be about two kids. Other markets, of course, will vary.
Finally, Scandinavia itself is fairly expensive. If you bring eight kids, you probably need more than one hotel room. So plan accordingly.

Oslo in the winter
Bottom Line
SAS has an awesome deal going for families right now. Kids can fly from the US to Scandinavia between February 7 and April 9 for about $50. You need to act fast though as tickets have to be issued by January 23.
For everyone else, Scandinavia is a beautiful place and is just lovely in the winter. If you can make it work, this will be a great way to take the family.
Are you excited about flying the kids to Europe for almost free?
(Tip of the hat to Dan's Deals)