The past 10-15 years have been really tough for prospective pilots in the US. While regional airlines (which barely pay a minimum wage) have been hiring extensively, the major carriers haven't been for the most part, for a variety of reasons:
After 9/11 airlines downsized significantly, leading to many furloughs, and eliminating any chance of them hiring new pilots
The major carriers have outsourced much of their flying to regional carriers, which have a significantly lower cost structure; part of those savings come from paying their pilots next to nothing
The retirement age for pilots at most US airlines increased from 60 to 65, which basically meant there was no need to hire pilots for five years, as very few pilots were retiring
Now the trend is reversing, as there's a near shortage of pilots. The airlines are doing well and expanding, baby boomers are retiring (many ex-military), and there aren't all that many qualified pilots looking for work given the limited career prospects for the past decade.
With that in mind, JetBlue is getting creative and taking a page from some foreign carriers, and will be training pilots from scratch. It's not quite as straightforward or lucrative as it sounds, though.
Via BloombergBusiness:
The program would be the first of its kind in the U.S. and would be similar to those used by some European and Asian carriers. Candidates still would have to meet U.S. requirements, including 1,500 hours of flight experience, to be certified as commercial airline pilots, JetBlue said.

JetBlue crafted its plan to gain access to a broader group of candidates, oversee their training from the start and expose them earlier to being part of a crew on large aircraft, said Doug McGraw, an airline spokesman. Dubbed Gateway 7, the initiative is being targeted for introduction on a trial basis in 2016 and will initially involve only a small percentage of recruits.

JetBlue is focused initially only on pilots for its 100-seat Embraer SA E190 jets. McGraw said that after the trial period, the airline will evaluate whether to extend the program, possibly to the larger Airbus Group SE aircraft that make up more than two-thirds of its 211-plane fleet. They carry at least 150 passengers.
When I first read about it, this sounded like a cadet program similar to what many non-US carriers offer. Lufthansa, for example, very selectively hires people with no flying experience and trains them start-to-finish to be a Lufthansa pilot.
But that's not how the JetBlue program will work:
Recruits also would take academic classes at JetBlue before moving to a partner company to gain the required 1,500 hours of flying time. They then would return to New York-based JetBlue, or could apply at another airline.

Prospective pilots would pay for their own training.
As you can see:
Prospective pilots would have to pay for their own training
Prospective pilots wouldn't immediately work for JetBlue, but rather would work for a smaller airline (maybe something like Cape Air), and once they have enough hours they could apply to work at JetBlue
Once training is completed, pilots could choose to apply at other airlines
Basically JetBlue seems to be getting into the business of opening their own flight school. There are many flight schools out there, and they're basically just simplifying it a bit and perhaps identifying pilots where they see the most potential, to make the hiring process a bit easier down the road.
JetBlue's pilot union is opposed to the program, citing that there are thousands of more qualified pilots looking for work:
"We're opposed to it," said Captain Jim Bigham, chairman of the Air Line Pilots Association union at JetBlue. "We think there are thousands of pilots available that have higher qualifications right now than any pilot coming out of an ab initio program."
It's certainly true that plenty of regional pilots would jump at the opportunity to work for JetBlue, which makes you wonder what the airline's motivation is for starting this program. Presumably the program is going to be profitable independently, so it's basically a for-profit venture, as opposed to a way of identifying talented pilots.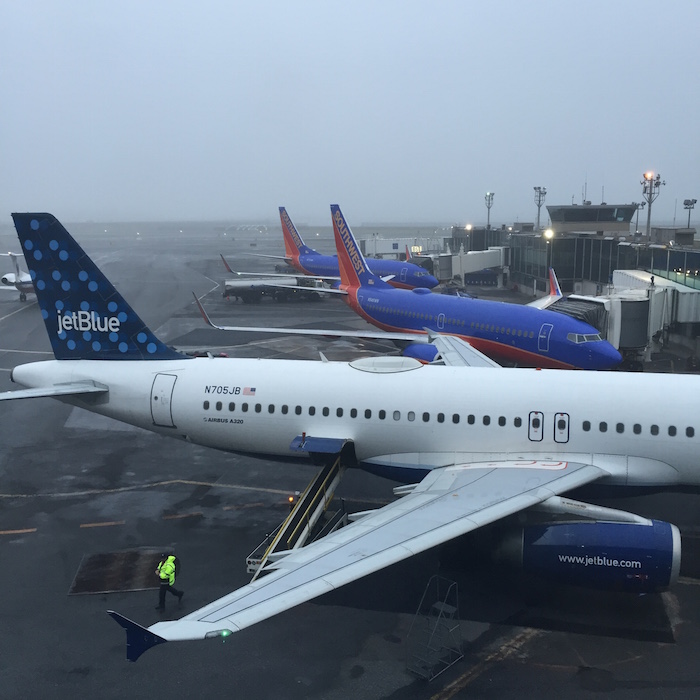 Bottom line
It's interesting to see a US airline basically get into the business of running a flight school, though this isn't quite as straightforward as it might sound. Members of the program would pay for their own training, would first have to work for another airline, and then have the chance to apply for JetBlue.
But in general it's nice to see US airlines do more to identify talent and encourage people to get into the industry.
What do you think JetBlue's motivation is for essentially starting a flight school?