JetBlue has a revenue based frequent flyer program, meaning the number of points required for a redemption is directly correlated to the revenue cost of a ticket. Therefore there's not really a best time to redeem points, since you'll usually get roughly the same amount of value per point no matter when you redeem.
The one exception is when JetBlue is offering an award sale, as they are right now. At the moment JetBlue is offering 15% off spring award flights. The basic terms are as follows:
Book an award flight by Thursday, April 25, 2019
Fly April 29 through June 20, 2019 (not available for flights May 22 through May 29, 2019)
Only valid for Monday through Thursday travel, so Friday through Sunday travel isn't eligible
Not valid for Mint redemptions
When you search for an eligible award flight, the fare that you see will automatically include the discount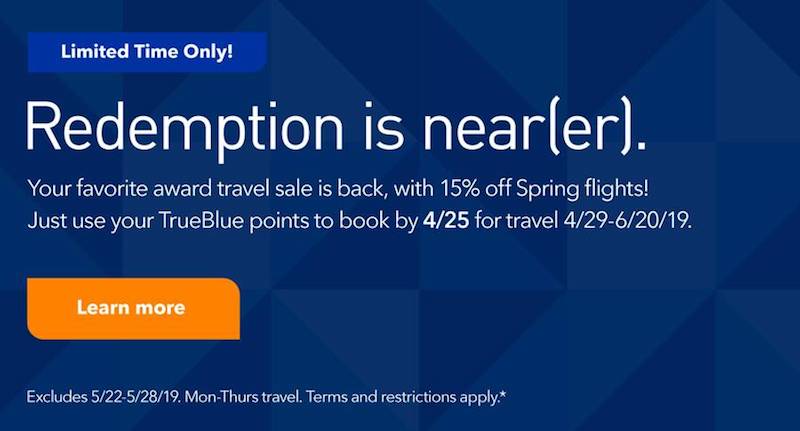 We seem to see a sale like this a couple of times per year, typically in the 15-20% off range, so this is excellent. Furthermore, sometimes in the past you'd get the 15-20% back as points several weeks after the purchase, while in this case the discount is being deducted at the time of booking, so the price you see on JetBlue's website reflects the lower cost.
While JetBlue's program is revenue based, there's some variance in terms of the value you get per TrueBlue point through redemptions. Ordinarily JetBlue points can be redeemed for ~1.3-1.5 cents each towards the cost of a paid ticket on JetBlue.
Also keep in mind that if you have the JetBlue Plus Card you get a 10% refund on points redemptions, which can be stacked with this.
JetBlue is also transfer partners with Amex Membership Rewards, Chase Ultimate Rewards, and Citi ThankYou, so there are quite a few ways to earn their points. Usually I don't recommend transferring those points to JetBlue, though with a 15% discount plus a potential 10% refund, it's looking like a pretty good deal, as you can in some cases get nearly two cents of value per point.
Bottom line
For a revenue based frequent flyer program, the best time to redeem is during a promotion. This is an excellent offer for anyone looking to travel this spring on JetBlue. Best of all, if you have the JetBlue Plus Card, you can get a further 10% refund on your award redemption, and you might be able to redeem for over two cents per point.