With hotel occupancy and rates having nicely recovered from the recession, it's no surprise that hotel promotions aren't as lucrative as in the past.
I think most of the major hotel chains' promotions the past couple of years can be summed up as "better than nothing, though certainly not worth switching your hotel stays over."
With Starwood's spring promotion over, I've just received an email for what seems to be a targeted summer promotion. The email contains a link, which takes me to my "Member Exclusive Bonus:"
When I click on the link in the email I'm brought to a page which already has my SPG number pre-filled in, with a button to register.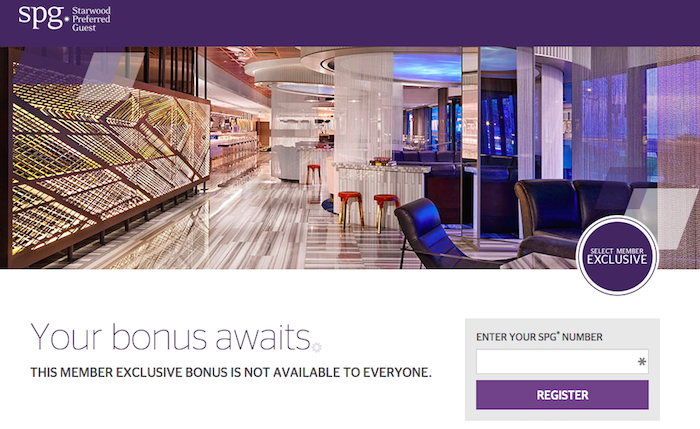 What's my promotion?
TURN STAYS INTO SAVINGS.

Let's make your nights even more rewarding. Your part: register by June 30, 2015, complete six stays with us between May 1, 2015, and July 31, 2015. Our part: reward you with an offer worth 25% off of a Starpoints redemption stay.
There are quite a few terms associated with the promotion, including:
Only valid at Category 1-5 properties
Valid for a stay of a maximum of five nights
Can't be combined with 5th night free
Must be used by December 31, 2015
I can appreciate the Category 5 cap and that the certificate has to be used by December 31, 2015, though I find it pretty disappointing that the discount can't be used in conjunction with fifth night free. In other words, "you can use your 25% off certificate as long as you don't use your points as efficiently as possible."
Bottom line
The real question here is whether Starwood is following Hilton's lead in not offering as many "global" promotions and instead going the way of targeted promotions (which I certainly can't blame them for), or if this is just a bonus offer in addition to another global promotion. If the former I'd be a bit miffed at the fact that the promotion can't be combined with a fifth night free. If the latter, then I'll certainly take it as a nice bonus!
Have you been targeted for an SPG "Member Exclusive Bonus?" If so, what's your bonus like? And do you think this will be in place of the "global" hotel promotion which Starwood traditionally offers?