The Miami Dolphins just managed to make me interested in football for a brief moment… by telling me about their travel logistics.
How the Miami Dolphins fly to away games
NFL teams play a lot of away games each season, and the logistics of transporting 150+ people and tons of cargo is no small task.
The Miami Dolphins have just put out a nearly five minute video about their travel logistics for away games, which I found to be particularly interesting as an avgeek.
Specifically, the Miami Dolphins partner with Atlas Air, which is a massive cargo and charter airline, and the world's largest operator of the Boeing 747. While Atlas Air has nearly 100 cargo jets, the airline also has 11 passenger charter jets, including five Boeing 747s and six Boeing 767s.
For four years now, the Miami Dolphins have exclusively used an Atlas Air Boeing 747-400 for their away games. Specifically, the airline uses a VIP configured 747, featuring just 189 seats. This includes:
10 first class seats, in the nose of the 747
143 business class seats, in a 2-3-2 configuration on the main deck, and in a 2-2 configuration on the upper deck
26 economy class seats, in the very back of the lower deck
Here are some of the interesting things covered in the video:
When the schedule for the season comes out, the Miami Dolphins immediately shares those dates with Atlas Air, so the aircraft can be reserved
The team travels with around 180 people, including 69 players, 30 coaches, 70 support staff, and 10 media
The aircraft typically departs from Fort Lauderdale Airport (FLL), and the team equipment is loaded onto the plane before the team even gets there, with an average of around 10,000 pounds of cargo per flight
There are 16 flight attendants, and the team requests that it's the same crew every time, as they're familiar with the team's needs
A variety of snacks are available upon boarding (fresh fruit, candy bars, chips, etc.), and then during the flight there's a full meal service, with a choice of four main courses, designed in cooperation with the team nutritionist
You can watch the video for yourself below.
How other NFL teams travel to away games
I have to say, the Miami Dolphins seem to have one of the swankiest setups of any NFL team when it comes to travel. They're one of the only teams to fly in a Boeing 747, and on top of that it's in a VIP configuration, so that everyone is comfortable. Outside of Atlas Air, I don't know of any other airline having such a spaciously configured 747.
How does this compare to how other NFL teams travel? A couple of teams have acquired their own planes, as they found that it was more cost effective and reliable than just constantly chartering aircraft. For example, the Arizona Cardinals acquired a former Delta Boeing 777, while the New England Patriots acquired two former American Boeing 767s.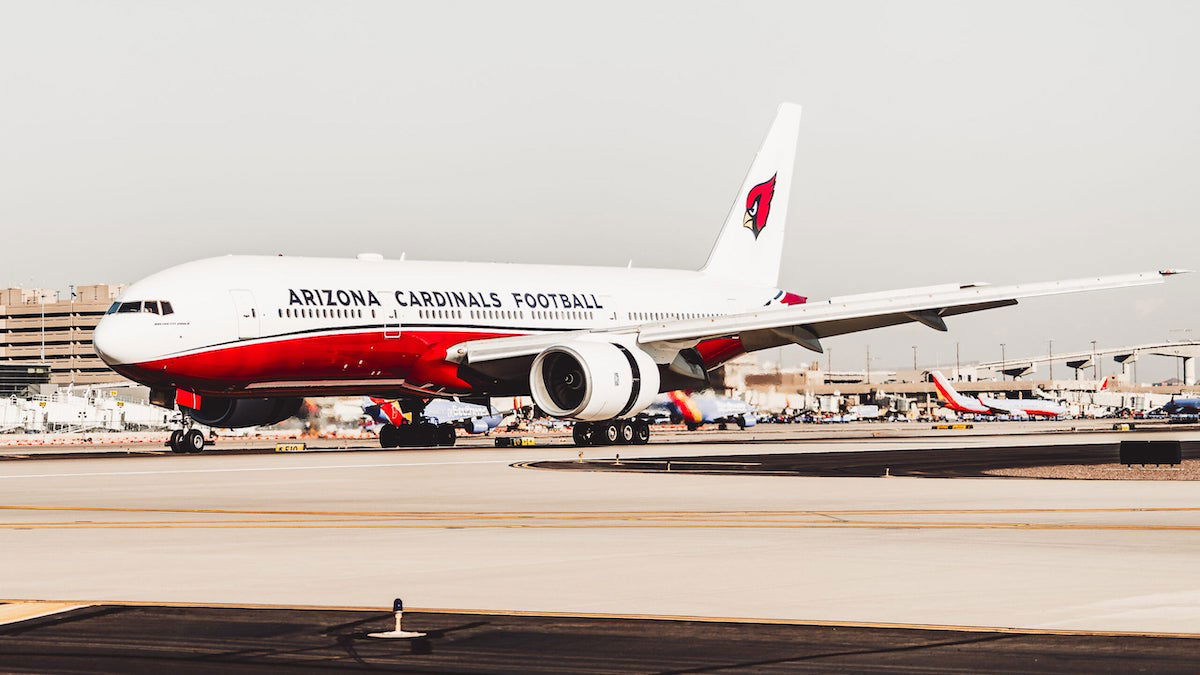 Obviously it's nice for a team to have its own plane, though neither aircraft is as spacious as the Atlas Air Boeing 747.
Other teams generally try to charter planes from airlines or other charter operators. This has become increasingly complicated and costly over the years, as many airlines simply don't have enough planes available to be able to offer these kinds of charters at a reasonable cost. That issue is what caused some teams to acquire their own aircraft.
In a vast majority of these charter situations, many team members end up in economy seating, which can't be very comfortable, given how big many NFL players are.
Bottom line
The Miami Dolphins travel to away games on a VIP configured Atlas Air Boeing 747. The jet features just 189 seats, with most being first or business class. The team and the charter company have had an agreement for four years, and this seems like a pretty comfortable way to travel between Florida and their away games.
What do you make of the Miami Dolphins' Atlas Air 747 charter?