In recent years there has been a trend whereby more ridesharing drivers have put signs in their cars about tipping, not eating & drinking, etc. However, I've never quite seen a sign like this…
The sign in my dad's Uber yesterday
My dad is pretty low tech, and doesn't know how to use ridesharing apps. In situations where he needs a ride, someone in our family orders an Uber or Lyft for him (and of course informs the driver). My dad doesn't take these often, but yesterday we had to order one for him… and then I got the below picture from the ride.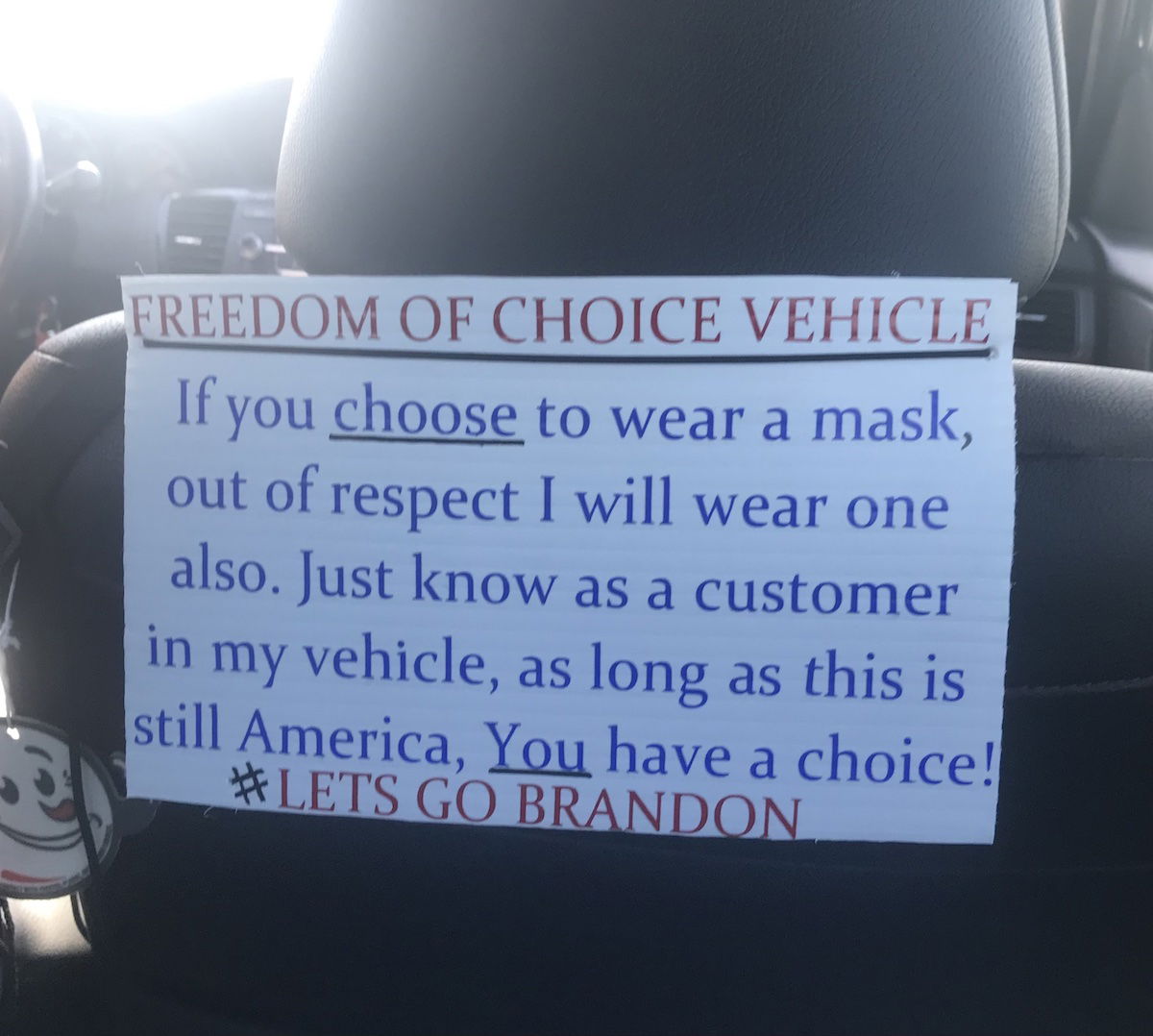 As you can see, the driver had a sign hanging off the back of the front passenger's seat that reads:
FREEDOM OF CHOICE VEHICLE

If you choose to wear a mask, out of respect I will wear one also. Just know as a customer in my vehicle, as long as this is still America, You have a choice!

#LetsGoBrandon
My dad talked to the driver about the sign, and he said that he gets both a lot of positive and negative comments about it, which I guess shouldn't be too surprising.
In the driver's defense…
Uber's policy is for all riders and drivers to wear face masks. I don't think I really need to say how I feel about the sign, though in the driver's defense, he at least deserves credit for agreeing to wear a mask if passengers do.
In Florida I've had quite a few ridesharing drivers that simply don't wear a mask, because masks aren't exactly common in Florida nowadays. So in that sense the driver is at least being considerate, while making his preferences known.
That being said:
The driver has a very limited view of what encompasses "freedom of choice"
It just seems odd to put a sign like this in your car, which will instantly annoy a significant percentage of passengers
I'm not sure the answer, but I would imagine that this sign violates Uber's policy, no? Or if the guy has had it for a while, maybe it doesn't?
Has anyone else seen a sign like this in a rideshare vehicle?
Bottom line
While I've seen plenty of ridesharing drivers put signs in their cars, the one my dad saw yesterday was a new one for me. The driver called his car the "freedom of choice vehicle," and offered to wear a mask if the passenger does too, because this is America!
Has anyone been in a rideshare with a sign like that before?