Back in the day I'd take some pretty circuitous itineraries in order to earn more miles. Yesterday I took a very indirect routing because, well, it seemed like the best way to get between two places.
Why I flew from Jacksonville to Tampa via Charlotte
I was in the Jacksonville area yesterday without a car, and needed to get to Tampa. The two cities are about 180 miles apart, but there are no direct flights between them. It would have been about four hours door-to-door to drive. Ultimately that's not that long of a drive, but:
For me the pain with renting a car isn't the drive as such, but rather having to pick up and drop off the car, which can add quite a bit of travel time
Time spent driving is "wasted" time, in the sense that I can't get any work done while I'm driving
So I decided to look at flights, despite the fact that there are no nonstop flights between the two cities. I figured airlines wouldn't actually sell tickets between Jacksonville and Tampa via a third city, given how close they are to one another. Rather I figured this would consist of two separate one-way fares.
To my surprise, American sells fares from Jacksonville to Tampa via Charlotte, and it's a single fare (other airlines don't seem to sell these types of tickets — for example, Delta doesn't sell tickets via Atlanta as a single fare, but rather you'd pay two separate one-way fares). These American fares start at just ~$74 one-way (based on current pricing). So while not very direct, it did seem like the less bad of the two options.
Yes, I'd fly 835 miles, which is over 450% of the direct distance between the two airports. And for that matter the total "block" time was five hours between the two flights, which is longer than driving. However, I'm good about staying productive at airports and on airplanes (I can easily work in the gate area, during boarding, and in the air), so it's not really "lost" time.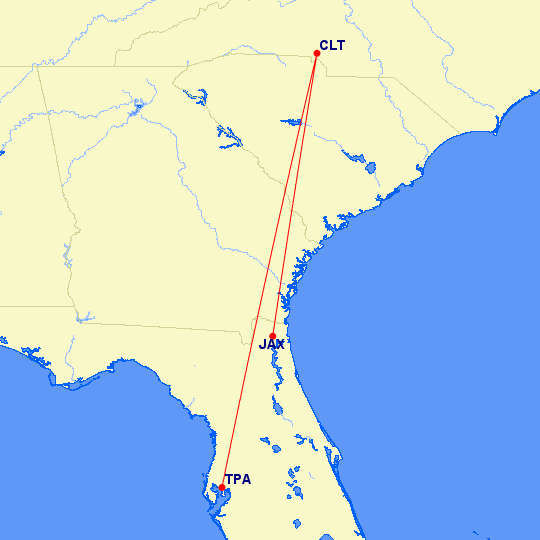 Was I happy with my decision?
The flights were on-time (more or less), and I was able to stay pretty productive. I booked last minute, and both flights ended up having every seat occupied.
As an Executive Platinum member my upgrade cleared on the first flight (ironically operated by an A319, which is usually the toughest upgrade, given that there are just eight first class seats)…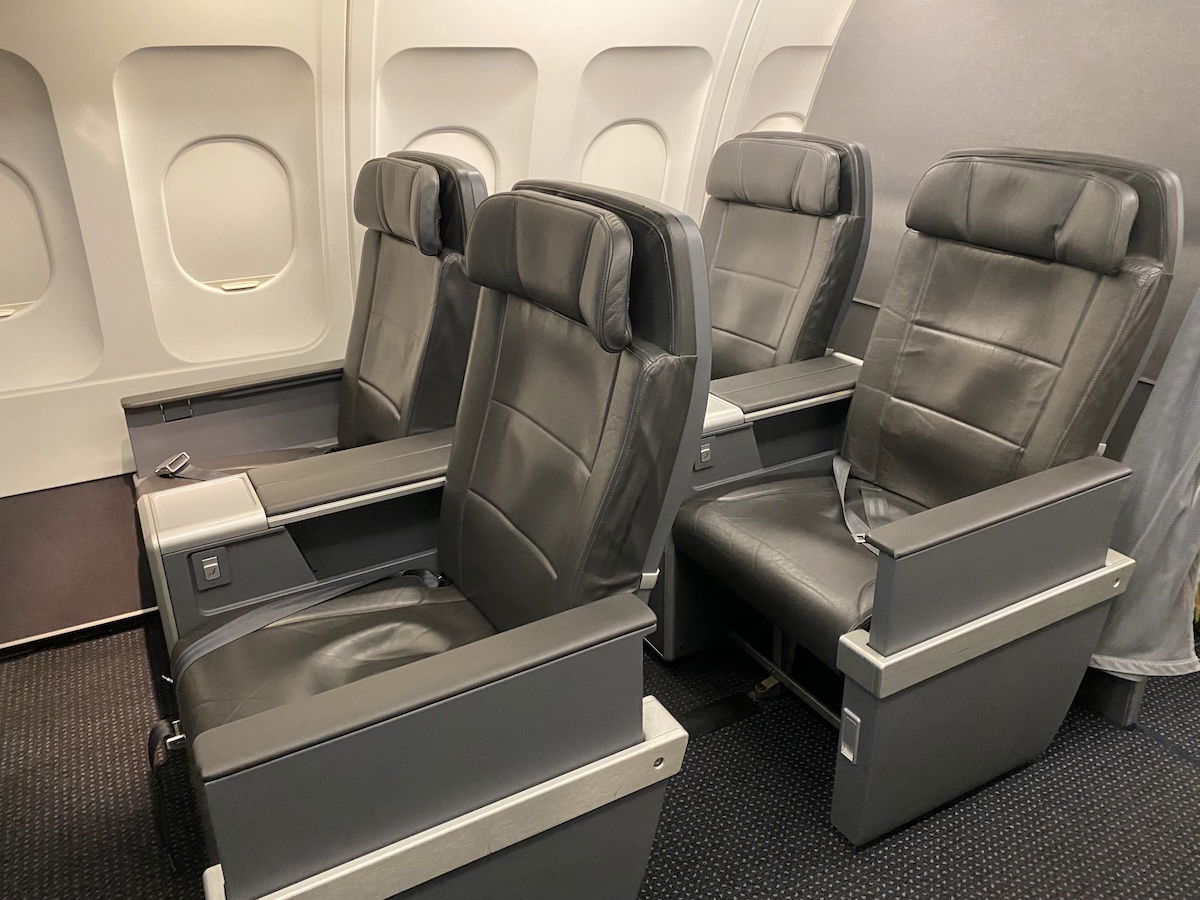 I didn't have the same luck on the second flight, operated by a 737-800 — I was number two on the upgrade list, and only the first person cleared.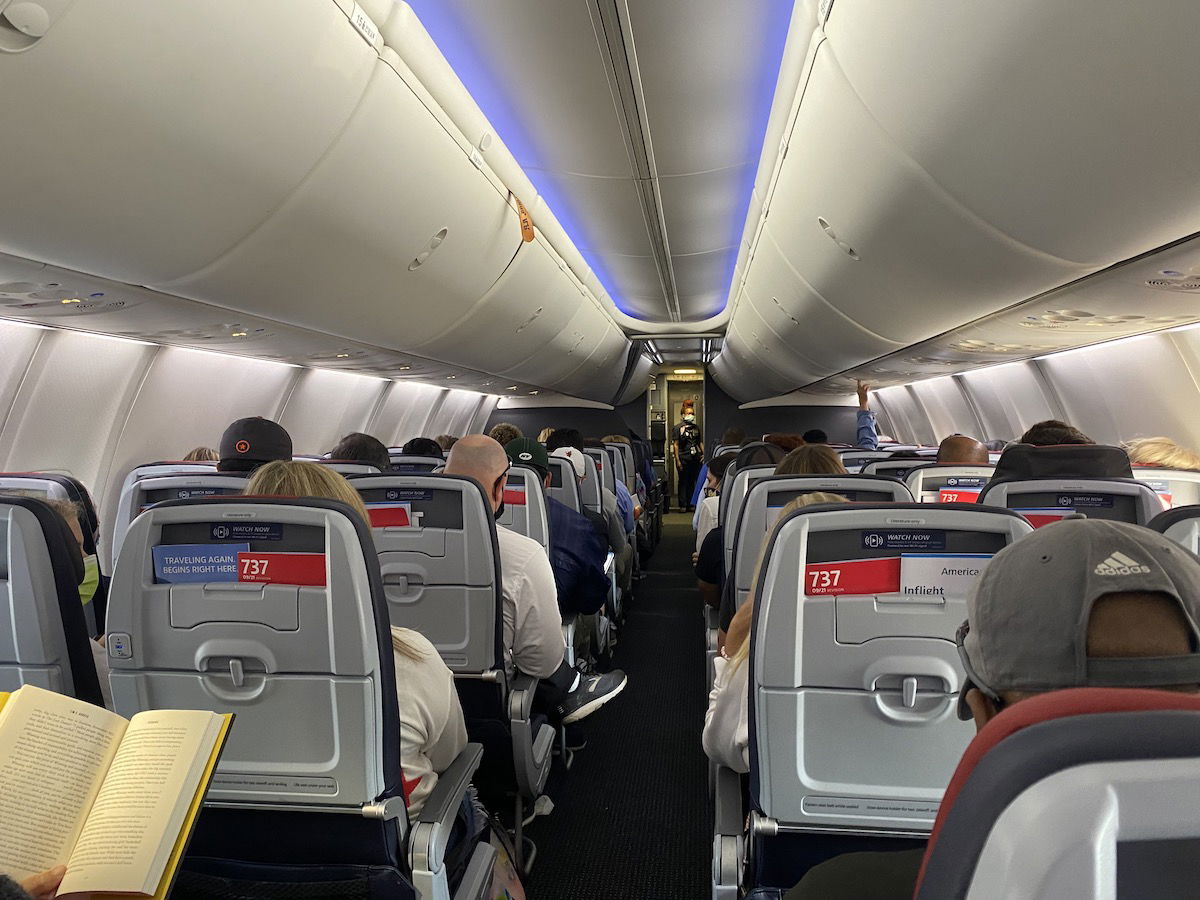 A few random thoughts based on my flight:
My gosh, Charlotte has to be my least favorite hub airport in the country — the airport is so heavily banked, so the terminals get so darn busy during peak times, the airport feels outdated, the quality of food & beverage outlets is lacking, and on top of that the lounges aren't great
You've gotta love how nowadays the way American Airlines flight attendants say bye to passengers is by standing at the door, holding Barclays credit card applications in a "fan" shape, and saying "60,000 bonus miles, 60,000 bonus miles, 60,000 bonus miles"
I listened to a podcast interview with American Chief Revenue Officer Vasu Raja during my second flight on an "Oasis" 737, and I couldn't help but notice how he kept talking about how American has such an amazing "product," which he seems to define solely by having a good route network (which, again, he has a very specific definition for)
Bottom line
I flew from Jacksonville to Tampa via Charlotte yesterday, because that was the most practical option for me. I could either drive for four hours (not factoring in the time to pick-up and drop-off the car), or I could fly for five hours (not factoring in the time to get to & from the airport).
Flying seemed like the most efficient option, given that I can be productive while I fly, while I can't when driving. I was pleasantly surprised that American sells this as a single itinerary, and fares are pretty attractive.
That's about all I can say about the experience…
What would you have done in my shoes — would you have flown or driven?