This article is presented by Cardless, but opinions expressed here are the author's alone, not those of the bank, credit card issuer, airline, hotel chain, or product manufacturer/service provider.
If you're in a rush:
The Cleveland Cavaliers credit card (and the similar Manchester United card) has a bonus of 25k points — worth at least $250 in statement credits
For a Cavs fan who goes to even a game or two a year, this is a no-brainer rewards card
Even if you're not a committed fan, look at these cards for best-in-class rewards on Streaming Services — with no annual fee
"Wham with the right hand."
That was the trademarked call from Joe Tait, radio voice of the Cleveland Cavaliers, when the home team would score a slam dunk. Cable wasn't available where I grew up back then, and not many games were on broadcast TV, so radio it was.
I've been a Cavs fan for as long as I can remember
I grew up with the the Cavs of the late '80s and '90s, who were a pretty lovable bunch. I'll probably sound like an old fart, but I think that was the golden era of the NBA. The players were still semi-average guys that just happened to be a bit taller than the rest of us. They weren't all freakish athletes, didn't work out continuously, and it wasn't that long ago that some of them even had side hustles in the offseason.
Well, some of them weren't even taller than the rest of us.
Mark Price was, and still is, my favorite Cavs player of all time (sorry LeBron) as he made kids across Ohio believe that if they just worked hard enough, they could get to the NBA even if they had no more than average height or speed. But I fell in love with the rest of the team too — Brad Daugherty, Larry Nance, and John "Hot Rod" Williams all seemed like the kind of guys you would have over to your house to watch NASCAR and drink beer. In fact, those guys may have longed more for car racing than basketball, they just grew too tall for the driver's seat.
As you can imagine, that played well in Ohio back then too.
Finally there was Craig Ehlo, who showed us what happens when a guy who looks like a pretty average dude tries to guard Michael Jordan. In a series-deciding playoff game. With six seconds on the clock.
Speaking of The Shot, I can still remember where I was for other Cavs moments too.
I was in Boston in 2003 when the ping pong balls bounced perfectly, giving the Cavs the right to select LeBron James with the #1 pick. I watched Game 5 of the 2007 Eastern Conference Finals — when LeBron scored 25 straight points in a double overtime win over the Detroit Pistons — at my uncle's house in Ohio. And I watched Game 2 of the NBA Finals that year in Denver with my future wife. (The Cavs were swept, but we didn't care!)
Then the unthinkable happened.
I was on a plane to Edmonton to backpack in Jasper National Park when LeBron made The Decision to take his talents to South Beach. That was before inflight wifi, let alone streaming video, so I guess I was spared the agony of watching it live.
I was working in my home office when, almost exactly four years later, he unexpectedly announced that he was coming home. And I woke my kids up to celebrate the Game 7 win over the Warriors in 2016 so that they could at least say they saw one Cleveland team win a title in their lifetime!
So all that said, I was intrigued when I learned about the Cleveland Cavaliers credit card from Cardless. Cavs owner Dan Gilbert has a reputation for being innovative, and obviously has a background in consumer finance stemming from his Quicken Loans heritage, so it should be no surprise that the Cavs were the NBA launch partner for this fan-based credit card.
While the Cavs card is obviously targeted at Cavs fans, I think it's worth knowing about this card even if you cheer for a different team because the odds are good that Cardless will be rolling out a card for your team soon enough.
The Cleveland Cavaliers credit card offers strong rewards
The Cleveland Cavaliers credit card offers:
5x points on Cavs season tickets and streaming services
3x points on other Cavs tickets (single game), dining, and grocery delivery
1x points on everything else
10% discount at the Cavs team store
Then you can redeem your points at a rate of:
1.25 points per dollar for Cavs gift cards,
1 point per dollar for a statement credit
1 point per dollar as a donation to the Cleveland Cavaliers Charity
For those that have significant spend in what I'll call the Cavs Category, the Cavs credit card is probably a slam dunk — I mean, a wide open 3-point shot in today's game.
Assuming that you redeem your rewards for statement credits, that would mean getting a 5% rebate on season tickets and a 3% rebate on single game tickets. You'd do even better if you redeem for Cavs gift cards. Even if you attend only a few games a year with family or friends, and I know plenty that do, it's not hard to see how this will add up to some decent savings.
That's not to mention the in-season experiences available with these points, such as arena tours, upgrades, or invitations to watch closed-door practices.
But say you're not a Cavs fan (though Cardless offers some alternative options with that same 5x rate, which I'll get into below), the 5x rewards in the streaming service category is still one of the highest available, particularly among no annual fee cards. This would apply to audio and video services like Hulu, Netflix, and Disney+.
Then add in grocery and delivery where 3x rewards is also competitive, particularly given there are no monthly or annual limits to how much you can earn. We started using Shipt & Instacart during the pandemic and have no plans to return to the grocery store even as things start getting back to normal.
The Cavs Credit Card signup bonus
The Cavs card also has a pretty good signup bonus, as no annual fee cards go. The welcome bonus is 25,000 points after spending $2500 in the first three months. Assuming that you redeem for a statement credit at 1 cent per point, that translates to at least a $250 bonus.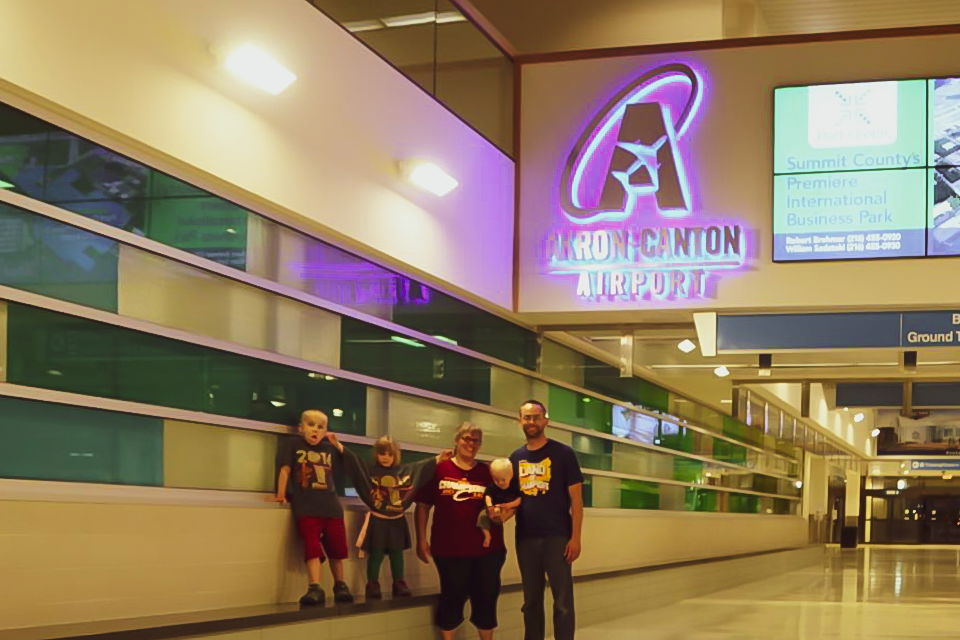 What if you're not a Cavs fan?
If you're not a Cavs fan — which I suppose is a possibility — Cardless has other sports-affiliated credit cards, and right now you can get the same welcome bonus. Minus the ability to redeem for a Cavs jersey, of course.
Look, I don't know much about soccer, other than that the rest of the world calls it football, though I have been to England a few times, and I'm a Premier 1K on United. But I respect a team that can build a strong fan base, and there are some things here that seem like they'll appeal to Manchester fans.
The ManU card offers:
10% off at The Official Manchester United Megastore, Red Cafe, and United Direct
5x points at bars/restaurants on match days
5x points on rideshare and streaming services
1x points on everything else
Like the Cavs card, you can earn an additional 25,000 points as a signup bonus after $2500 of spend in the first 3 months. And those points can be used for statement credits, discounts, or game suites, stadium tours, and other ManU fan experiences.
A bit about Cardless
Cardless is the fintech (financial technology) company behind the Cavs card. You can think of them as a tech startup that is backed by a bank that is rolling out highly specialized and targeted credit cards to fans for the most popular teams around the world. The Cavs are their launch partner in the NBA, but they've previously rolled out a credit card for Manchester United fans in the United States.
The point here is that even if — for reasons that are beyond me — you aren't a Cavs fan, there may be a Cardless card coming out for your favorite team in the future.
The Cardless name sounds like this is all digital, but that's not the case. You do in fact receive a card in the mail, but it doesn't actually have your account number on it, just a chip. That means it's easier to replace if you lose your card since they can issue a new one without changing your account number. There is also an app that has access to virtual cards.
The downside, and real head scratcher here, is that Cardless currently only has the app available for iPhone, although supposedly the Android version is just "weeks" away.
Bottom line
The Cleveland Cavaliers Credit Card by Cardless is probably a slam dunk for any Cavs fan that attends more than a game or two per year since it easily offers the best rewards for spending in the Cavs Category.
For everyone else, it's probably a floater in the lane — effective, if not flashy. That's because it earns some of the best rewards in the industry in the streaming, grocery, and delivery categories, particularly among no annual fee cards.
And in the unlikely event that the Cavs aren't your team, take a look at the Manchester United card, and stay tuned as Cardless is likely to be rolling out more fan-based cards in the future.
Or you could reserve your spot now on the Cavs bandwagon now for when LeBron comes back for his third go-around.
Hey, a guy can dream, right?