There aren't many things in life I'm good at other than singing along to Taylor Swift songs in the shower, getting irrationally excited every time I see a goldendoodle, consuming lots of champagne without getting hungover, oh, and being able to predict award space.
And sometimes I feel like that's a curse. Or I just need to lower my standards.
Case in point — if there's one thing I love more than flying a great airline product, it's making sure that my parents are flying as comfortably as possible. Nothing makes me happier than when they're happy.
My mom wanted to go to Germany for her birthday this year, so she phoned me up to see what could be done with miles, about a month before she intended to travel.
"Okay, what day do you need to leave?"
"June X."
"We'll make that work. There's nothing good right now, but I promise something will open up. Lufthansa opens first class space at most 15 days out, while Singapore often has space close to departure as well."
"Okay."
Understandably she was a bit apprehensive about not actually having a ticket booked to Germany. I get that. But at the same time, I'm an expert and she should trust me… or so I'd like to think.
"I really want to plan, is there nothing at all available?"
"Well yes, there's Lufthansa business class available, which you hated."
"Oh that's fine, I just want to know exactly when I'll arrive so I can start planning."
"But it's Lufthansa's old business class. Remember, the product you thought was so bad that you assumed your seat was broken when you put it into bed mode?"
"I just want to get to Germany, that's fine."
"No. I'm not letting you fly Lufthansa old business class for your birthday. That would mean I've failed you as a son."
"Oh please just book Lufthansa business class."
"Please just trust me. Please. I promise I'll get you there in the morning on June X in a better product."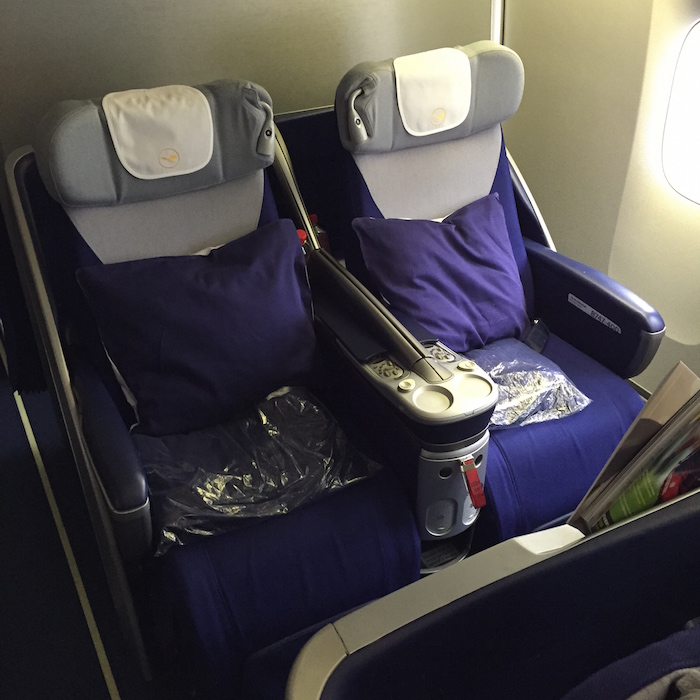 Understandably, after that conversation she started texting me about eight times a day to see if anything had opened up. Which I totally get. Because for someone who doesn't spend all day looking at award space, it seems kind of inconceivable to think that I could "guarantee" something better when it wasn't in fact open.
Fortunately space did eventually open, in Singapore Airlines Suites Class to boot.
Between that flight being wide open and another "flagship" Lufthansa flight not having a single seat occupied in first class, I knew it was a sure bet.
Of course now my mom is incredibly excited about flying Singapore Suites Class (and my dad had faith in me all along, so he wasn't worried one bit about space opening — though I don't think I've ever failed him when it comes to travel planning), but my goodness was it a battle!
As usual I checked award space constantly, but dealing with the constant questioning and intermediate sadness made this one of the tougher awards I've had to book, despite how straightforward it was.
I guess what I should have done is book Lufthansa business class as a back-up, and then later switched when something better opened up. But I really didn't feel like calling Avianca LifeMiles to cancel an award and I knew space would open, so…
Or I could have just booked Lufthansa business class and kept that as the award, and I'm sure she would have been happy about it. But I was holding her travel to a higher standard than she was.
On the plus side, I'm sure she won't mind too much when she's on her Singapore flight and asked whether she wants Dom or Krug. 😉
Has anyone been in a similar situation with family, where you hold your family's travel to a higher standard than they do, much to their frustration?