Many hotel loyalty programs offer a "points & cash" option, whereby you can pay for your stay partly in cash and partly in points. However, different programs have different rules for this offer.
For example, Hilton, Hyatt, and Starwood all offer points & cash awards, though they're capacity controlled, since they represent an especially good deal. For example, with Hyatt a Category 6 hotel would cost you 25,000 points for a free night award, or 12,500 points plus $150 for a Points + Cash award.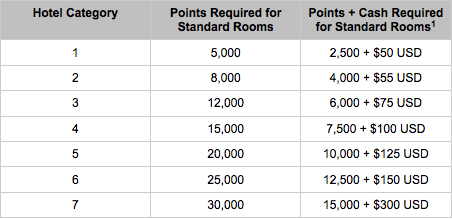 That's basically an opportunity to take 12,500 points off the cost of such an award for $150, which is like picking up Hyatt points for 1.2 cents each. That's an excellent deal, as Hyatt points are worth considerably more than that.
IHG Rewards Club also offers Points + Cash, though with them it's actually not capacity controlled, at least not any more than their free night awards (which actually are capacity controlled).
Historically with IHG it works as follows:
For $40 you can get a 5,000 point discount on an award (0.8 cents per point)
For $70 you can get a 10,000 point discount on an award (0.7 cents per point)

As you can see, that's an opportunity to basically buy IHG points for 0.7-0.8 cents each.
That's actually also how many members indirectly purchase IHG Rewards Club points. In the above example you could make the booking for 25,000 points plus $70, and then if you canceled the booking you'd be refunded 35,000 points rather than 25,000 points plus $70.
That's because with IHG Rewards Club Points + Cash bookings you're literally buying points at a discounted rate with the "cash" portion, so it's not refundable in cash, but rather only in points.
It looks like IHG is now adding a new type of Points + Cash award for select hotels. Specifically, many "premium" hotels seem to have a new Points + Cash option, whereby you can receive a 15,000 point discount for $90. While the current discounts basically allow you to pick up points for 0.7-0.8 cents each, this is an opportunity to pick up IHG points for 0.6 cents each. That's a really low cost.
Below are a few examples of properties where I see this new option available, per ihg.com:



IHG Rewards Club has been getting especially aggressive with selling points lately, and has frequently offered a 100% bonus on purchased points, which is an opportunity to buy points for 0.575 cents each. So I think them offering a new Points + Cash option reflects their more aggressive approach towards selling points.

Bottom line
IHG Points + Cash has long been a great way to get IHG points for cheap, even if you're just making bookings at hotels and then canceling them as a means of getting points. Lately it hasn't made all that much sense given that IHG has so frequently offered 100% bonuses on purchased points, but this new rate finally puts the Points + Cash rate in line with the rate to purchase points during their best promotions.
This can represent quite a good deal. As of now this seems to only be available at select hotels, though I suspect it will expand to more properties soon.
Would you take 15,000 points off the cost of an award for $90?