Earlier this fall Alaska announced a restoration of their partnership with Icelandair, with a codeshare and frequent flyer partnership agreement.
Alaska Mileage Plan members have been able to earn miles for travel on Icelandair as of October 1. 2015, though award redemptions weren't immediately available.
While award charts haven't been officially published yet, Icelandair awards are now bookable on the Alaska website!
Redeeming Alaska Mileage Plan miles for travel on Icelandair

Icelandair serves over a dozen cities in the US along with about two dozen in Europe from their hub in Reykjavik.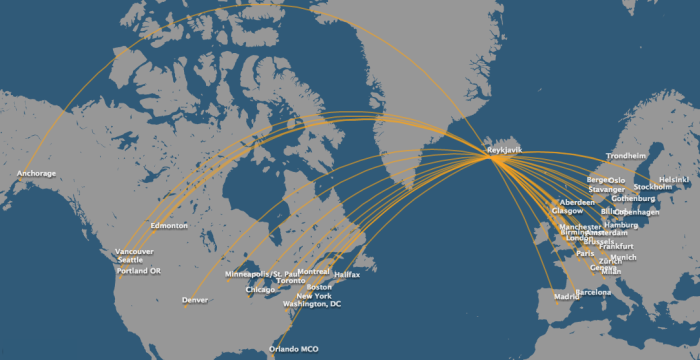 They operate a fleet of Boeing 757s, with a 2-2 configuration in business class. The pitch is a bit more generous than domestic first in North America. It's not necessarily luxurious, but given that most Icelandair flights are six hours or less it's certainly a solid option. Icelandair is also in the process of rolling out fleet-wide WiFi, which is a nice feature if you can't sleep ;).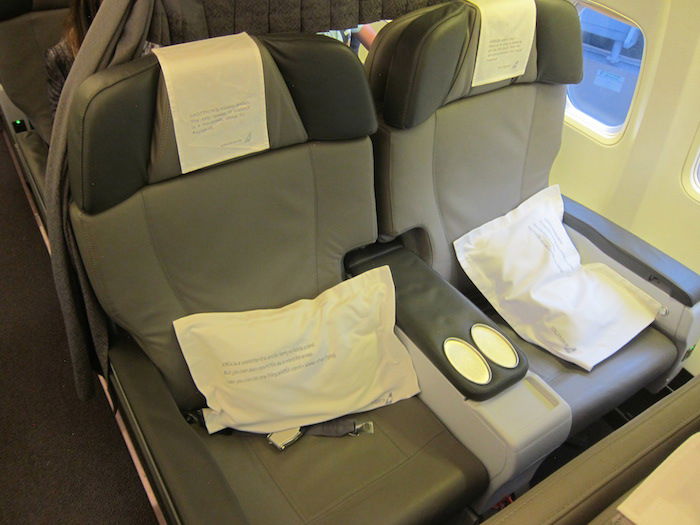 In terms of mileage rates, Alaska has what might be seasonal pricing for Icelandair (which makes some sense), and one-way prices at the low rates seem to be as follows:
North America to Iceland:
22,500 for Economy
50,000 for Business
The taxes and fees are ~$130, regardless of cabin.
North America to Europe (with an optional stopover in Iceland):
27,500 for Economy
55,000 for Business
Update: The official award chart has now been published, and is as follows: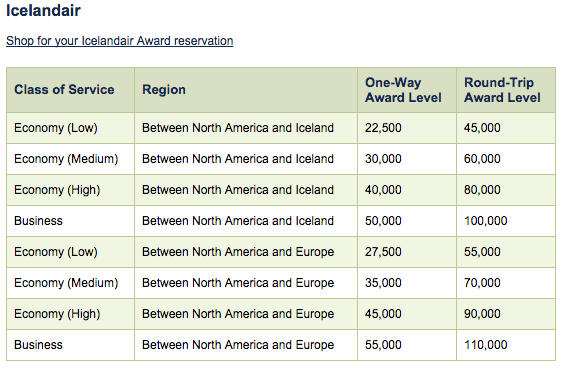 Business class is the obvious winner in high season, as that's a marginal premium over the high season economy rates. However, it's unclear as to whether these tiers will be based on season or some other formula.
The taxes and fees here will vary based on your destination city, but aren't too much higher: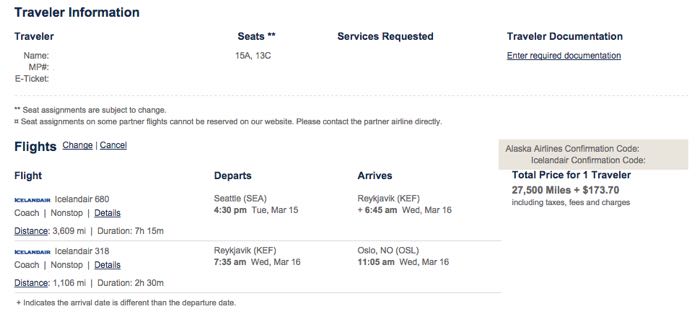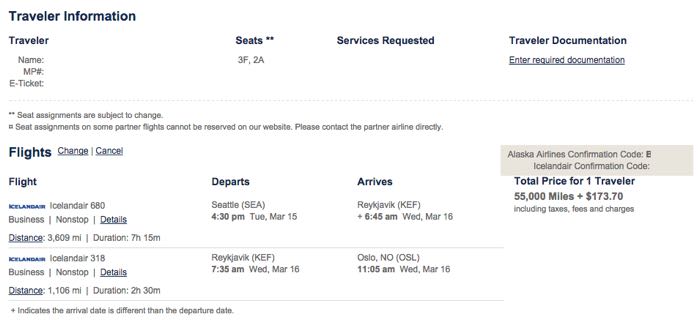 E-Tickets are issued instantly, and you can even select seats on the Icelandair website.
Mystery award rates
While the above rates seem fairly reasonable and thus are probably accurate, there are some mystery prices you'll want to avoid.
For example, on certain dates Washington Dulles > Reykjavik prices at the (I assume) correct rate of 22,500 for Economy: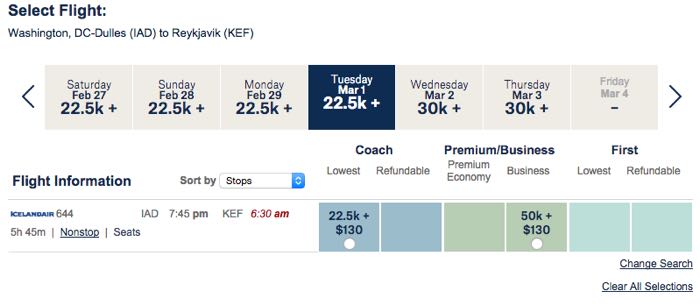 While on the next day the same route prices at 30,000: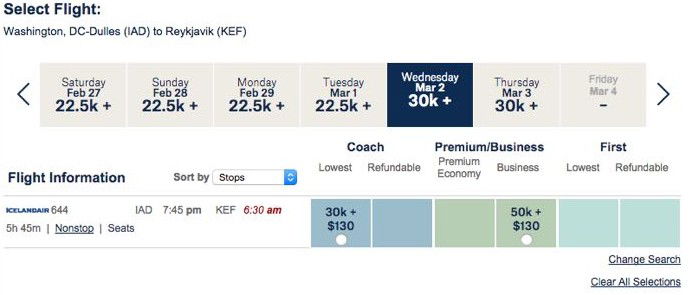 The same thing happens with routes to Europe, where you'll occasionally see 45,000 prices: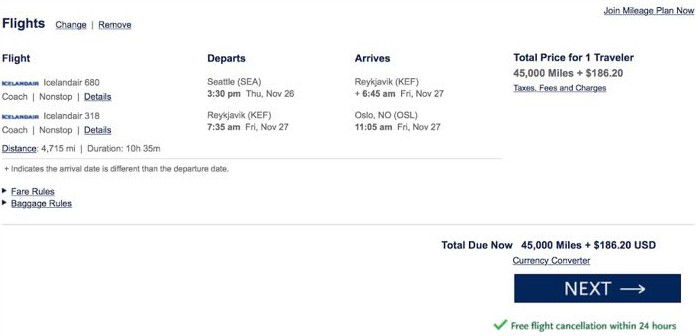 Looking at the chart these should just be the Medium/High rates, but there are random days interspersed within what I would typically consider "Low" season.
So perhaps the functionality isn't there — either something was miscoded, or there's possibly a system-glitch of some kind, because random flights shown at these higher rates are not bookable. So stick to the lower-priced flights for now, or look for a week with consistent rates (in which case the higher rates are bookable).
Award availability
This will likely change as the partnership develops, but for now space is pretty much wide-open.
Most North America > Iceland routes have two business seats, and four economy
Most Iceland > Europe routes have four seats in each cabin
I don't see any flights with more than two business class seats, so that's something to consider if you're traveling as a family.
And keep in mind that many Icelandair routes are seasonal, and only operate in summer.
Using Alaska Mileage Plan miles
Alaska miles are both difficult and easy to earn. On the one hand, their only transfer partner is Starwood Preferred Guest, and their co-branded credit card isn't that lucrative.
On the other, Alaska frequently sells miles at very good rates. If you were to take advantage of a 40% bonus on buying Alaska miles, the miles needed for a round-trip to Europe in business would cost ~$2400, and you could have a stopover in both directions.
You can also use Alaska miles for a different partner for the return flight, or use separate miles entirely, as all awards are priced as one-ways.
When redeeming Alaska miles:
One stopover of more than 24 hours (in addition to the destination) is allowed, even on one-way awards
You can't mix partners on an award ticket, but you can add in Alaska Airlines flights to connect from the gateway city in North America
Mileage Plan has generous change & cancellation policies (up until 60 days before departure you can change and redeposit your award for free, and within that timeframe the cost is $125 per person)
The stopover option is particularly compelling to me. Iceland looks beautiful, but isn't particularly easy to get to using miles. Spending a few days there en route to elsewhere in Europe would be a great option for me.
Bottom line
This is a great partnership, and as Icelandair serves so many smaller markets in North America this greatly expands award options to Europe.
I wouldn't redeem miles for economy, personally, given that Icelandair frequently offers cheap fares, but business class redemptions could make sense.
While the product might not be as glamorous as many of the other airlines flying to Europe, the flights are relatively short and the fees are comparatively low, so this will be a compelling choice for many.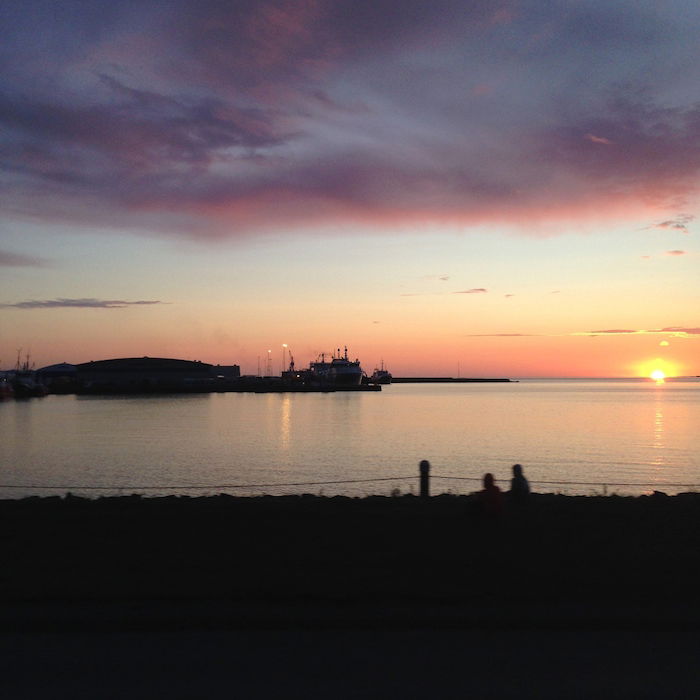 Who is planning on redeeming Alaska miles for Icelandair?
(Tip of the hat to Alex)