It's a tough year for the travel industry (and many other industries, for that matter). I've written in the past few weeks about the second quarter financial results of some major airlines. Well, this week Hyatt reported its second quarter results, and I wanted to take a look at those as well. In particular, I'm fascinated by the relative performance of different Hyatt hotel brands.
Hyatt revenue is down 89.4%
Hyatt has reported a net loss of $236 million for the second quarter of 2020, compared to a profit of $86 million during the same quarter last year (that represents a 376% decrease). Hyatt's revenue per available room decreased by 89.4% compared to the same quarter last year, which is also brutal.
There are a few interesting highlights:
Revenue per available room bottomed out in April, and has increased every month since then
Greater China has lead the recovery for Hyatt, and hotels there were up to 57% occupancy by the end of July; excluding Hong Kong, Macau, and Taiwan, hotels there reached 65% occupancy by the end of July
As you'd expect, increased demand is largely from leisure travelers, rather than business travelers
Preliminary reports suggest that Hyatt has seen a 76% decrease in revenue per available room for the month of July
Despite the current situation, ten new hotels opened in the second quarter, adding a total of 1,879 rooms; there has been a 5.8% net increase in rooms compared to the second quarter of 2019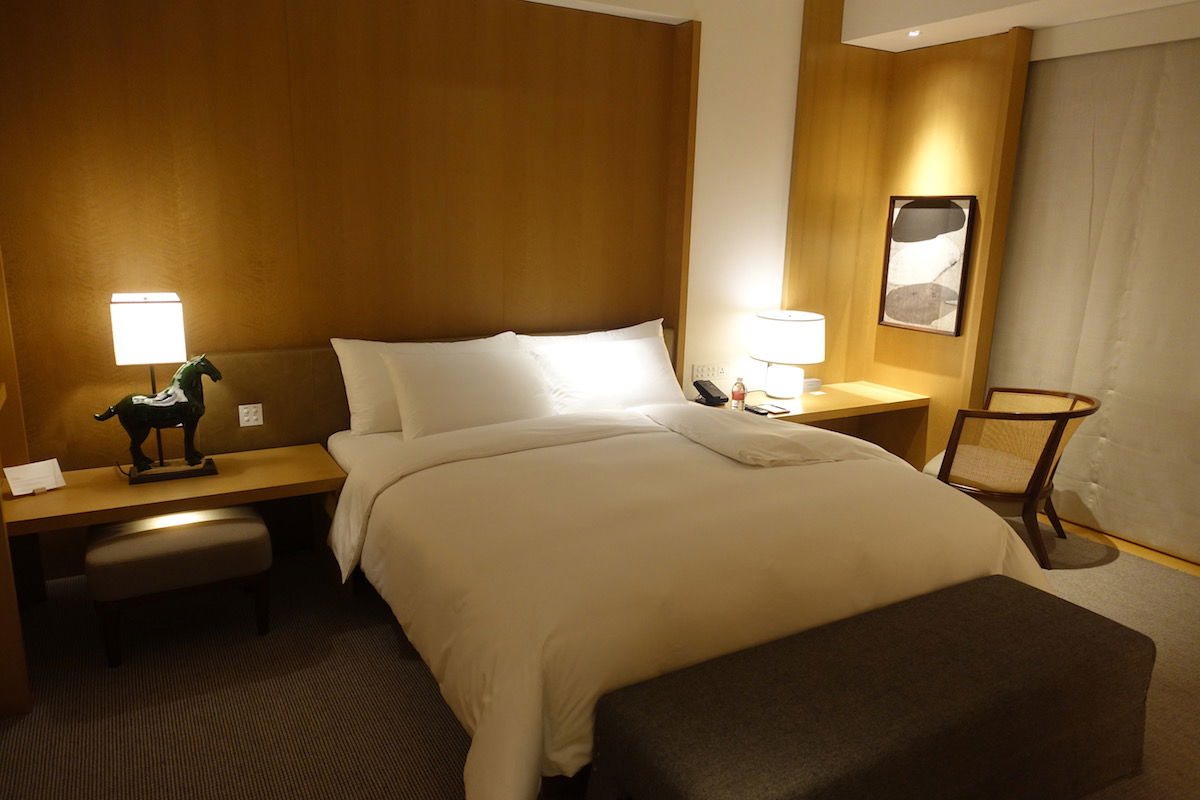 Hotels in China are seeing the fastest recovery right now
How have different hotel brands performed?
I wanted to briefly touch on some of the data I found to be most telling, as Hyatt has shared RevPAR, occupancy, and ADR. For those of you not familiar with these terms:
RevPAR is the revenue per available room across the hotel; it's calculated by dividing room revenue by the number of rooms
Occupancy is simply the percentage of rooms that are occupied at a hotel
ADR is the average daily rate, or the average rate that's paid for the rooms that are actually occupied (this doesn't account for rooms that aren't occupied)
Here's a look at how performance differed across Hyatt brands: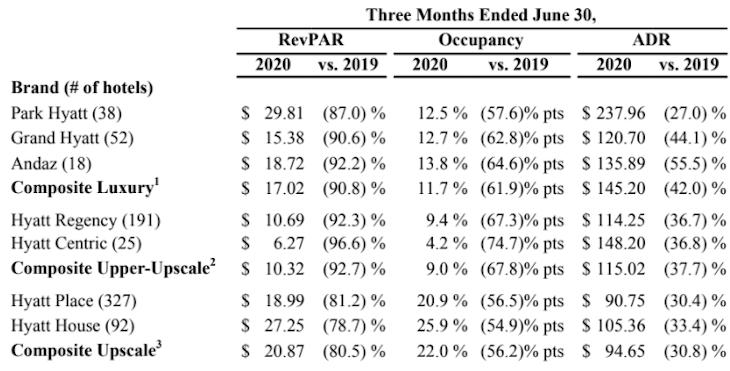 There are a few things that stand out to me:
In general limited service hotels seem to be performing better in terms of revenue per available room and occupancy
I know a lot of people have asked why hotels aren't discounting rates more given how empty hotels are, but this shows that rates are being discounted significantly; average daily rates are down anywhere from 27% (at Park Hyatt) to 55.5% (at Andaz)
Limited service hotels haven't seen rates drop as much as upscale/luxury hotels
Hyatt Centric is performing the worst when it comes to revenue per available room and occupancy, and that's probably just a reflection of these hotels mostly being located in major cities, while many people have started traveling to more rural areas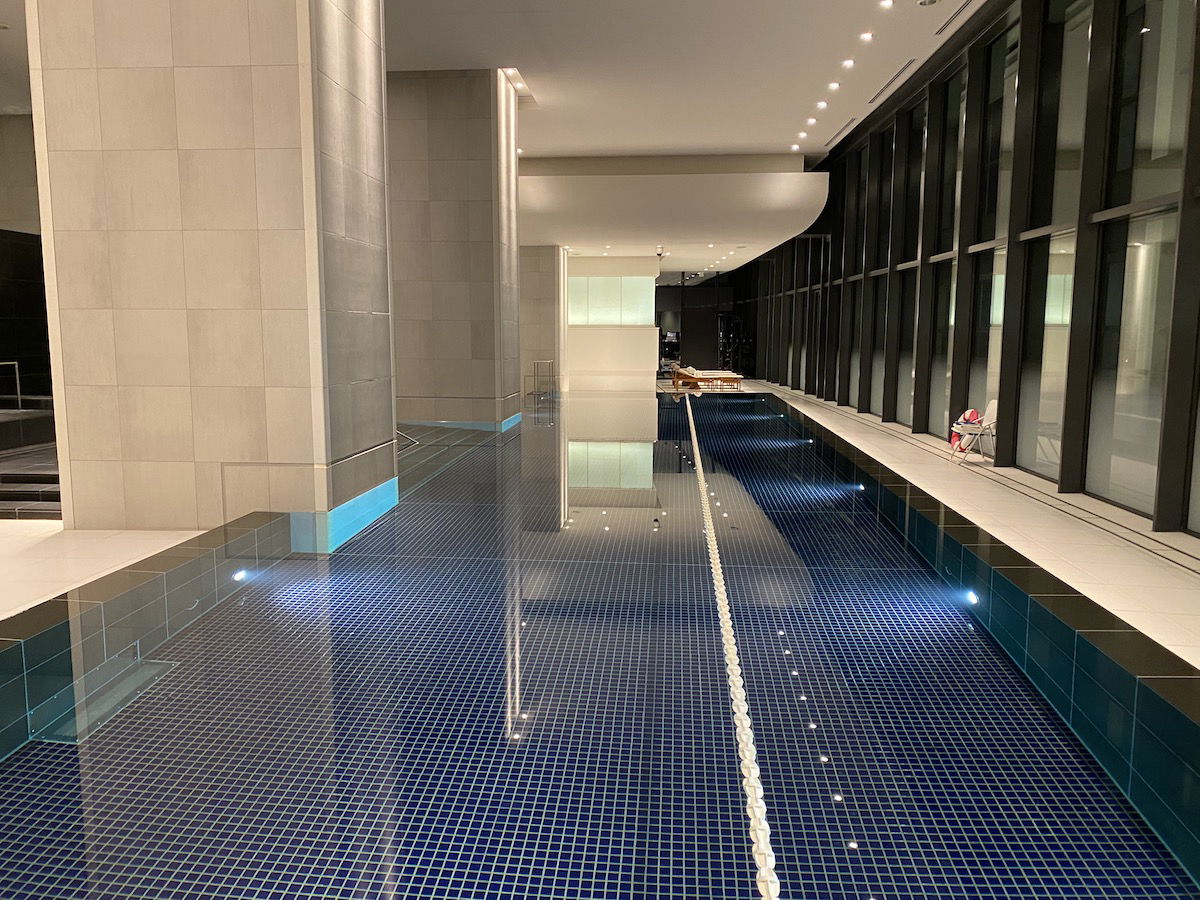 Andaz hotels saw the biggest drops in room rates
Bottom line
The hotel industry is suffering right now. Not only are people not traveling nearly as much as before, but people who are traveling are largely staying with friends and family. With a business travel rebound nowhere on the horizon, hotels have a tough road ahead of them.
Data from Hyatt shows that rates have dropped significantly, and despite that hotels are still empty. It's not surprising that limited service hotels are doing a bit better than full service hotels right now, given the kind of travel that people are engaging in.
Are there any aspects of Hyatt's results that surprise you?