Even though I live in hotels and spend much of my time abroad, I have a fairly unsophisticated approach to staying connected while abroad. I actually don't ordinarily use data while abroad, but instead just use Wi-Fi through hotspots and hotels. Then if I need to make a call I'll use Google Voice or Skype.
On one hand I hate being disconnected for so long, but on the other hand I do find that I'm able to take in the sights better when I'm not staring down at my phone every five seconds.
That being said, I sure do love when a hotel gets innovative with guest amenities. And I think the Hyatt Regency Hong Kong Tsim Sha Tsui might just have one of the most useful innovations yet.
Since March 17, 2014, they have smartphones in each room which guests can use during their stays.
You can use the phones to make free local and international calls (to Australia, China, Singapore, the US, and the UK), as well as for unlimited 3G internet access throughout the city. The phones are equipped with maps and all kinds of apps, and when you finish your stay you can erase all the data on the phone. In the event that you lose the phone you'll be charged a fee of 2,000HKD (~$250USD).
Engadget has a full review of the experience, so check that out for all the details. The article also notes that the phone has tethering capabilities, which is pretty exciting.
Anyway, this is one of the two centrally located Hyatt properties in Hong Kong. The Grand Hyatt is located on Hong Kong Island and consistently more expensive and a bit more "old world" with a great club lounge, while this one is a bit more modern and in the heart of Kowloon.
In the future this may very well impact my hotel choice, especially since this hotel is usually a fairly good value on both paid stays and points stays.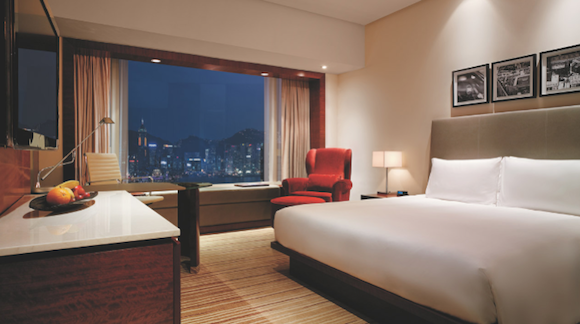 Hyatt Regency Hong Kong Tsim Sha Tsui King Harbour View Room
(Tip of the hat to Jason K)