A reader emailed me to ask if I could write a tutorial on searching Etihad award space. I wrote a tutorial back in October of 2011 when Etihad's partnership with American began, though Etihad has redesigned their website since then, so I realize perhaps it's not self explanatory anymore.
As a refresher, you can most practically redeem American AAdvantage and ANA Mileage Club miles for travel on Etihad. American has a zone based partner award chart and doesn't levy fuel surcharges for travel on Etihad. ANA, meanwhile, has a distance based partner award chart, and does levy fuel surcharges for travel on Etihad. It's worth noting that Etihad has embedded fuel surcharges, meaning it's not always so easy to tell what the fuel surcharges are, since they don't appear on the "surface" when doing a fare search. The last time I booked a roundtrip business class award ticket through ANA between New York and Abu Dhabi, the taxes and fuel surcharges totaled about $900.
Anyway, the best place to search Etihad award space is on Etihad Airways' website. You first need to join their Etihad Guest program if you haven't yet, which is free and can be done here.
Once you're logged into your account click on "Your Miles" in the left tab and then "How to Redeem."

From there, on the left of the page click on "Click here to book flight" under the "How to redeem" section.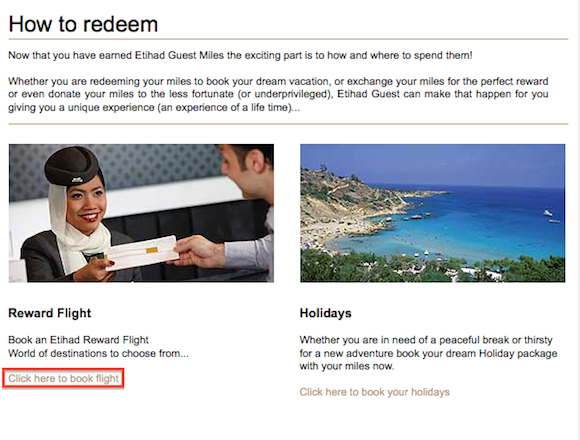 From there just enter your origin, destination, dates, and desired class of service, and then click "Select Flights."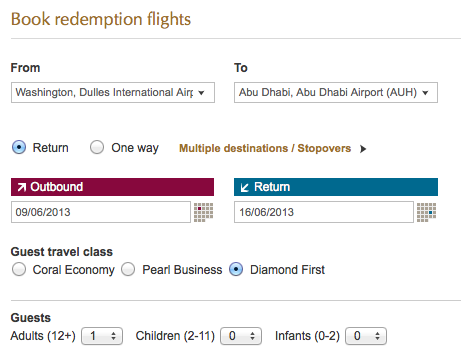 When you get to the results page, you'll want to look for "GuestSeat" availability. If there's not GuestSeat availability then you won't be able to book that flight. As you can see below, there's no first class GuestSeat availability from Washington to Abu Dhabi on June 9.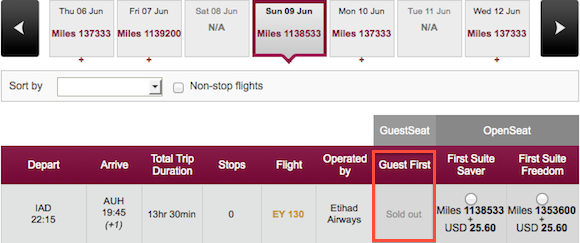 Meanwhile on June 16 there's one first class award seat from Abu Dhabi to New York.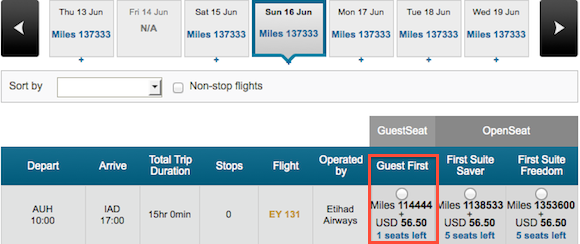 You can easily use the calendar function along the top of the page to search multiple days quickly, and then use the arrows to scroll forwards or backwards a week.
Always keep in mind that the mileage costs listed are irrelevant if you're redeeming through another program. You do need the GuestSeat availability, though the price you'll be charged is per the respective award chart of the airline you're redeeming with.
So the redesigned website is actually an improvement over the old website, as it's now much easier to search for saver award space. And that's good, because in many cases Etihad is a great option for award travel.