Iceland is at the very top of the list of places I'd like to visit. Unfortunately it can be a real pain to get to, so I figured I'd share some tips for getting there this summer, should you be interested in booking a ticket last minute.
Redeem Delta SkyMiles for travel on Delta
The only airline flying between the US and Iceland year-round is Icelandair, and unfortunately they don't belong to any alliance or partner with any major US frequent flyer programs (they used to partner with Alaska Mileage Plan, but discontinued their partnership last year).
The only other airline which seasonally flies between the US and Iceland is Delta. They offer daily 757-200 service out of New York JFK seasonally, between June 4 and September 13, 2014.
Economy availability is abysmal except at the "peak" level.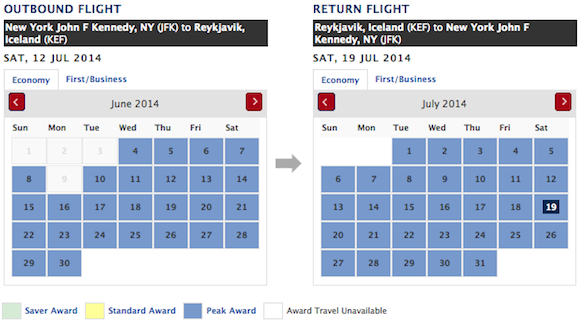 That being said, there are still quite a few dates with "saver" level award space in business class. As of the time of this post, I see 19 dates with saver level business class availability from New York to Reykjavik, and 33 dates with saver level business class availability from Reykjavik to New York.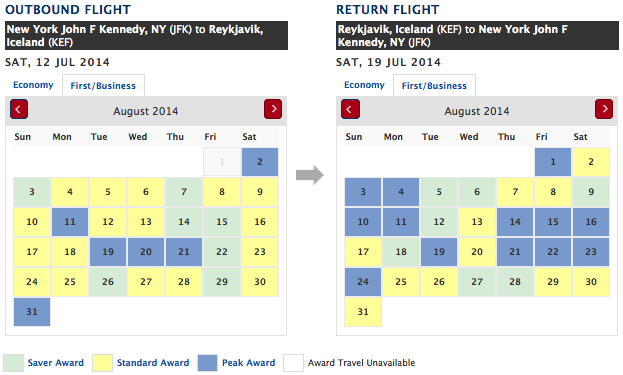 Unfortunately Delta charges the same number of miles for travel to Iceland as for travel to the rest of Europe, so it will cost you 125,000 SkyMiles for a saver level roundtrip business class award ticket.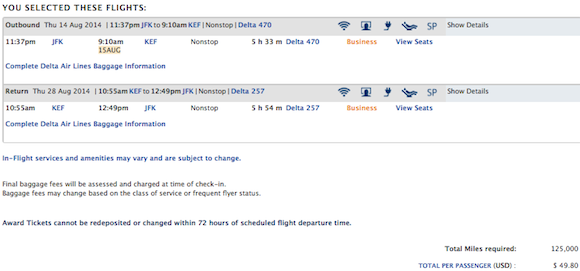 That's kind of steep for a flight that's under six hours.
So not a great option, but if you definitely want to go to Iceland and want to get there as directly as possible…
Icelandair business class fares to Europe
Icelandair doesn't have a real business class product. Instead they just have Saga Class, which is roughly comparable to first class within the US. So while it's not a luxurious product by any means, for a fairly short flight it's comfortable.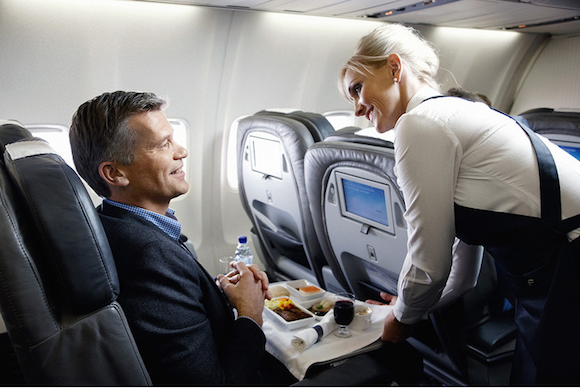 The other nice thing about flying Icelandair is that they offer "free" stopovers in Iceland. So if there's a good fare between somewhere in the US and somewhere in Europe on Icelandair, you can always do a stopover in Iceland at no additional cost.
While the fares are by no means amazing, I do see some ~$2,000 Saga Class fares between New York and Stockholm with a stopovers in Iceland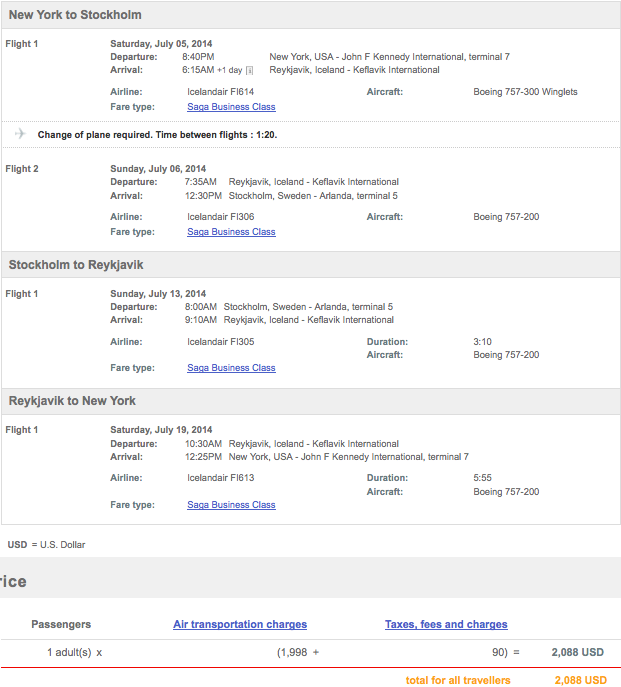 Again, by no means amazing, but during the peak of summer I'd say that's not bad for a premium cabin ticket which will get you from the US to Western Europe and Iceland.
To kind of put that ticket cost into perspective, Icelandair charges virtually the same fare if traveling just roundtrip between New York and Iceland. So you're basically getting a "free" side trip to Stockholm on the above fare.
For what it's worth, economy class fares on similar routes are hovering around ~$1,200, and you can also do the Iceland stopover on those.
Redeem Avios for travel between Europe and Iceland
If you're already in Europe, it's easy to redeem British Airways Avios for travel to Iceland.
Airberlin has tons of seasonal service to Reykjavik out of Berlin, Dusseldorf, and Munich. There's award availability virtually every day. For example, here's the calendar for June travel between Germany and Iceland on American's website (which would show the space on airberlin):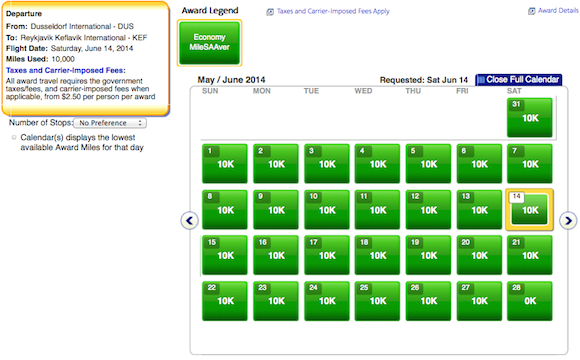 For those flights you're looking at a cost of 10,000 Avios in each direction, which is an absolute steal.

Bottom line
If you're like me and obsessed with "maximizing" miles in terms of the onboard product, it's really tough to justify going to Iceland. But at some point I think it's just time to "bite the bullet" and forget about maximizing miles & points for what looks like an awesome destination.
The above is by no means comprehensive, but I do think these are the three best options out there.
Anyone else been to Iceland or plan on visiting soon? If so, how did you get there? Any creative options I didn't cover above?