Not once in my life have I contacted a hotel in advance to let them know that I'll be reviewing a stay, etc. And that just seems like common sense to me, though amazingly enough I read all the time about travel bloggers who do just that. It kind of eliminates the point of a review, if you ask me, but to each their own, I suppose.
So I'd like to think for the most part I get a pretty representative experience. And if you read my trip reports I think you'll find that to mostly be true. I have plenty of upgrade failures, service snafus, etc. I'm not usually upgraded to a presidential suite with Krug and caviar as a welcome amenity (and when I say "usually" I mean "ever").
That being said, one thing I can't prevent a hotel from doing is Googling. Most true luxury hotels Google their guests in advance, which only makes sense.
For example, I recently stayed at a luxury non-US property (which I haven't yet reviewed) where I had a rather awkward check-in experience. As I walked up to the front desk the guest relations manager came running forward and said "I was Googling you this morning, as I do for all the guests. You look exactly like your Twitter picture, Mr. Schlappig. Hold on, let me call the marketing manager so you can sit down and have a cup of coffee." I had just come in off a longhaul flight, so sitting down and talking to someone is roughly the last thing I wanted to do.
But here's a case where a hotel marketing manager deserves a lot of credit for putting a huge smile on my face. I stayed at the W San Diego last night, and had the following note waiting in my room: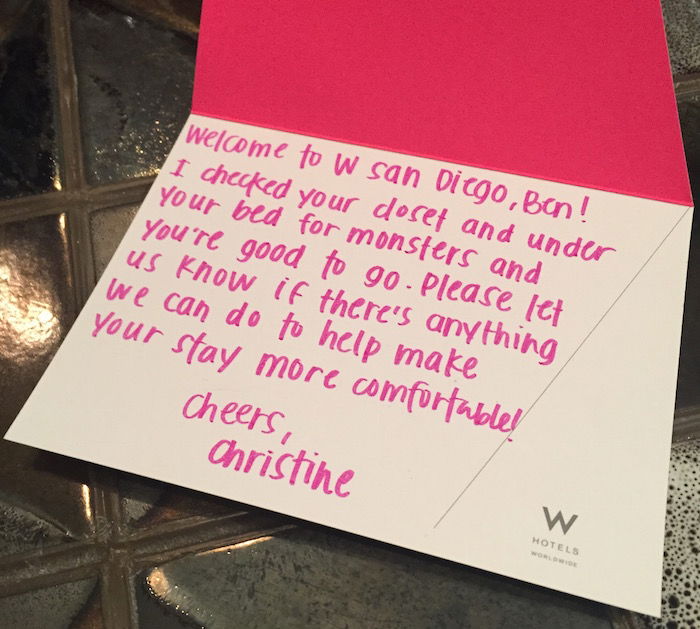 I really can't even begin to say how big of a smile this put on my face. It's one thing for a hotel to Google you, though it's another for them to spend five further minutes Googling and figuring out something funny about you. I certainly have never written about monsters, but I have written about my habit of checking underneath hotel beds and in closets when first getting to a room… because I'm weird like that.
So thanks, Christine, for being awesome at your job. Some hotels think the way to impress people is with suites and champagne (and that certainly doesn't hurt). 😉 But actually taking a few minutes to make a guest smile is infinitely more valuable.