Wyndham completely revamped their loyalty program back in the spring. It was such a major change that Ben actually called it revolutionary, and earth-shattering. Strong words indeed.
To recap, there were two major changes to the program.
Go Free flat rate award pricing with all properties costing 15,000 points per night
Go Fast cash and points awards
We're now several months into the new Wyndham Rewards and the results are impressive. I dare say that they could have called this an enhancement. Of course if you're one of those folks like Ben who wouldn't stay at a Wyndham if they paid you, then this program still isn't for you.
But for those who just want a roof of their head at the lowest price possible, this may just be the ticket. The best part is that you don't actually need to have any Wyndham points to take advantage of this.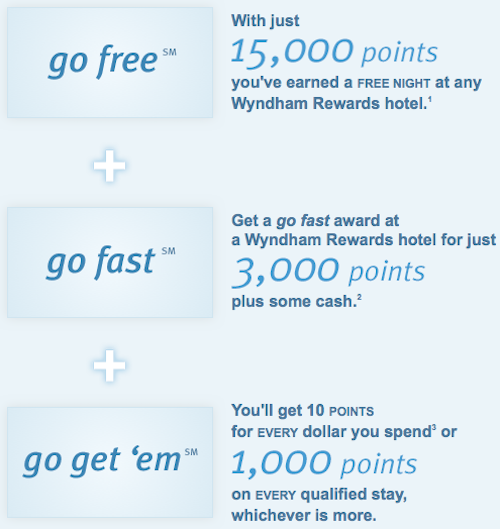 Go Free Flat-Rate Awards
Most of the focus on the new Wyndham Rewards has been on the flat-rate award pricing which Wyndham refers to this as Go Free. Basically, if a room is available for award, it costs 15,000 points. End of story.
A lot of people had visions of getting aspirational properties for 15,000 points per night, rooms that previously might have gone for as much as 50,000 points.
There are two problems with this thinking:
There just aren't many aspirational properties in the Wyndham portfolio
Most folks don't actually have many Wyndham points
Therefore I'm going to focus on the the Go Fast awards, which are easily bookable by anyone, even those who are brand new to Wyndham.
Go Fast Cash And Points Awards
The idea of Go Fast awards is that you spend some points and some cash for the room. I assume they call it Go Fast because they won't want the occasional traveler to have to wait years until they accumulate enough points for an award stay.
The points portion of these awards is fixed at 3,000 points — we'll see why this is important in a moment — and the cash co-pay varies by the price of the property, at least theoretically.
It's worth noting that these cash and points awards are capacity controlled. That means rooms won't always be available, but this is generally true of other cash and points programs at other chains as well. In my anecdotal experience, Wyndham Go Fast availability is decent, and it can be searched on-line, unlike Hyatt's version.
Gaming Wyndham Go Fast Awards
I'm excited about the new program because anyone can play, even if you don't have any Wyndham points yet. Wyndham will sell you all the points you want for 1.1 cents each. That means that you can buy the 3,000 points you need for a cash and points award for just $33. 
The cash co-pay on Go Fast awards varies, so we won't know for sure how good of a deal this is until we do a search. But in my experience, most of the cash co-pays range from $25 to $75. That means you can get rooms for as little as $58.
I don't know if you watched the low-end of the hotel market lately, but that's a pretty good deal. I usually figure that the cheapest room I'm going to get anywhere is about $80-$100 a night these days — even at a Wyndham — so saving $20-$40 is non-trivial.
And in some cases, the savings can be significantly more.
Colorado Ski Country For $88 Per Night
There are a lot of great ski resorts in Colorado, and they all have prices to match. My formative years of skiing were in graduate school where we would pack 10 people into an already cheap room. If that's still your idea of a ski trip, these Wyndham deals could be for you.
I searched Dillon, Colorado, for a Friday night in March, 2016. This could position you to ski Copper Mountain, Breckenridge, Keystone, Arapaho Basin, and other resorts.
Two properties are available for both Go Fast and Go Free awards, the Super 8 and a Baymont, in Dillon, and Frisco, respectively.
The Go Fast awards have a $55 co-pay in both cases, which is kind of interesting considering that the revenue rate at the Baymont is actually $30 higher. Like I say, the co-pay is only loosely tied to the revenue rate.
Say you want a room at the Super 8. You could pay $139+, or you could buy 3,000 points at $33, and then pay $55 for a total of $88. That's a savings of 37%.
The value is even better over at the Baymont. The room still costs $88 (even though it's probably a nicer property) but now the retail price is $190 meaning that you are getting a 53% discount.
Or we can flip the analysis around and think about it as though you were ready, willing, and able to pay cash for one of these properties. That means that you are using 3,000 points to offset $102 in cash, in which case you are getting a redemption value of 3.4 cents per point, on points that you literally just bought 30 seconds ago for 1.1 cents each!
Can you say arbitrage?
San Francisco For $88 A Night
I'm not terribly familiar with the San Francisco hotel market, but I know that it can be pricey. So I was curious to see how the Wyndham properties pencil out in a city.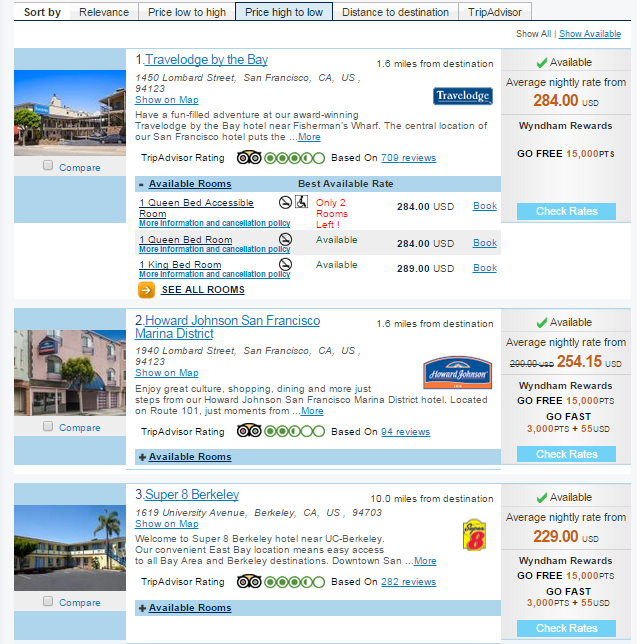 Any of these could be good value on the Go Free flat-rate award price of 15,000 points, with redemption values greater than 1.5 cents per point. But it would take you three years to amass that many points in one account. So let's focus on the Go Fast option.
The Travelodge isn't available for Go Fast on that date, which stinks, but it is what it is.
You can book the other two properties, however, for $88 per night including the cost of the points that you just bought. That seems pretty good, and is in fact a redemption value of over 5 cents per point.
How many investments do you know of that will pay 500% within minutes? 
What If I Want More Than One Night?
Remember how I said that Wyndham will sell you as many points as you want? Well, that's not exactly true.
Technically you can only buy 5,000 points per year. That's basically means you can only buy enough for one Go Fast award each year.
But that's per account.
So if you traveling with your partner, you could buy 3,000 points for one night, and they could buy 3,000 points for a second night. Now you've got a weekend getaway.
Why stop there?
You could open Wyndham accounts for your Mom, Dad, and Grandmother. Maybe even your dog. Then you could buy 3,000 points in each of those accounts. Wyndham even lets you book award rooms for other people right from the website.
When you think about it like that, there's really no limit to the amount of points you can buy, so long as you don't mind buying them 3,000 at a time.
Bottom line
I don't say this very often, but I actually think that Wyndham enhanced their loyalty program with the introduction of Go Fast cash and points awards.
The beauty of Go Fast awards is that you don't have to be a Wyndham regular, or even a speculative buyer of Wyndham points — you can literally start from nothing and book your first Go Fast award within minutes.
For times where you were planning to stay in a Wyndham property anyway, there's a pretty good chance that this will result in a cheaper room. And face it, you're probably staying at Wyndham because you're cheap, so you might as well make the room as cheap as possible.
Have you booked any Wyndham Go Fast awards yet? What do you think of the new program?