United has been offering shiploads of bonus miles for renting cars with Hertz for the past couple of years. It's arguably the best rental car promotion out there, and offers up to 2,750 United miles for even a one day rental. That's incredible.
The problem is, of course, that you have to rent from Hertz. While they may have once been the gold standard in rental cars, they have now become who they once mocked, the not exactly.
That's because there have been numerous reports lately of Hertz stations being overbooked and not honoring reservations that customers thought were guaranteed. They even canceled some reservations over eclipse weekend, using robo-calls no less.
But hey, even I will do business with a shady company if they throw enough points at me. And that's exactly what Hertz has been doing through their linkup with United. That offer was set to expire at the end of September, however, but has now been extended through the November 30. In other words, it's kind of like a United flight delay — it just gets extended, and extended, and extended.

Earn United miles on Hertz car rentals
The standard promotional offer is for a 1,500 mile bonus for renting a car from Hertz. Then, depending on your status, you earn additional miles according to the table.

Award miles earned for each Hertz rental, in addition to the 1,500 mile booking bonus
As a United 1K, that means you can earn 2,750 miles for a one-day rental. And 2,500 miles for Silver or Gold members is nearly as good.
Last time, a few folks received targeted offers where they could earn up to 5,750 miles per rental, though I haven't heard of any like that this time around.
Booking Hertz cars via the United website
To take advantage of the standard or the "mega" Hertz offer, you need to book via the United website using the following codes:
If you follow the banner links on the United website, these codes should be pre-populated.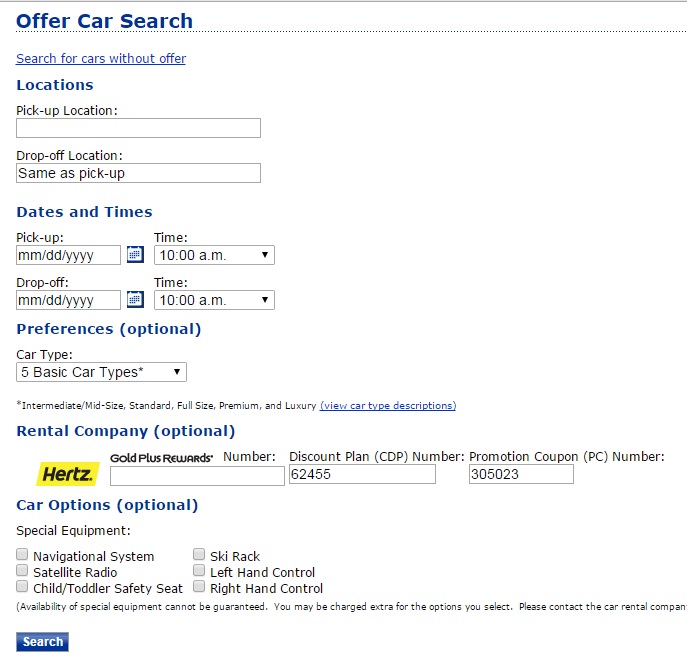 The booking page for the Hertz offer on united.com
The car rental reservation should eventually show up with your airline tickets in the My Reservations section of your united.com account.
Bottom line
Hertz is far from the best car rental company these days, but for the right amount of miles, I'll take my chances. Of course, I'll sometimes book a backup reservation with someone else just in case, especially since car rental reservations usually have lenient cancellation policies.
So even though I prefer National, I'm happy to rent from Hertz for short rentals to earn 2,750 United miles.
Do you rent from Hertz just to get the United miles?