Hello from the stunning Conrad Koh Samui! With the massive Hilton devaluation kicking in on Thursday, I figured I'd briefly share my thoughts of the Conrad Koh Samui, where I'm staying at the moment, given that this is one of the most aspirational Hilton properties out there. I just finished my first day, so these are just my initial impressions.
I booked a four night stay on an AXON award, which cost 145,000 Honors points for all four nights. As of Thursday the same stay will cost a whopping 95,000 Honors points per night, or 380,000 Honors points total. That's right, the cost for this stay is nearly tripling.
In looking at revenue rates for the Conrad for tonight, for example, it's going for 40,000THB for the night plus tax, for a total of 47,480THB (a whopping $1,600USD+ per night).

With that in mind, here are my initial impressions:
The Rooms
Simply stunning. Aside from the resdiences, all the rooms at this hotel are one bedroom villas with plunge pools. And these aren't rinky dinky plunge pools, but good size pools you can actually swim in.
The villas consist of one main room with a king bed, desk, and sofa facing a TV.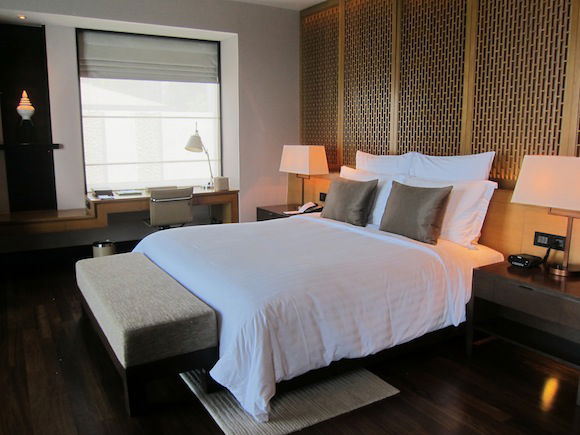 Bedroom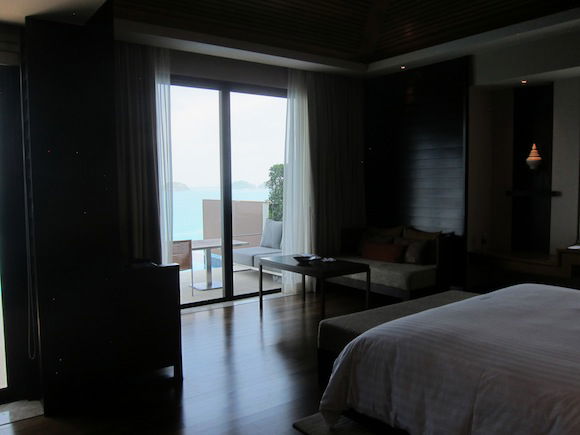 Bedroom
The bathroom is probably the same size as the rest of the room, with a massive tub, double sinks, walk-in shower, and partitioned off toilet.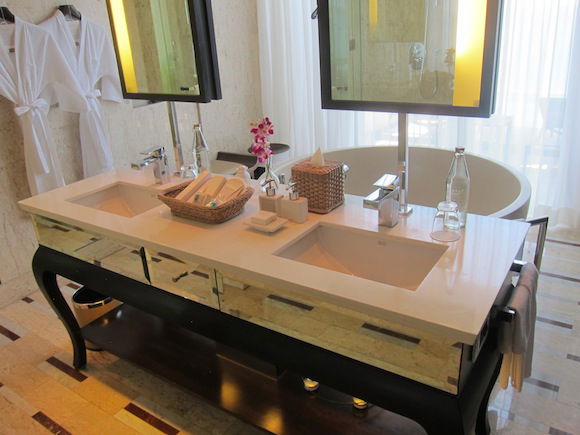 Bathroom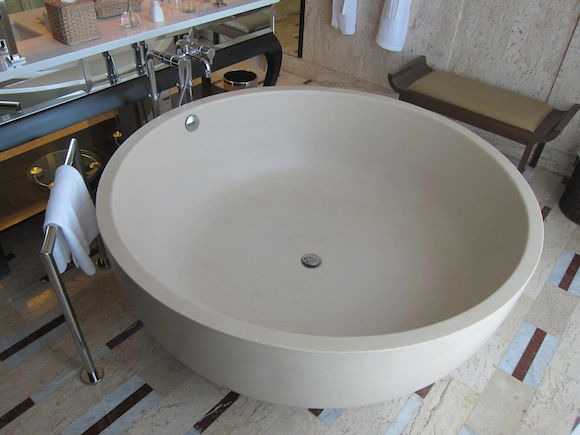 Bathroom
The highlight of the room, though, is probably the patio, with two lounge chairs, a table with more chairs, and an infinity pool.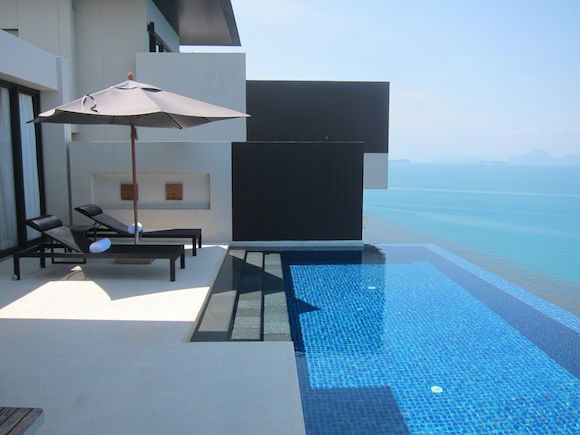 Patio

Pool with a view
Physically this is a stunning property. The rooms are in amazing shape, modern, and the (free) Wi-Fi is even fast, which I find to be extremely rare for resorts in Thailand. And the views from the rooms have to be among the best of anywhere I've ever stayed at. Usually I'm not a huge fan of villas or plunge pools since I'd usually rather hang out in the main resort area, but this is one property where I love just hanging around my room and on my patio.
The Resort
The resort is interesting. It's built on the side of a hill, and to some degree you really have to wonder who came up with the idea of constructing a resort here. There are several "levels" of villas so that they all have unobstructed views. It's actually kind of impressive how tall the columns holding up each villa are. Some must be 40 or 50 feet tall. This creates dramatic and unobstructed views from every villa.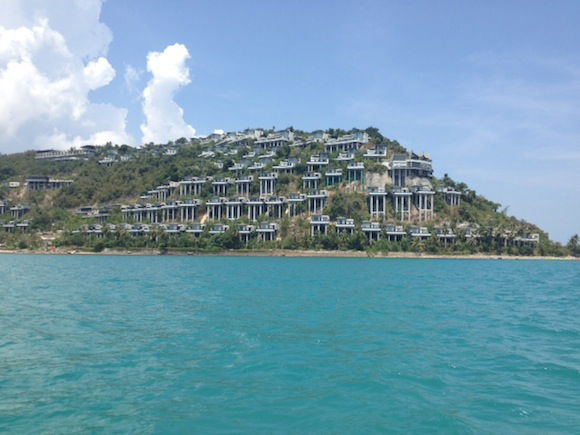 View of the resort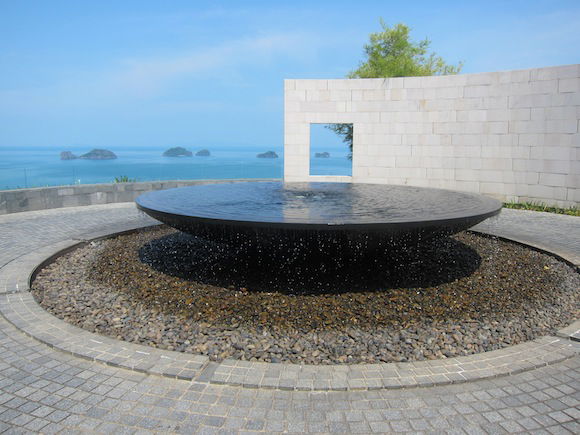 View from lobby
The resort is the ultimate place to relax, which is to say there's not all that much to do. There's a pool and an artificial beach, but that's about it. There's one restaurant open for breakfast, lunch, and dinner, one restaurant by the pool, and one fine dining restaurant that's open five days a week for dinner. So the food options are somewhat limited, and the resort is in an isolated part of Koh Samui, so options to dine outside of the resort seem somewhat limited unless you want to drive for 30 or so minutes.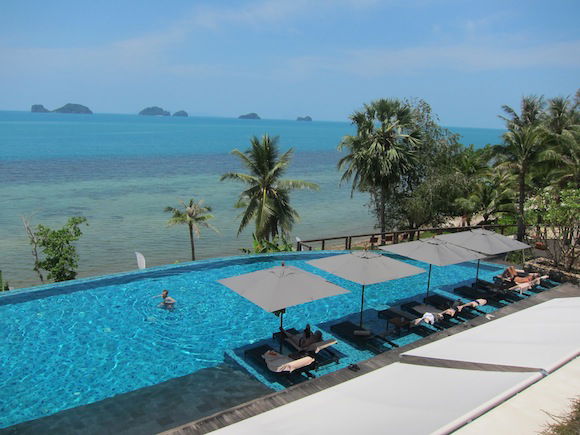 Pool
One thing that has been mentioned in the past about the resort that I never fully appreciated is the lack of stairs. As you can see in the picture above you have "rows" of villas, and the only way to get from one level to the other is by the extremely steep pathways connecting them. And we're talking about really steep pathways. There are no stairs between levels, so it's quite a haul. Fortunately they have buggies that drive you on demand, so don't expect to do much walking around the resort.
The Food
While the other aspects of the resort have a "wow" factor to them, the food is mediocre. It's not that it's bad, really, it's just not especially good. Prices are high, as you'd expect for a property like this, though I don't think the quality is quite there. While the breakfast buffet featured a good variety of items, I didn't find a lot of the stuff to be especially fresh. I'd be surprised if the croissants or pastries weren't from the previous day's buffet. Since the resort is isolated dining options outside of the resort are also quite limited. So I don't think the food will disappoint, though I doubt it will delight either.
The Service
The service is friendly and well intentioned. The English skills of some employees are lacking a bit, though they're all friendly. They're also not especially polished, at least not as polished as you'd expect at a property that sells villas for over $1,000 per night. But in my opinion their friendliness more than makes up for any shortcomings in how polished they are.
Overall
This is a great place to spend 3-4 days (anything more than that would get boring for me). You can't beat the pre-March 28 value you get on points staying here. Could I ever imagine spending the revenue rates to stay here? No way. But this is a really nice place nonetheless.