It's hard to put into words the excitement that wells up when you buck routine and begin doing something you were meant to do.
Not a day goes by that I don't receive an email, comment, or Facebook message from someone who is looking for advice on blogging, or on how to find a job that allows them to travel. I'm humbled and flattered that they're asking me, when there are thousands of people who are better writers, savvier business people, or more experienced professionals.
So I've given interviews on being self-employed, and written posts with tips for becoming a blogger, and generally tried to give the best advice I can. Some of the most insightful thoughts have actually come from you guys in response to a reader asking which jobs require lots of travel.
Because ultimately, my advice always boils down to one thing:
Do what you're passionate about.
The challenge, though, and something I'm particularly bad at helping people discover, is what, exactly, someone might be passionate about.
My friend Chris Guillebeau, however, has created a niche in helping and inspiring people to lead less-conventional lives. He is most "known" for having visited every country in the world, and his new book The Happiness of Pursuit: Finding the Quest That Will Bring Purpose to Your Life
was published yesterday. I just finished reading it, and while I'm not someone who is necessarily looking for a change in direction, much of his writing matches my own experiences and reflections.
I've spent an unfortunate amount of time waiting by gates in domestic airports the past two weeks, and planes have been full of students returning to college for fall semester.
It's almost bizarre to think that four years ago I was one of those students — starting my senior year, looking for job opportunities, building my award booking service, and mileage running with every spare minute. I remember being so scared about what was going to happen "when I grew up" and wondering how I was going keep finding time to blog once I had a "real job." I knew I'd be able to fit at least some of the travel in, because people do that all the time, but it seemed like the daily interactions on the blog were going to have to take a backseat to "actual" employment.
I can't even describe the moment when I realized I didn't have to take a conventional desk job — that I could make enough adjustments to my life for being a full-time blogger and travel consultant to be realistic. It was terrifying and exciting and more than anything else, felt like the right decision.
If you're doing something you love, it doesn't matter that it's challenging. You can keep going for a long time as long as you're motivated—just make sure you choose the right starting point.
And I think that's what it comes down to. I'm not a great writer, and only a decent blogger (where the writing standards are admittedly much more approachable), but I am insanely passionate about what I do, and I hope, more than anything, that's what comes through in my writing.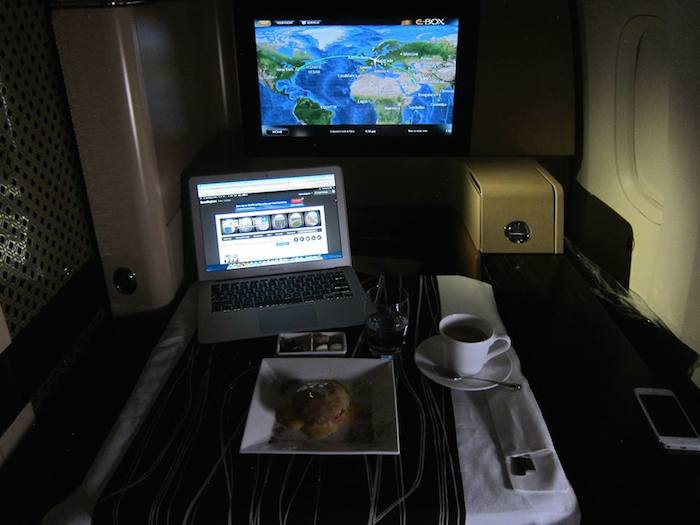 Portable office with a view!
It's certainly not easy, and there are of course tradeoffs and all the rest, but there is something incredible about finding a way to do the things you feel compelled to do.
Anyway, if you'd like to hear more thoughts on this approach from someone more articulate than me, you can find The Happiness of Pursuit: Finding the Quest That Will Bring Purpose to Your Life
on Amazon or at bookstores pretty much everywhere. Hopefully some of you find it useful!
Full disclosure: Chris didn't pay me to write this post or even ask me to review anything, though he did send me a copy of the book (I bought a Kindle version separately as well). He also clued me in to ordering vegetarian meals on Lufthansa (nearly always Indian and delicious!), so I probably owed him one anyway. 😉