We're seeing all kinds of exceptional flights being operated at the moment, in light of circumstances. However, this has to be one of the more somber reasons for a charter flight…
Let me start by saying that I'm kind of piecing together the details of this best I can, based on a tip from a reader, who asked to remain anonymous.
Gulfstream flying from East Farmingdale to Tel Aviv
Talon Air is a private jet charter company, and in the past several weeks they've operated at least one weekly flight as follows:
From Republic Airport in East Farmingdale, New York, to Tel Aviv, Israel
From Tel Aviv, Israel, to Marseille, France
From Marseille, France, to East Farmingdale, New York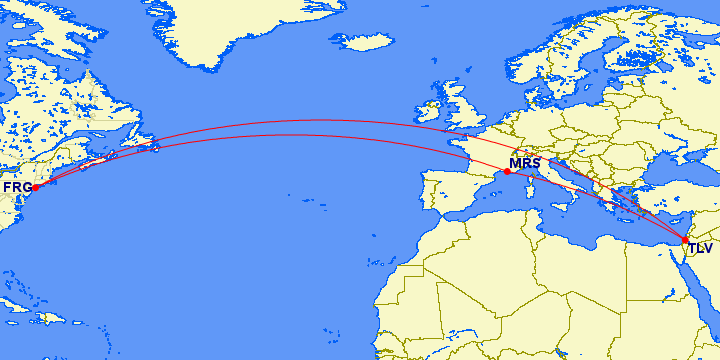 They've been using a Gulfstream for these flights — the plane flies from New York to Tel Aviv, stops for a couple of hours, and then continues to Marseille. Then the plane spends the night there, before returning to New York the following day.
At a minimum, this "trip" has operated on April 5, April 12, and now a flight is in the air as I write this, with the flight number Talon Air 967 (TFF967).
Why is this flight operating?
It would appear that these charter flights are transporting the deceased to Israel. Many Jews consider it an honor to be buried in Israel. Generally remains would be shipped on United Airlines, as they continue to fly from Newark to Tel Aviv.
However, as of March 25, 2020, United Airlines suspended all casketed funeral shipments through their "TrustUA" program. Therefore charter flights are being organized in order to transport those who have passed.
A chartered plane for Niftarim is leaving for Eretz Yisroel on Sunday. Contact TLS for details.

— The Lakewood Scoop (@LakewoodScoop) April 17, 2020
My understanding is that the plane refuels and then continues to Marseille so the crew can spend the night there. Israel isn't allowing in foreigners at the moment. I believe airline crews are excluded, though perhaps charter crews aren't included among those.
How much do charter flights cost?
I respect and applaud those who are willing to spend the money to bury their loves ones in a way that they find appropriate. For those wondering, I do imagine this is quite expensive. Based on doing some Googling, a Gulfstream charter usually costs over $8,000 per hour.
The plane is flying roundtrip to Israel, so it's flying for well over 20 hours. Based on that, I would guess that one of these charters must cost somewhere around $150,000 to $200,000.
Furthermore, Gulfstream aircraft have pretty small cargo holds, so I wonder about the overall capacity between the cargo hol dand the cabin. I'm not sure how many ways that charter cost is being split, but this can't be cheap, because the capacity can't be high.
Bottom line
Talon Air is operating charter flights from Republic Airport to Israel at least once a week, with a stop in Marseille on the way back, where the plane spends one night. With United having suspended casketed funeral shipments, this seems to be the only way for many to bury their loved ones the way they want.