My strategy, especially when I fly alone, on short flights in economy, is usually the same. I board, grab the items I'll need during the flight, perhaps flip through the in flight magazine or my phone before switching it to flight mode.
Then I politely listen to the safety demonstration, put my headphones on and zone out for most of the flight, either watching something on a device, or listening to music on my phone. The time, well, 'flies'… 😉
But some passengers do get bored on flights, and Garuda Indonesia has come up with a novel way to entertain them.
Garuda Indonesia has launched live, inflight acoustic performances on certain domestic flights, starting with Jakarta to Denpasar Bali, showcasing new and emerging local Indonesian talent.
Hadirkan pengalaman penerbangan berbeda, Garuda Indonesia tampilkan live music akustik #GIACOUSTIC di pesawat. Berita selengkapnya di https://t.co/EoAB5ldiDA #GAnews pic.twitter.com/MNEvGhD8Y6

— Garuda Indonesia (@IndonesiaGaruda) January 9, 2019
These flights are short and the performances are too — lasting only 10 to 15 minutes.
Newsweek is reporting the purpose of this experiment is to go after younger flyers, i.e. millennials, who want a different flight experience.
While there may be some millennials who would enjoy the opportunity to share this experience on social media, I suspect they would already be so focused on entertainment on their own devices they may not even realise the performance is occurring.
It will be annoying for any passengers trying to rest to have live, presumably fairly loud music in the confined cabin, but as I said, the flights are short and they will not be on every flight. The Twitter photos above suggest that flight is a daytime flight.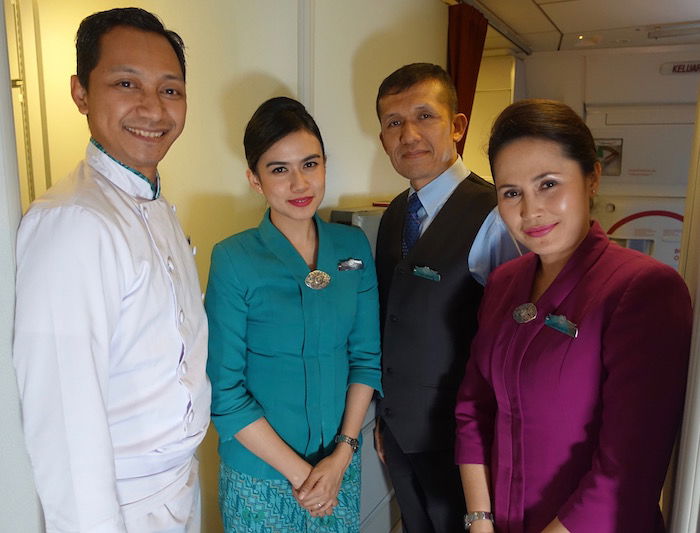 Bottom line
I guess on the odd flight a short musical performance would be entertaining, but otherwise this initiative definitely isn't for me. I like the fact that I can lose myself in a movie or TV show of my choosing, without bothering anyone else, which makes the flight time pass more quickly.
If I wanted to discover the music of new local artists, I would research it before the flight rather than just hoping that group popped up on my next flight.
I love the advancements in technology both for IFE and personal devices. If you are prepared, it's very difficult to get bored, even on long flights.
I may be relatively young still (I hope!) but I do remember the old days of flying where a movie would be played on a big projection screen at the front of the 747 cabin that wouldn't be paused once it started, if you wanted to use the bathroom or nap!
Would you listen to a live music performance on a flight?